Support the Beall Center for Art + Technology
The Beall Center for Art + Technology
---
The mission of the Beall Center is to support research, exhibitions, and public programs that explore new relationships between the arts, sciences, and engineering, and to promote new forms of creation and expression using digital technologies. The Beall Center aspires to redefine the museum/gallery experience by formulating answers to the questions of how technology can be used effectively to create new forms of interdisciplinary art, in addition to connecting artists with audiences.
The Beall Center's curatorial focus is to present a diverse range of artists who use technology and expanded media as an entry point to explore contemporary cultural issues. In the spirit of previewing the future of expanded media, the majority of our exhibitions include world premieres and newly commissioned works of art. We strive to present a direct connection between our programs and the larger trajectory of the history of video, installation art, and kinetic and cybernetic sculpture.
The Beall Center's public programs include artist lectures, LASER Talks (through a partnership with Leonardo Journal for Arts and Sciences), free public tours, and free S.T.E.A.M.-based (Science, Technology, Engineering, Art, and Math) workshops for students and educators. The Beall Center also provides both internal and external educational opportunities through our course offerings and internships designed for UC Irvine's undergraduate and graduate students.
The Beall Center for Art + Technology, one of only a few art spaces dedicated to the exhibition of expanded media arts in the United States, has established a consistent record of initiating and organizing successful programs that reach our greater Southern California communities.
Learn more about the Beall Center for Art + Technology
Make a Difference
---
To make a gift to support The Beall Center for Art + Technology, please visit our secure direct giving page.
If you'd like to donate via check please make checks payable to UCI Foundation, and write "Beall Center for Art + Technology" in the notes section, and mail to:

UC Irvine Gift Administration
University Advancement
100 Theory, Suite 250
Irvine, CA 92617
For more information, please contact:
Sarah Strozza
Director of Development
(949) 824-0629
sstrozza@uci.edu
Thank you for investing in a brilliant future in the arts at UCI.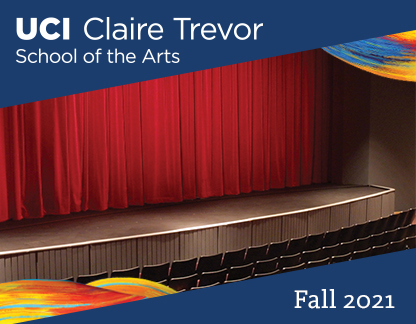 CONNECT - Fall 2021
 
About CTSA​
More Information
Giving
Claire Trevor Society
Contact