Claire Trevor Society Scholars
Featured Scholars
---
Tarik Garrett, M.F.A. candidate
Art Awardee
 "I research lesser known and normalized histories that helped to create white supremacy and capitalism at the roots of our social order and use my findings as the basis of my work. These objects help to excavate the history of America's deepest wounds, uncovering resonances between the past and future state of the Union. My goal is to articulate truths about the world while affecting change and generating emancipatory aspirations. Thanks to you, I am one step closer to that goal.
By awarding me this scholarship, you have lightened my financial burden, which allows me time to focus more on important aspects of my working process. Your generosity has inspired me to help others and give back to the community. I hope one day I will be able to help students achieve their goals just as you have helped me."
Ariel Scott, Undergraduate
Dance Awardee
"Thank you most sincerely for choosing me to receive this scholarship. It is a great honor and wonderful gift to receive this scholarship, and I am deeply grateful for this support of my creative and scholastic endeavors at UC Irvine.
I fell in love with contemporary modern dance at a young age, and found I had a passion for creating dances in my early teens. During my time at Santa Monica Community College I was able to nurture these passions through classes as well as performing and setting work at the Eli and Edythe Broad stage, and at the American College Dance Association (ACDA) Baja regional conference. Since starting at UC Irvine this past Fall, I've been able to delve further into my studies of dance and choreography, including having had the opportunity to perform in the virtual concert New Slate 2020, and participate currently in the upcoming virtual show Physical Graffiti 2021.
As a choreographer and performer, I believe that dance has the wondrous ability to embody and express the heart of human emotion and lived experiences, as well as the ability to mirror, comment on, or challenge the cultural landscape in which it is created. As such, dance gives the audience an opportunity to deeply feel and explore complex emotions, as well as reflect and critically inspect the world around us. Through my choreography it is my hope to evoke thought, promote self-discovery and explore the realities experienced as part of being human.
Having interacted with a number of inspiring choreographers who were alumni of UC Irvine, I could think of no better place to continue my studies than the Claire Trevor School of the Arts. Attending UC Irvine is a dream come true, and a truly delightful experience. I am immensely grateful for this scholarship which is helping me to continue living this dream by providing not only financial support, but also symbolizing a vote of confidence and investment in my future as an artist. I deeply appreciate your support on my continued journey with dance."
Tim Fletcher, M.F.A. candidate
Drama Awardee
"I am truly humbled and sincerely grateful to be the recipient of the prestigious Claire Trevor Society Scholarship award. I have been in UCI's MFA Music Direction program for almost two years, and during this time my scholarly activities have been both robust and well-rounded. My professors have provided me with limitless opportunities and opened doors to new areas of study, including: teaching university level courses in both singing and acting, composing a one-act musical, writing arrangements of musical theatre pieces and pop music, and learning audio engineering. Most recently, I orchestrated and music directed the premiere workshop production of Back Home, a new brand musical by composer Joshua Freilich. One of the pieces in this production is an eight-minute piano concerto, which I have included with this letter as example of my work. While Mr. Freilich wrote the main piano part, I had the opportunity to write parts for the rest of the instruments in the orchestra.
As I move into my third and final year here at UCI, this award will aid me in my continual growth as an artist. It inspires me knowing that CTSA believes in my creative merit, and I feel so privileged to be thriving in such a nurturing environment. I sincerely look forward to all of the opportunities that are to come, and very grateful for your support in the furthering of my education!"
Matthew Nelson, Undergraduate
Music Awardee
"It was inarguably the apex of my spring break and winter quarter to hear that I had been nominated and selected for the Claire Trevor Society Scholarship. With this scholarship, I am now able to spend the time and effort on my work that is necessary to take it to the next level. Since early high school, when I started learning about and becoming familiar with jazz music, I have known that I want to be a professional musician, and this helps me take a few steps closer to that goal. 
Since I have been at UCI, I have participated in numerous activities and performances within CTSA. I have had the privilege to perform in the Jazz Orchestra, the Contemporary Ensemble, and the Jazz Small Groups, all of which have contributed to my scholarship in the arts. 
As I approach my final year at UCI, it behooves me to work on a serious body of work that I can present as a reflection of my time in CTSA, and with the funds from this scholarship, I am better able to construct a path toward that end goal. Along the way, I will be able to get new software/hardware, to keep up with my instrument's maintenance, and to pay the artists and musicians that I work with. I thank you for your contribution to the Claire Trevor School of the Arts, and I thank you for playing a part in moving my career forward." 
Qianru Li, M.F.A. candidate
Drama, "Research & Innovation" Awardee
"I am writing to express my wholehearted gratitude to your support through the Claire Trevor Society Scholarship. As a student of low-income, I cannot tell you how important your generous contribution is in assisting the growth of my work and myself. I am a first-generation immigrant student from China, and I devote my transnational work to promote voices of both Asian and Asian American and Pacific Islander (AAPI) communities. 
Recently, a string of xenophobic violence and unprovoked attacks against Asian Americans has highlighted the everlasting anti-Asian racism that has haunted us since the nineteenth century. Studying at a prestigious institution like UCI, I feel obligated to contribute to the growth of artistic representation that will shed light on the mundane struggles of my community members. Therefore, one of my current projects is to create a documentary film on the experiences of Chinese American seniors during the COVID-19 pandemic. 
Thanks to your help, I will be able to purchase technical equipment for this timely project, which will help increase the production value of the film. Stories of my community members have been overlooked for a very long time. With your assistance, this film on elderly care among immigrant minorities will be completed this fall. Meanwhile, I hope you will stay safe and healthy, as I would love to invite you to the screening of this film at UCI."
Carina Negrete, Undergraduate
Drama, "Outreach" Awardee
"I am so humbled and honored to receive the Claire Trevor Society Scholarship. I am writing to thank you for your generous, financial contribution towards my higher education. 
As a third year Drama and Sociology double major at the University of California, Irvine, I realize how important it is to promote inclusivity and accessibility for all within the performing arts. Throughout my entire life, my family has shown me how art and culture have the power to uplift people, stories, and experiences through performance. Currently I am interning for UCI CTSA's Creative Connections program and I am the Development and Outreach Director for Brown Bag Theatre Company. I hope to pursue a career within the performing arts that can provide artistic opportunities/resources to low-income BIPOC communities. 
As I complete my education at UC Irvine, I am very thankful for receiving your thoughtful donation. Your generosity will further aid me in making my wildest dreams come true. I hope one day I'll be able to help students achieve their goals just as you have helped me."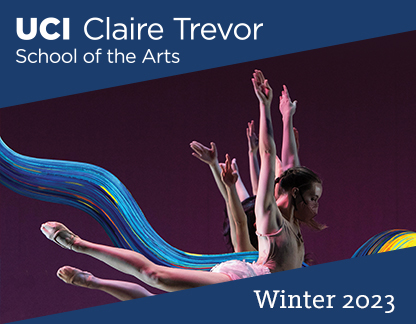 CONNECT - Winter 2023
 
About CTSA​
More Information
Giving
Claire Trevor Society
Contact