ArtsTalk
ArtsTalk
The Claire Trevor School of the Arts is pleased to announce ArtsTalk, a series of interdisciplinary conversations with Dean Stephen Barker and faculty, students and staff across the four departments of Art, Dance, Drama, and Music.
The inaugural episode will feature an interview with the Department of Drama Chair Don Hill. In the interview, Dean Barker and Don Hill discuss the department's programs for 2020-2021 and how students, faculty and staff have adapted during the remote spring 2020 quarter.
In the second episode of ArtsTalk, Dean Stephen Barker speaks with the Department of Drama's M.F.A. students Hailey Byerly ('21), Tolu Ekisola ('22) and Arizsia Staton ('22) about their experience in the Acting program at UC Irvine, their new initiative Students Mobilizing for Change, how they have adjusted to remote learning and personal projects they are working on this summer. For more information and to work with Students Mobilizing for Change, please contact smc.ctsa@gmail.com.
Hailey Byerly's most recent mixed media video Black Boy Smile can viewed online here. CTSA Drama will host a table read of Tolu Ekisola's first play Ma Binu! online on September 25, 2020. RSVP here and learn more on Instagram @MaBinu_TheShow. The Virtual Theatre of Arizona's Zoom reading of Antony and Cleopatra with Arizsia Staton as Antony can be viewed on Facebook here. In collaboration with Black Lives Black Words International Project, Face Off Theatre Company and Western Michigan University, Staton will be directing a one act play and sharing original poetry on August 1, 2020 at 4:00pm PST on Facebook Live here.
Next, Dean Barker speaks with the Department of Dance Chair Molly Lynch about adjusting to remote learning; the Student Resource Campaign; forthcoming New Slate Online performances in December; and welcoming the two new Assistant Professors, Ariyan Johnson and Cyrian Reed.
For the fourth episode of ArtsTalk, Dean Barker sits down with the Department of Dance's M.F.A. students Beverly Bautista ('21) and Carl "Dougie" Sanders ('21) to discuss their professional and personal background, experience at UC Irvine, and forthcoming choreography pieces for the Dance department's fall performance New Slate Online in December.
The forthcoming episodes will feature the chair and members of Art and Music. The full schedule of episodes will be posted and archived here.
Leading the Arts Through a Pandemic: Dance's M.F.A Students
Leading the Arts Through a Pandemic: Dance with Chair Molly Lynch
Leading the Arts Through a Pandemic: Drama's M.F.A Acting Students
Leading the Arts Through a Pandemic: Drama with Chair Don Hill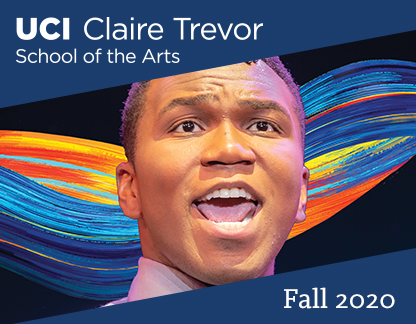 CONNECT - Fall 2020
 
More Information
About CTSA​
Giving