UCI Drama Investigates Physical "Otherness" in Philip Kan Gotanda's I DREAM OF CHANG AND ENG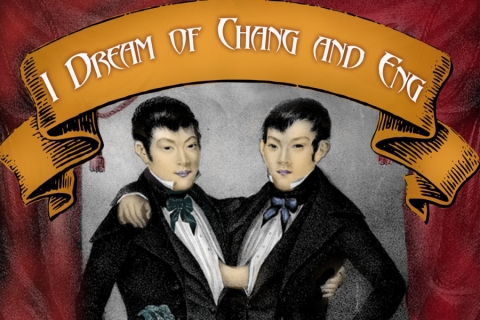 UCI DRAMA INVESTIGATES PHYSICAL "OTHERNESS" IN PHILIP KAN GOTANDA'S I DREAM OF CHANG AND ENG
Irvine, Calif. (April 17, 2017) – UC Irvine's Claire Trevor School of the Arts Department of Drama presents the latest offering in its current season exploring the voices of "the other," award-winning playwright Philip Kan Gotanda's newly revised version of his play I Dream of Chang and Eng. Telling the story of the first internationally known conjoined twins, Chang and Eng Bunker, Gotanda's work examines the ways in which physical difference is received by various members of society, as well as how it is felt and experienced by its subjects. While Chang and Eng were initially exploited by a series of opportunists, they eventually took ownership of their "difference," becoming savvy and successful businessmen in their own right.
UCI Drama Ph.D. candidate/actor/director Ricardo Rocha directs this complex and layered story, which moves between different decades and phases of the Bunkers' lives, and explores the already marked "difference" of what it meant to be an Asian immigrant in 19th century America. "The fact that we have chosen to include this play in our season speaks to the changing face of our student population in the Drama department," said Chair Gary Busby. "In the past several years we have produced plays like Professor Ngugi Wa Thiong'o The Trial of Dedan Kimathi, which explores the life of the title's Kenyan hero, as well as projects by our Brown Bag Theatre Company, a group devoted to producing works that empower the Latinx community. We are thrilled to be able to add the voice of the Asian American experience to this conversation." Playwright Philip Kan Gotanda will also be traveling to campus to give a keynote speech as part of a Medical Humanities Initiative event. Gotanda is a Guggenheim Award- winning playwright and respected independent filmmaker, whose works and advocacy over the past three decades have been instrumental in bringing the Asian experience to western audiences. The dreamscape he creates in this work is perhaps a microcosm of his dream to give voice to a population previously underrepresented in the American canon.
UCI Drama invites you to join us for the final production of the current season, the undergraduate musical Avenue Q. We encourage you to accompany our creative teams, with an open heart and an inquisitive mind, on this thought-provoking and playful journey through the voices and experiences of "the other."
Performances and Ticket Information
Robert Cohen Theatre. Parking: 4000 Mesa Rd, Irvine, CA 92617
Evenings: April 29; May 4, 5, 6 @ 8 p.m.
Evening: May 3 @ 7:30 p.m.
Matinees: April 30*; May 6, 7 @ 2 p.m.
General Admission $15 / Seniors & Groups 10+ $14 / UCI Students & Children under 17 $11. Box Office (949) 824-2787 or www.arts.uci.edu/tickets.
The UCI Drama production team will host a post-performance TalkBack on April 30th after the 2 p.m. matinee with the creative team and cast.
About UCI Claire Trevor School of the Arts: As UCI's creative laboratory, the Claire Trevor School of the Arts explores and presents the arts as the essence of human experience and expression, through art forms ranging from the most traditional to the radically new. The international faculty works across a wide variety of disciplines, partnering with others across the campus.  National-ranked programs in art, dance, drama, and music begin with training but end in original invention. Students come to UCI to learn to be citizen-artists, to sharpen their skills and talents, and to become the molders and leaders of world culture. For more information, visit www.arts.uci.edu.
About the University of California, Irvine: Founded in 1965, UCI is the youngest member of the prestigious Association of American Universities. The campus has produced three Nobel laureates and is known for its academic achievement, premier research, innovation and anteater mascot. Led by Chancellor Howard Gillman, UCI has more than 30,000 students and offers 192 degree programs. It's located in one of the world's safest and most economically vibrant communities and is Orange County's second-largest employer, contributing $5 billion annually to the local economy. For more on UCI, visit www.uci.edu.