I Dream of Chang and Eng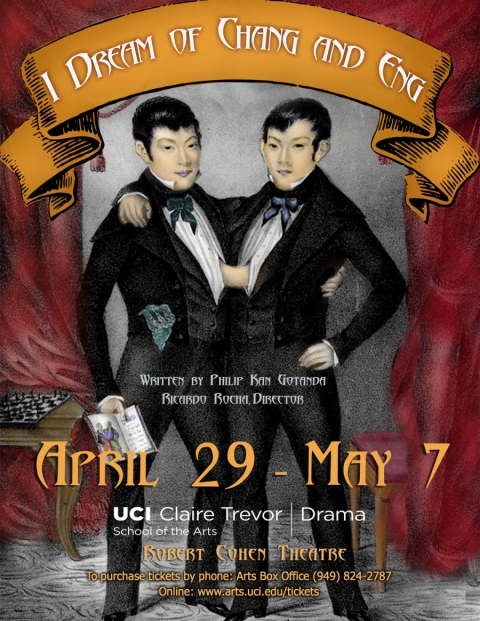 THEM! Drama Series
I Dream of Chang and Eng
Written by Philip Kan Gotanda
Ricardo Rocha, Director
April 29 – May 7, 2017
Robert Cohen Theatre
I Dream of Chang and Eng tells the story of Chang and Eng Bunker, the original "Siamese twins," whose early lives were spent touring in a 'freak' exhibition. Charismatic and canny, they bought out their contract and toured themselves around the world, advising the king of Siam and carousing with English aristocracy before settling down on a Southern plantation, marrying sisters and fathering 21 children between them. This is the story of two people who were singled out as "freaks" by conventional society, but got the last laugh as they ultimately used this classification to their own gain. 
Performances:
Evenings: April 29, May 4, 5, 6 @ 8 p.m.
Evening: May 3 @ 7:30 p.m.
Matinees: April 30*, May 6, 7 @ 2 p.m.
*Ticketholders: Please join us for a post-performance TalkBack with the creative team and cast.
Tickets:
General $15
Seniors, Groups 10+, UCI Faculty & Staff $14
UCI Students & Children under 17 $11
THEM!
Daniel Gary Busby, Artistic Director
UCI Drama's 2016 – 17 season, THEM!, explores our tendency – both as individuals and as societal groups – to separate and cast blame on "The Other." Through a series of plays and musicals that investigate religious persecution and genocide, the castigation of physical difference, interpersonal alienation, and our xenophobic reaction to other cultures culminating in war, we examine the ways in which we so often look to identify a scapegoat rather than find mutual understanding and acceptance. Present throughout the plays of the season we hear the voices of "them."