THE LIQUID PLAIN Explores Themes of Sexuality and Violence as Part of the Season of Love, Lust and Greed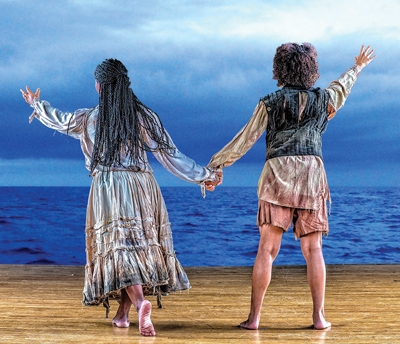 IRVINE, Calif. (January 9, 2015)
– UC Irvine's Claire Trevor School of the Arts (CTSA) Drama Department will present Naomi Wallace's play
THE LIQUID PLAIN
from January 31 through February 8. The production is commissioned through the Oregon Shakespeare Festival's American Revolutions: the United States History Cycle and is the winner of the 2012 Horton Foote Prize for "Promising New American Play". Jaye Austin Williams, current Chancellor's Post-Doctoral Fellow, will guest direct. UCI Drama's production will be the second production of Wallace's play, as well as the California premier.
THE LIQUID PLAIN
explores sexuality and the violence of the slave trade as we meet two runaway slaves on the docks of an 18th century Rhode Island port. Finding love and a neardrowned man, the mysteries of Adjua and Dembi identities come to light, as do the painful truths about the past and the present, which flow into the next generation. Set in 1791 in Bristol, Rhode Island, the lovers find the body of a drowned white man. In the second act (1837) an educated free black woman pays a visit from England discovering far more than she bargained for about her history and the nature of justice, love, and vengeance. Jaye Austin Williams previously guest directed two main stage theatre productions at UCI including
THE COLORED MUSEUM
by George C. Wolfe in 2011 and most recently
THE TRIAL OF DEDAN KIMATHI
, by Nobel prize nominee, Ngũgĩ wa Thĩongo and Mĩcere Mũgo in 2014. Williams has been an actor, playwright, composer and director since the late 1970s and brings her vast theatre experience and expertise on Black playwrights, a focus of her academic work, to the UCI stage. She began her graduate studies at NYU in 2006 and recently completed her Ph.D. in Drama and Theatre at UCI in 2013. Drama Department Chair, Dr. Daniel Gary Busby said, "I am thrilled to bring this production to UC Irvine. I saw the world premier at the Oregon Shakespeare Festival and while working there and was immediately enraptured with the heart and grit of the story. Given the current state of race relations in America, Wallace's historical story shows that we have long been in the grips of slavery; the vicissitudes of this nightmare continue to haunt us to this day."
THE LIQUID PLAIN
will be presented in the Robert Cohen Theatre. Performance dates and times are January 31 and February 5 – 7 at 8:00 pm. February 4 at 7:30 pm. Matinees are February 1, 7, 8 at 2:00 pm. Tickets range from $11 - $15 and are available through the Box office at (949) 824-2787 or online at
www.arts.uci/tickets
. Times Higher Education ranked UC Irvine first among U.S. universities under 50 years old and fifth worldwide. Since its founding in 1965 as one of UC Irvine's original schools, the School of the Arts (renamed for actress Claire Trevor in 2000) has become one of the nation's leading educators in visual and performing arts. Recently awarded "Best Arts Organization" in Orange County by the Coast Community Awards, the School offers undergraduate and graduate degrees in Art, Dance, Drama and Music, a minor in Digital Arts, and one of the few university doctoral programs in Drama.  The Claire Trevor School of the Arts is located at 4000 Mesa Road, Irvine, CA  92617. For more information, please visit us at
www.arts.uci.edu
. For maps, driving directions and parking information go to
www.arts.uci.edu/directions
. View
Event Page
.