2014-2015 Season Brochure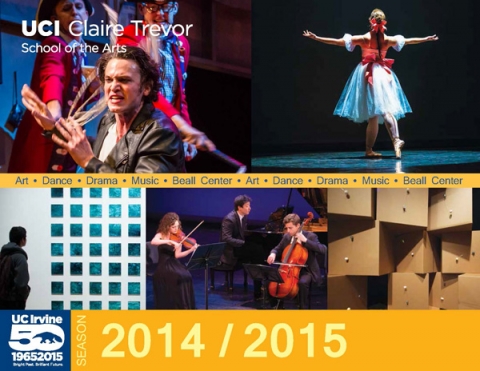 Welcome to the 50th Anniversary of UC Irvine — and to the Claire Trevor School of the Arts' 2014-15 season of exciting exhibitions, performances, and special events. Since its founding in 1965, the School of Fine Arts has been a unique and vibrant presence in the community, nationally, and internationally, building from strength to strength across these five decades.
To celebrate our Golden Anniversary, we're re-introducing some of our most notable founding faculty members: Dr. Robert Cohen, Claire Trevor Professor of Drama (and still a central member of the Drama Department), Dance's Eugene Loring, Music's Professor Emeritus H. Colin Slim, and several founding Art Department faculty members and students who are now part of any Who's Who of Southern California art. Beyond these tributes, this year we're building on our enormously successful 2013-14 season, in which CTSA was named — from a field of fortyeight nominees — Coast Magazine's Top Arts Organization in Orange County, and New Swan Shakespeare Festival mounted its third season and received the 2013 Achievement Award for Outstanding Contribution to the Built Environment by Arts Orange County. In addition, the Art Department and the Beall Center for Art and Technology were awarded significant grants from The Getty's Pacific Standard Time LA/LA, a regionwide exhibition focusing on Latin American art and artists, scheduled for 2017, and the Beall Center received support for two years of exhibition
programming by The Andy Warhol Foundation for the Arts.