Change Agent: Leading the Way
Third-year M.F.A. artist teams up with professor for 'Affective Resistance' exhibition
By Greg Hardesty
Alberto "Berto" Lule stripped down to his boxer shorts and lay on his back on a sheet of clear plexiglass.
He slowly moved into different positions in which he'd been arrested or detained by police: arms up and fingers clasped behind his head, hands shackled behind his back.
He then got up and applied forensic fingerprint powder to the areas on the plexiglass dampened by his skin secretions.
"It's a portrait — it's me," he says of the charcoal-like smudges that form an eerily distorted image of his body on a large piece of plexiglass displayed in his studio at the Art, Culture and Technology building at the Claire Trevor School of the Arts.
Lule's work, one in a numbered series called "Investigation," is a commentary on authority and evidence, says the third-year M.F.A. student who served a nearly 14-year prison sentence for drug- and gang-related felonies.
Released in 2016, Lule, who grew up near Santa Barbara, went on to complete his undergraduate studies in art at UCLA before he was accepted into the CTSA graduate program in 2021.
Now, this fall, he's organizing a nine-week exhibition with his mentor, artist and professor Liz Glynn.
The themes of the exhibition, Affective Resistance (University Art Galleries, Oct. 7-Dec. 16), echo some that are favorites of Lule, who employs prefabricated, often mass-produced objects ("readymades," in art parlance), mixed-media installations, and tools used by agencies of authority to examine and critique mass incarceration and the prison industrial complex, particularly the California penal system.
"Art spaces could and should be places where activism can occur," says Lule, who teaches art to detainees at the Orange County Juvenile Hall and is vice president of the UCI chapter of the Underground Scholars Initiative, which helps the formerly incarcerated and their families and those affected by the criminal justice system.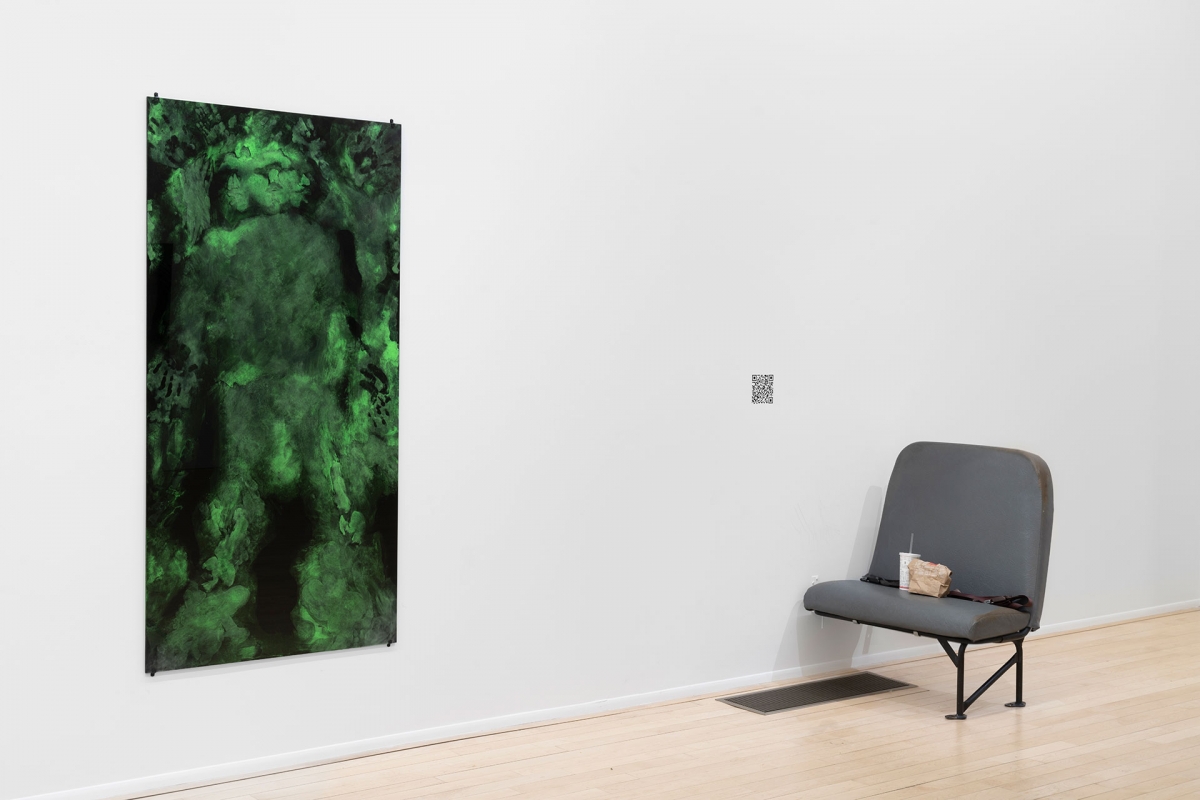 Image: Alberto Lule's piece in the 2nd year M.F.A. exhibition "After Many Sunsets" in the University Art Gallery. (Photo: Yubo Dong)
Showcase of Black and Latinx Artists
Affective Resistance brings together works by eight Black and Latinx artists — renowned international artists who have rarely exhibited in the U.S. alongside both established and emerging voices from Southern California — who use strategies of performance and abstraction as modes of resistance to systemic racism and state power, according to exhibit literature.
"In the wake of George Floyd's murder, there have been a lot of public conversations about the nature of system racism which have centered on the American history of slavery and systemic racism," says Glynn. What the show seeks to do is broaden this conversation to look at the longer arc of oppression and Colonialism globally."
Art spaces could and should be places where activism can occur.
Several works in Affective Resistance draw out the conflict between the democratic ideal of liberty and the subjugation of the body under the penal system.
The exhibition includes The Missing Link: The Decolonization Education of Ms. Smiling Stone (2017) by Pelagie Gbaguidi, a Dakar-born artist of Benin descent currently based in Brussels. Gbaguidi's video will be projected in an alternating loop alongside Los Angeles-based artist rafa esparza's bust: a meditation on freedom (2015), which documents the artist chiseling himself out of a concrete tube outside of the Twin Towers Correctional Facility to protest the mass incarceration of black and brown people.
The University Art Gallery will showcase video works alongside mixed media wall work and sculptural installations, including a video by donna kukama that features a performance shot during a protest staged by Kenyan veterans seeking recognition from their government for their role in liberating the country from colonization.
Nyugen Smith's video Like Dead Weight depicts the artist activating a former plantation site with his recumbent body. Smith's work will be juxtaposed with his Flag for a New Caribbean, a decolonizing proposal speculating on a liberated future for the Caribbean islands.
Chanell Stone will present photographs exploring erased histories and the black body's relationship to the American landscape.
Other featured artists in Affective Resistance include Rodney McMillian, a professor in the Department of Art at UCLA, whose work has been exhibited internationally and is featured in the permanent collection of MoMA; emerging artist Alicia Piller, a recent CalArts
M.F.A. graduate whose work is included in the recent Orange County Biennial; and Tarik Garrett (UCI M.F.A. '22), whose abstracted "tapestry" is made from deconstructed red, white and blue beer cans etched with a partially destroyed image of a burning police car.
Multidisciplinary Initiative
Affective Resistance ties into themes of an interdisciplinary program at UCI called "Poetic Justice: Advancing Arts and Culture in Higher Education to Support Black Community Thriving." Co-led by Glynn and Sora Han, professor of criminology, law and society and department chair of African American Studies, the team includes representatives from the CTSA, the Paul Merage School of Business, the School of Humanities, the Jack and Shanaz Langson Institute and Museum of California Art, and the School of Social Ecology.
He's not just thinking about prison or incarceration as a subject but the ways these systems of oppression kind of connect to the broader economy.
As part of the Poetic Justice initiative, Glynn and Lule were involved in an exhibition last year that the CTSA hosted, Locked Down and Locked Up: A PrisonPandemic Exhibit, which showcased stories from people incarcerated during the COVID-19 pandemic.
Exhibition visitors would pick up wall-mounted phones that look like those in jails and prisons to hear interview  recordings by actual inmates.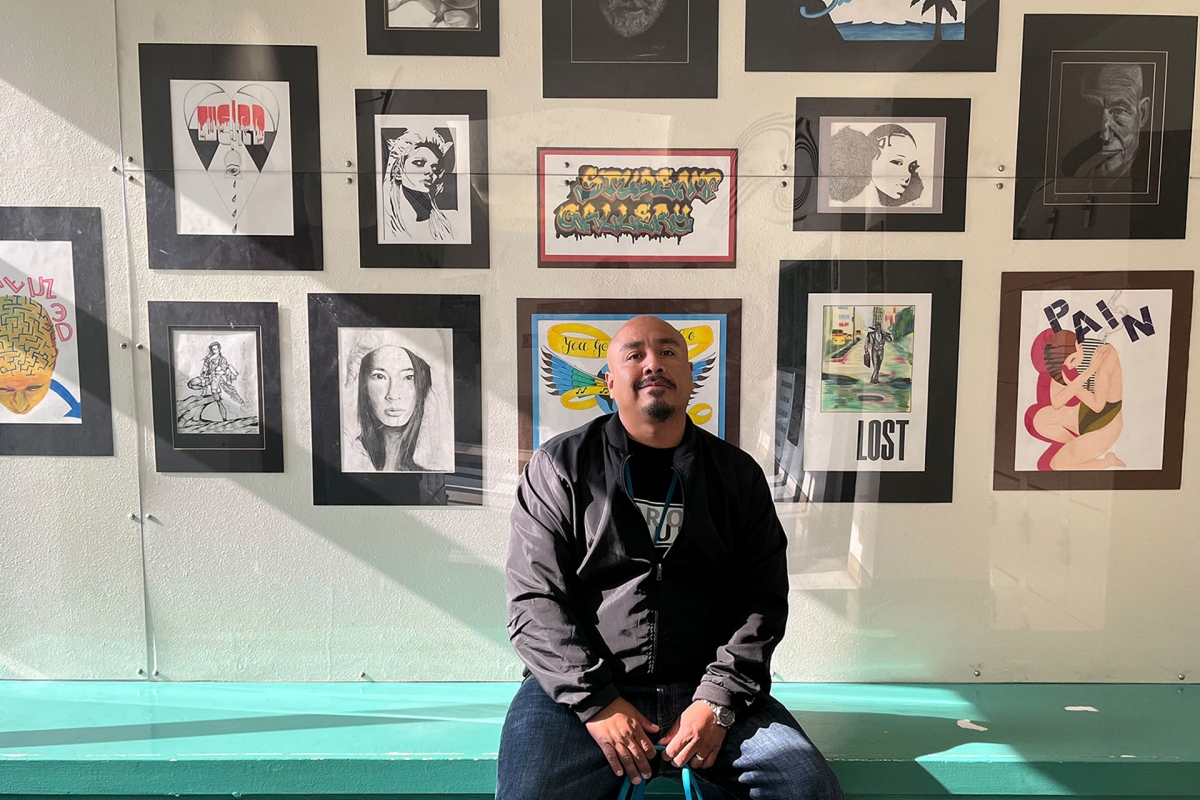 Image: Alberto Lule sits in front of an art display inside the Orange County Juvenile Hall as part of his work with The Underground Scholars Initiative.
The Bigger Picture
Glynn, who works in sculptures, large-scale installations and participatory performances, met Lule when he was applying to graduate school at the CTSA.
"I'm interested in large questions about cultural value," says Glynn, "and was really excited about Berto's work and some of the questions he was raising through performance and sculpture as it relates to the prison industrial complex.
"He's not just thinking about prison or incarceration as a subject but the ways these systems of oppression kind of connect to the broader economy."
Adds Glynn: "He's dealing with a number of concerns that not just artists are dealing with but that society at large is really engaged with, such as questions of gentrification, systemic racism, and the perverse logic of certain institutions."
Seeing the Unseen
One of Lule's ongoing works involved posting official prison documents in public places at UCI, such as bulletin boards near elevators.
"Sometimes we don't notice these postings," he says. "They're part of the landscape, and sometimes you don't notice them unless you're looking for them.
"But if people see these documents," he adds, "they're going to be rewarded. They're not going to expect it. They are photocopies from a plain printer, and we kind of tend to dismiss these types of notices because we think of them as not being our business."
One of Lule's performances during his M.F.A. second-year exhibition was about the experience of  prisoner transport on buses, specifically a 36-hour transport between facilities over state lines.
The incarcerated are given five minutes to consume an entire fast-food meal. Lule reenacted this by consuming a hamburger, fries and a drink from Jack In The Box while wearing a jail jumpsuit and shackled to a bus seat.
"I hope to make an impact in the arts as a scholar involved with activism and solidarity," Lule says. "Black Lives Matter didn't just pop out of nowhere. It's been building for generations. And that's one of the things we hope this exhibition does: broaden conversations about governmental control, systemic racism and other issues."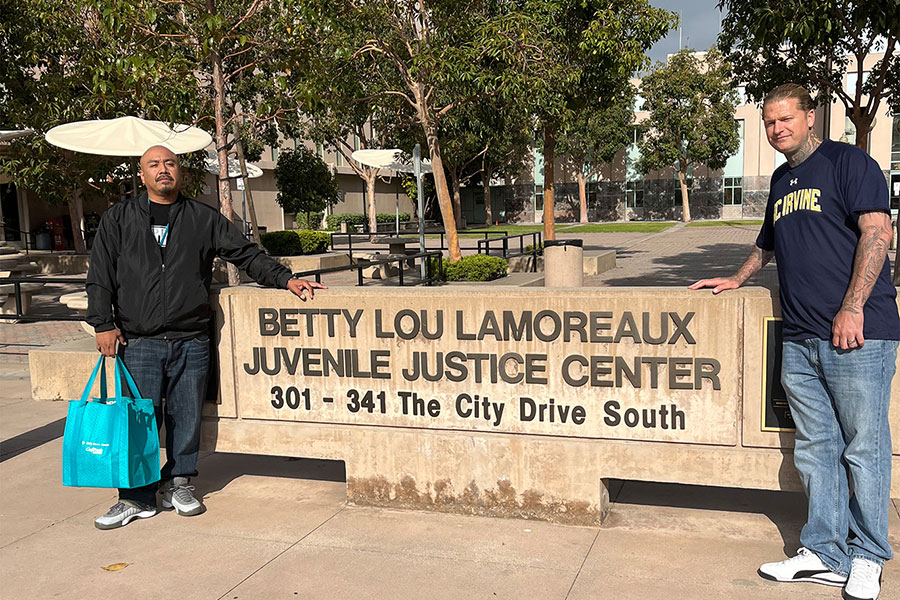 Image: Lule stands in front of the Betty Lou Lamoreaux Juvenile Justice Center with Ryan Rising, a UCI Ph.D. candidate in Criminology.
---
Affective Resistance opens Saturday, Oct. 7, with a public reception at 2 p.m. in the University Art Gallery and Room Gallery and is on view through Saturday, Dec. 16. For more information and hours, visit uag.arts.uci.edu.
Please visit our secure direct giving page and make a gift to support Art today!
CONNECT - Fall 2023