Affective Resistance
Affective Resistance
Curated by Liz Glynn and Alberto Lule (M.F.A. '24)
Oct. 7-Dec. 16, 2023
Opening Reception: Saturday, Oct. 7, 2 p.m.
Affective Resistance brings together works by eight artists using performance art and materialist abstraction as modes of resistance to systemic racism and state power. Several works in the exhibition draw out the conflict between the democratic ideal of liberty and the subjugation of the body under the carceral system. A series of documented site-specific interventions pit the artists' bodies against historically-charged locations of government control. These performative works are juxtaposed with several experimental approaches to abstraction as a political gesture.  Featured artists include rafa esparza, Tarik Garrett, Pelagie Gbaguidi, donna kukama, Rodney McMillian, Alicia Piller, Nyugen Smith and Chanell Stone.
Image: Nyugen E. Smith and Dominique Duroseau | Performing the Flag (A New Flag for the Caribbean/A Flag for the New Caribbean) | 2017 | Photo courtesy of Nyugen E. Smith and Pascal Bernier
Department of Art: 949-824-4917 | art.arts.uci.edu | StuArt@uci.edu
University Art Galleries: 949-824-9854 | uag.art.arts.uci.edu | gallery@uci.edu
Gallery hours: Tuesday-Saturday, noon-6 p.m.

Free admission
Please visit our secure direct giving page and make a gift to support the Department of Art today!
Make a Gift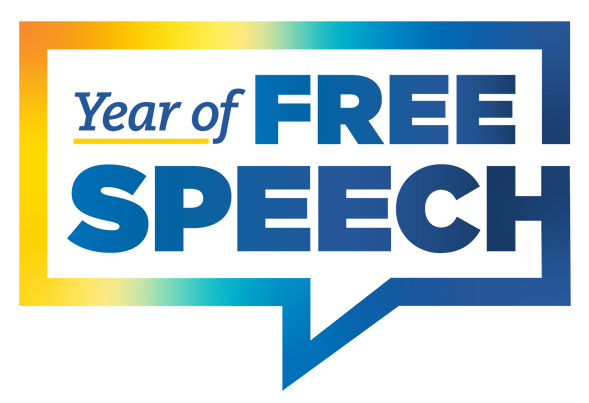 Over the course of the 2023-24 academic year, UC Irvine is recognizing a Year of Free Speech and Academic Freedom. UCI and CTSA are honoring the year with a series of related programs and events. For more information please visit freespeech.uci.edu.
Dates:
Saturday Oct 7, 2023, 12:00 pm

to

Saturday Dec 16, 2023, 6:00 pm
Saturday Dec 16, 2023,

12:00 pm

to

6:00 pm
Reception Date:
Saturday Oct 7, 2023, 2:00 pm