Feats of Engineering & Artistry
By Christine Byrd
If you see opera singers on a flying alligator's back or snakes chasing Mozart, if it rains inside the theatre or a wild owl swoops overhead, it's not magic. It's just another day's work for the Claire Trevor School of the Arts production team.
"We're prototyping and building one of a kind things that have never been done before," says Keith Bangs, CTSA's production manager and technical director. "Every day brings a new challenge."
Bangs, who built the original Broadway sets for Cats and Torch Song Trilogy, leads a production team of 12 professionals at CTSA, including lighting and sound engineers, a costume shop, a prop shop, and a production studio where staff help students implement their artistic visions for the stage — all on a shoestring budget.
"We start with a blue sky meeting where we encourage students to think outside the box about their productions," says Don Hill, chair of the drama department and co-head of the stage management program. "Then we have an initial design meeting where we confront reality and what we can make happen with the budget."
When a ballroom scene in Little Women: The Broadway Musical called for an opulent chandelier, there was no budget for such an extravagance. With $100-worth of clear plastic forks from Costco, ingenious props supervisor Pam Marsden improvised a 4.5-foot chandelier that twinkled like real crystal when lit properly. The audience gasped when it flew on stage.
Bangs and Hill work together every day adjusting budgets, planning contingencies and scheduling production calendars year-round.
Bangs and his team produce 13 shows annually, including four dance performances, an opera, a musical each fall, and two Shakespeare plays in the summer — plus a variety of music concerts.
"This is our laboratory, where we create, invent and reimagine," says Hill. "Keith is truly the lifeblood of the production department."
Shakespeare's Spirit
Arguably, Bangs' most iconic creation for UCI is the New Swan Theater. This 135-seat theater-in-the-round was built in 2011 to fit inside the Claire Trevor Theatre for a production of William Shakespeare's Merchant of Venice.
It has since become a summertime staple of the UCI campus. Perched outside of the Langson Library and overlooking Aldrich Park, the New Swan Shakespeare Festival hosts 10 weeks of sold-out performances each summer, featuring professional actors working side by side with UCI students and alumni.
"Knowing that they have a copy of Shakespeare's First Folio on the top floor of the library, helped make that an ideal location," says Bangs. "It feels like Shakespeare is looking over us."
---
"This is our laboratory, where we create, invent and reimagine."
---
The idea of a portable, open-air theater was first proposed to Bangs by founding chair of drama Robert Cohen more than three decades ago, when UCI was surrounded by rolling hills and lounging bison. So Bangs seized the opportunity to finally bring that vision to life when the stars aligned in 2011. It was a massive undertaking, far beyond the scope of a typical set design, and Bangs met weekly with Environmental Health & Safety to ensure the structure's stability. (It's built to sustain 90 mph winds, however unlikely that may be to occur.)
"It's remarkable that this theater was engineered and built in our own shop on campus," says Eli Simon, Chancellor's Professor of Drama and artistic director for the New Swan. "It's a tremendous feat of engineering and craft.
"Everyone who comes into the theater is impressed by the space, design, and intimacy," he adds.
Constructed of 16 tons of wood and metal, with a colorful basket weave exterior, the structure itself is a work of art. The open-air theater offers an intimate atmosphere for both performers and audience members. The elements are exciting and unpredictable — from an eerie wind to a lightning bolt during a stormy performance of King Lear, to an earthquake rattling the house when Shylock made his first entrance in the Merchant of Venice.
"There's an owl who roosts in the trees and sometimes flies over in the light of the show. We nicknamed him Hamlet, and I like to think that's the spirit of Shakespeare with us as we produce his work," says Bangs.
Although the 2020 New Swan season was canceled due to the coronavirus outbreak, the theater itself won't be neglected at its storage site on campus.
"It's a lot of metal and wood exposed to the elements. It's like owning a boat, it requires constant maintenance," says Bangs, who has the floor sanded and resealed each year, and continually refurbishes or replaces parts of the structure.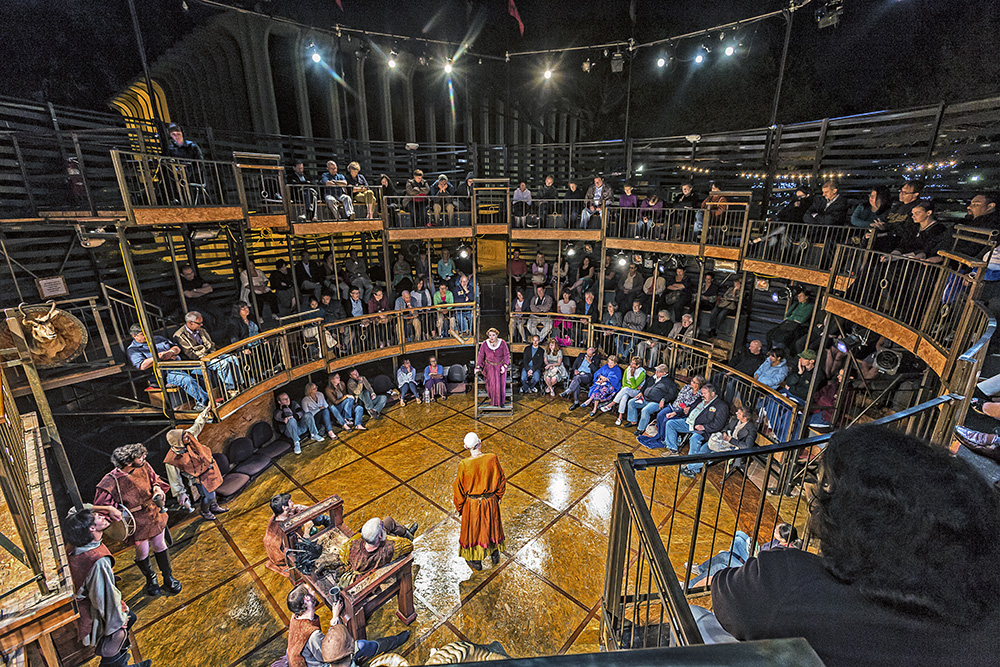 The New Swan Theater during New Swan Shakespeare Festival's 2013 season presentation of King Lear directed by Eli Simon.
Industry Connections
While the New Swan is an annual tradition, Bangs and his team spend the rest of the year creating scenes, costumes and props for a dizzying array of productions. For one show, they re-created the famous Andy Warhol painting of Marilyn Monroe, put halfpipes on stage for skateboarders, and found a real motorcycle for the protagonist to ride on stage. The Magic Flute production a few years ago required 24 scene changes, and included the flying alligator with opera singers on its back. Recently, they filled cribs with dolls equipped with speakers to emit lifelike babbles and cries on cue.
Time and again, the Theatre Guild has stepped in to meet urgent needs —from replacing a broken sound board to donating sewing machines for the costume shop. Meanwhile, vendors have made significant in-kind donations to ensure that UCI student producers and performers are using the highest-quality professional sound equipment, fully preparing them for their future careers.
CTSA offers master of fine arts degrees in scene design, costume design, lighting design and sound design, with about six graduate students in each program at any given time. About nine graduate students are enrolled in the stage management program.
"We're trying to provide a real-life interaction for students, so when a student costume designer brings her designs into a costume shop, they're interacting with costume professionals, having a professional experience," says Bangs. "We're preparing them for the real world."
A number of graduates are employed in the industry, doing everything from designing halftime shows to television sets, and new graduates benefit from the network of successful alumni the program has turned out.
"All of our students who are graduating now will be drawn into the industry through UCI's strong alumni network, coupled with the demand for people well-trained with the skills we're teaching here," Bangs adds.
Bangs and his team are already at work on the next season. It is a part of the nationwide theater JUBILEE, an effort to make the 2020-2021 season one that celebrates traditionally marginalized voices.
While work is beginning on the fall shows, the next season's challenges and masterpieces remain unknown. But one thing's for certain: It will be a little bit magical.
Learn more about productions at UCI and various performances at www.arts.uci.edu.
Please visit our secure direct giving page and make a gift to support Drama today!
CONNECT - Summer 2020