FAStER Pass
2023-2024 Season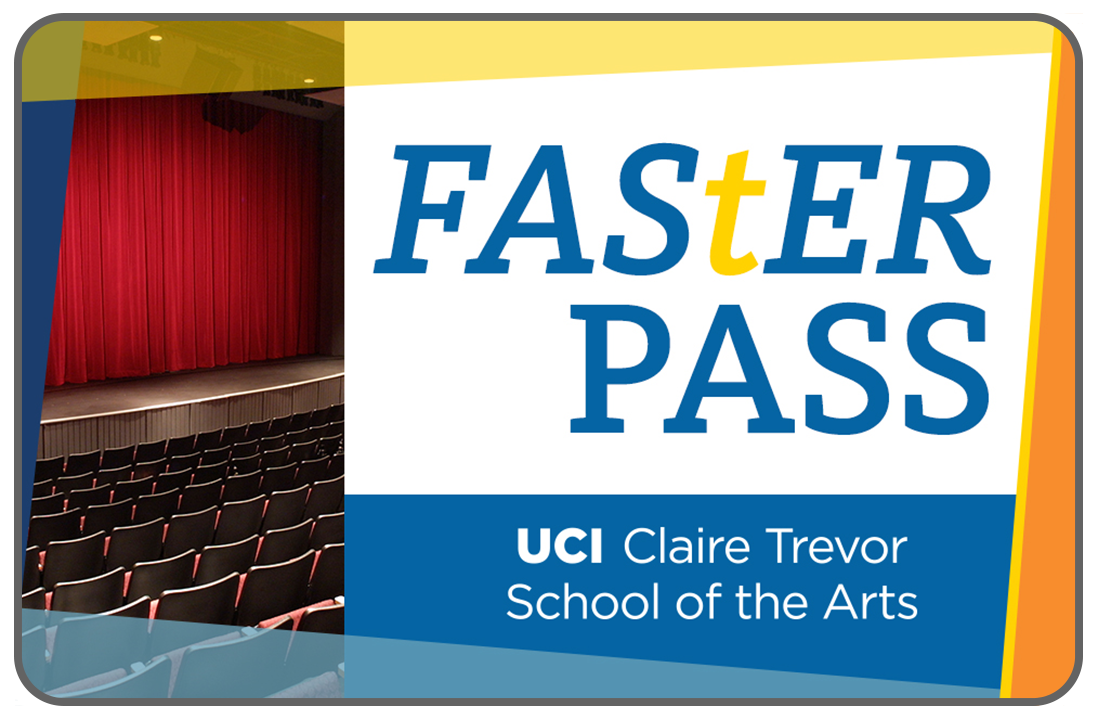 Claire Trevor School of the Arts offers the FAStER (Faculty/Alumni/Staff/Emeriti/Retirees) ARTS PASS, a pre-loaded card that entitles our UCI family to deeply discounted tickets to the dance and drama performances of the cardholder's choice (music events cost less that FAStER price options; few blackout dates apply; check with Box Office).
Already discounted faculty/alumni/staff/emeriti/retirees tickets are reduced even more by purchasing an FAStER Pass. Buy a 6-ticket Pass and your cost goes down to $20 each; a 12-ticket Pass drops cost to $18.50 each.
DON'T DELAY -- Purchase your Arts Pass now and enjoy an array of professional quality dance performances and theatrical presentations.
*** Arts Passes can be purchased and/or redeemed online (see video below!), by phone, or in person. Tickets to events subject to availability. All tickets must be redeemed within the same academic year purchased; unused tickets will not be refunded nor rolled over to the next season.
Questions?
artstix@uci.edu | 949-824-2787
---
How to redeem tickets
---
Go to https://www.arts.uci.edu/tickets
Desktop/laptop

Login (top-left)

After logging in, click Manage My Account (top-left)

Click Exchange (right menu options)

The rest is in the video!
Mobile/tablet

Sign In (click the three lines at the top-right, then Sign In from the dropdown menu)

After signing in, click the three lines at the top-right, then My Account from the dropdown menu

Click on the three lines at the top-left

Click My Tickets

Click Exchange

The rest is in the video!
CONNECT - Spring 2023
 
About CTSA​
More Information
Giving