Teaching Artist Interns
JUMP TO:  Home  |  About  |  Application  |  Timeline  |  Frequently Asked Questions
Teaching Artist Interns are UCI Claire Trevor School of the Arts (CTSA) undergraduate and graduate students majoring in Art, Dance, Drama or Music.

Teaching Artist Interns participate in Creative Connections because they are:
Looking for practical teaching experience
Passionate about mentoring and community service
Enjoy working with young artists
Our goal is to provide CTSA students with paid, valuable professional development and a pathway to continuing their arts education.  In partnership with Orange County Educators, Interns will work to create inclusive and equitable access to the arts for area K-12 students. Learn more about the program by reading the information below.  
Applications for the 2021-2022 Creative Connections program are closed. Check back in April for the 2022-2023 program application.
---
Application
Creative Connections is recruiting for the following positions:
| Position | Description | Application |
| --- | --- | --- |
| Teaching Artist Interns | Interns collaborate with an Orange County area educator to model and coach K-12 students through arts-based lessons and/or projects within their arts discipline.  Read more in the job description. | Applications closed. |
| Intern Mentors | In addition to their regular intern responsibilities, selected Mentors are returners who will be assigned other interns to guide and support throughout the year.  Read more in the job description. | Applications closed. |
| Intern Coordinator | The Intern Coordinator is a seasoned intern who will support the planning and execution of the Creative Connections program.  Read more in the job description. | Applications closed. |

Additionally, participation in Creative Connections may be used to fulfill the Major/Minor in Education Sciences practicum requirement, and/or the Minor in Civic and Community Engagement internship requirement regardless of if an intern is getting paid or receiving credit.
---
Application Timeline
Spring Quarter
Finals Week
June 7, 2021
Intern & Mentor applications due
 
June 10, 2021
Interview offers out via email
 
June 10-13, 2021
Sign up for interview times
Summer Quarter
Week 0
June 14-18, 2021
Interviews
Week 1
June 21-25, 2021
Intern & Mentors offers out
---
Frequently Asked Questions
How are Interns matched with an Educator?
​Interns will be able to review Educator applications during Fall training.  An initial meeting between the Intern and Educator is then scheduled to ensure that the needs, goals, and approaches of both the intern and educator align well.  Once a good match is established, the Intern and Educator will work together to plan at least one classroom observation by the end of Fall Quarter for the intern to see the classroom dynamic and meet the students.
Please note, we do our best to match the interests of the Teaching Artist Interns with the needs of the Educators.  Because of this, we, unfortunately, may not be able to partner all Interns with an Educator.
What kinds of projects are created as part of the internship?
​Projects are developed collaboratively between the Intern and their matched Educator to augment the work already being done in the classroom.  Beginning in the Winter Quarter and continuing into the Spring Quarter, Interns will implement these planned projects through synchronous or asynchronous classroom lessons, group and individual coaching, and other appropriate teaching methods.  Examples of past projects include: visual art and science integrated drawing lessons, guest choreography sessions, monologue direction, and one-to-one music lessons. 
Will the 2021-2022 Creative Connections program operate in-person or remotely?
While we are optimistic that we can host Fall Training in-person, we continue to follow the guidelines set forth by university administration and local and federal governments.  We must also consider our partner schools and abide by their policies on outside guests visiting their school sites.  We should have more information on this once interviews begin in June.
I do not have a vehicle to travel to and from my partnered school.  Can I still participate in Creative Connections?
Yes, you can!  We want everyone to be able to take advantage of this unique opportunity and are committed to eliminating as many barriers to participation for our CTSA students.  Therefore, we reimburse all our Interns for their transportation costs to and from their school sites, regardless if you use a personal vehicle, public transportation or car service.
What if I have other questions that were not answered here?
Should you have any other questions or concerns, please email us at artsoutreach@uci.edu.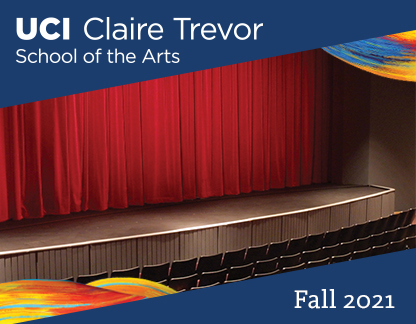 CONNECT - Fall 2021
 
About CTSA​
More Information
Giving