Educators
JUMP TO:  Home  |  About  |  Application  |  Timeline  |  Frequently Asked Questions
Educators of the Greater Orange County area are all eligible to be a part of the Creative Connections program, with priority being given to schools receiving support from Title 1 of the Every Student Succeeds Act. 

Educators may receive an intern in order to:
Augment the great work you are already doing
Provide your students with a mentor currently studying the arts at a collegiate level
Support the future of arts education
Teaching Artist Interns are UCI Claire Trevor School of the Arts (CTSA) undergraduate and graduate students majoring in Art, Dance, Drama or Music. Our goal is to provide CTSA students with valuable professional development and a pathway to continuing their arts education, while creating inclusive and equitable access to the arts for area K-12 students.
There is no fee to participate in the Creative Connections program as it is entirely grant funded and FREE for Orange County schools and school districts. 
---
Educators are committed to providing a positive learning and professional development experience for our CTSA Teaching Artist Interns. The relationship between intern and educator should be symbiotic, with the intern gaining just as much from the educator and their students as the educator and their students gains from the intern.
Educators must be:
Employed by an Orange County school or school district
Possess strong communication and collaborative skills
Serve as a positive role model and mentor
Maintain flexibility and understanding that our Interns are students first, interns second
The responsibilities of the Educator are to:
Collaborate with intern in developing project schedule and details that support your classroom and curriculum goals in equitable and inclusive ways
Communicate regularly with intern and program staff on both successes and challenges
Welcome and supervise intern in your classroom between January-May/June to implement project
Support intern by providing feedback, access to materials, resources and facilities
Liaise with school administration and parents
Applications for the 2021-2022 Creative Connections program are closed. Check back in April for the 2022-2023 program application.
---
Spring Quarter
Monday, May 31, 2021
Educator applications open
Monday, June 7, 2021
Intern applications due
Summer Quarter
June 14-18, 2021
Intern interviews
Friday, June 25, 2021
Interns selected
Fall Quarter
Friday, September 10, 2021
Educator applications due
October-December 2021

Intern Training

 
Intern-Educator initial meetings
 
Classroom observations
Winter/Spring Quarters
January-May/June 2022
Project implementation
---
How are Interns matched with an Educator?
​Interns will have access and review Educator applications during our Fall training.  An initial meeting between the Intern and Educator is then scheduled to ensure that the needs, goals, and approaches of both the intern and educator align well.  Once a good match is established, the Intern and Educator will work together to plan at least one classroom observation by the end of December for the intern to see the classroom dynamic and meet the students.
Please note, we do our best to match the interests of the Teaching Artist Interns with the needs of the Educators.  Because of this, we, unfortunately, may not be able to partner all Educators with an Interns.
What kinds of projects are created as part of the internship?
​Projects are developed collaboratively between the Intern and their matched Educator to augment the work already being done in the classroom.  Beginning in January and continuing into the end of the Educator's school year, Interns can implement these planned projects through synchronous or asynchronous classroom lessons, group and individual coaching, and any other appropriate teaching methods.  Examples of past projects include: visual art and science integrated drawing lessons, guest choreography sessions, monologue direction, and one-to-one music lessons. 
What is the expected time commitment to participate in this program?
The Interns are expected to spend between 1-3 hours per week implementing their project.  These hours may consist of independent prep work, meetings with their Educator, classroom time, or whatever else may be needed to complete the project.  As the Educator, we ask that you remain in good communication with your Intern and remain supportive and flexible throughout the year, understanding that your Intern is student first and foremost.
Will the 2021-2022 Creative Connections program operate in-person or remotely?
While we are optimistic about the possibility of having our Interns work with you and your students in person, we continue to follow the guidelines set forth by our university administration and local and federal governments.  We must also consider your own school's policies and will abide by any guidelines set forth for outside visiting guests.  If necessary, strategies on how to approach this will be further discussed during the Intern-Educator initial match meeting in the Fall.
What if I have other questions that were not answered here?
Should you have any other questions or concerns, please email us at artsoutreach@uci.edu.
---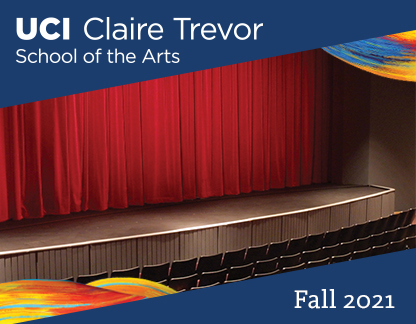 CONNECT - Fall 2021
 
About CTSA​
More Information
Giving