Contemporary Arts Center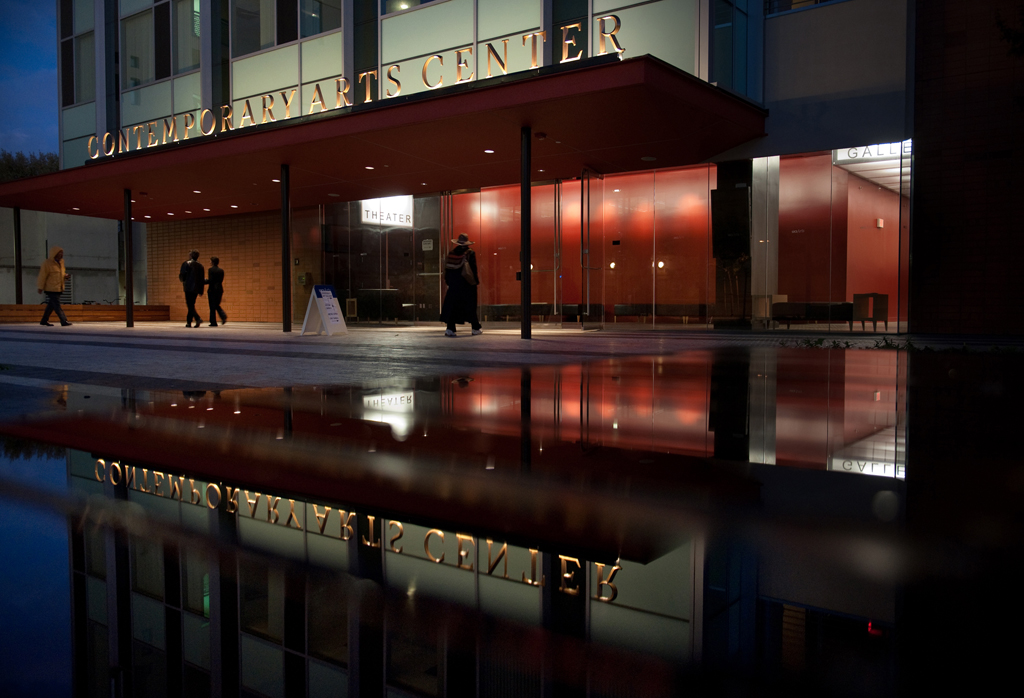 The Contemporary Arts Center is an eco-friendly and technologically-advanced building. It is a four-story building which boasts an experimental media lab black box theatre, an art gallery designed to be a world-class exhibition space, a 2,000-square-foot performance capture studio, a state of the art sound design and recording studio, a costume design studio and storage space, computer labs and more.
The Center is LEED (Leadership in Energy & Environmental Design) Platinum Certified and was primarily constructed using locally-sourced materials to reduce the School's carbon footprint. In addition, the building contains a system of natural ventilation and was designed and oriented on the land to take advantage of the wind patterns that occur on site. The hallways of the Center are open and allow for the breeze to come through in order to naturally ventilate the building. Against the exterior of the building are fixed, perforated panels that block out the summer sun so that the Center is kept cool during the hottest time of the year and still allow wind to flow through the hallways.
Along with its eco-friendly design, the Center's advanced technological capabilities provides the School of the Arts with invaluable resources. The Center has a quarter million feet of networking cable throughout the building and is fed by fiber optic connections, which increases efficiency and network communication. The majority of the building is secured through the use of proximity-based card keys, which allows easily programmable access for faculty and students at all times.

The Meyers Sound Design Studio, located on the lower level of the building, is a state of the art recording studio with an isolated vocal booth and sound editing suite. The ground-level location keeps the rooms isolated from the lo-frequency sounds that can be heard in other rooms.
The performance capture studio is a combination green screen and traditional motion capture system that uses infrared markers and will allow for a mix between video and animation. Its primary use is for dance research and for some classes.
The costume design studio, serves as an extension of the current costume studio, contains a modern storage system, similar to that of a dry cleaner.
A colloquium room serves as a seminar room for graduate students and guest lecturers. The room contains three projection screens and is specifically targeted toward visual programs, particularly in the Studio Art Department.