Recording Archive
About the Recording Archive
The Recording Archive is a collection of audio recordings comprised of music performances presented by the UCI Claire Trevor School of the Arts since 1969. It is housed in, and is cataloged and maintained by, the Arts Media Center. Formats include 1991 reel-to-reel tapes (1969-1996), 761 digital audio tapes (1996-2005), 430 compact discs (2005-2014), and hard drive storage of digital audio .wav files with scanned programs (2014-present). 
What the Archive Includes
Contents range from large and small ensemble concerts, to faculty, graduate, undergraduate, and guest artist recitals, including:
Large ensembles
UCI Symphony, UCI Chamber Symphony, University Chorus , University Chamber Singers, Concert Choir, Choral Festivals, Collegium Musicum, UCI Opera, UCI Musical Theater, UCI Wind Ensemble
Class recitals
Percussion Ensemble, Guitar Ensemble, Vocal Performance and Opera Scenes, UCI Jazz Band and small ensembles, student composers, ICIT - Integrated Composition, Improvisation, and Technology
Concert series
Afternoon concerts, Sunday evening concerts
Other
ICIT graduate student capstone projects  
Access
Access to the Recording Archive is open to the public for onsite use, and a growing portion of it is available online at UC's online archive, Calisphere
https://calisphere.org/institution/221/collections/. 
Archive recordings are cataloged in UCI Library Search
https://uci.primo.exlibrisgroup.com
search by date, event title, and featured performer or ensemble name. Author is University of California, Irvine.   Most archive recording data from 1969-2014 is also downloadable in the PDF files below.  Searches may be conducted at an AMC computer, or by request to staff by phone (949) 824-8364, or email:
rwhitney@uci.edu
. Due to their age and fragility, the physical reel-to-reel tapes cannot be played back, so listening to these recordings will not be possible until the tapes have been restored and digitized.
PDF Files of Recording Archive Catalog Records
The PDF files below may also be dowloaded and searched for content.
Reel-to-reel tape catalog records (1969-1996) pdf
DAT tape catalog records (1996-2005) pdf
CD catalog records (2006-2014) pdf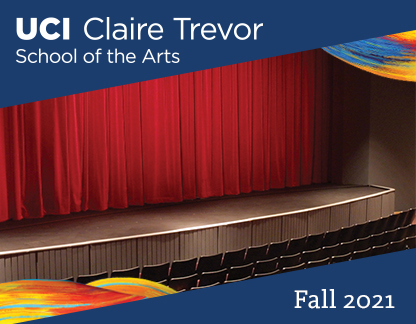 CONNECT - Fall 2021
 
About CTSA​
More Information
Giving