Unveiling "Love and Identity"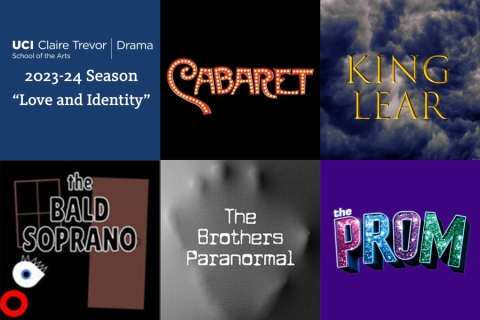 UCI Drama's 2023-24 Mainstage Season Explores the Power of Belonging
by Mia Hammett
From post-war romance to mid-century surrealism, UCI's 2023-24 mainstage season of 'love and identity' uniquely engages with both new and familiar narratives. It showcases stories from the 20th and 21st centuries, which are reimagined in contemporary adaptations and include the sound and musical contributions of UCI's own Claire Trevor School of the Arts (CTSA) M.F.A. students.
Professor Don Hill, chair of the Department of Drama, looks forward to this upcoming season's diversity of styles, venues, and playwrights. Hill sees the productions as opportunities for thoughtful introspection, prompting conversations and questions of who we love, how we identify, and with which characters we identify.
"There seems to be a lot in the conversation of how we identify," said Hill. "For example, in King Lear—how or with whom are we identifying? Are we identifying with the dutiful young daughter or son, or with the relationship in The Prom? How do we identify by gender? Who's to say who gets to have a prom and who doesn't?"
Hill is interested in the conversations the theme of "love and identity" will generate. He sees the upcoming season as a chance to both question and expand the scope of the CTSA's artistic vision.
"It's important within an academic institution to look at things from various perspectives," said Hill. He's also excited about the prospective research opportunities it will provide to the students.
"I hope, with each show, that audiences will walk away with some sense of what the director's intent was—about what they want that audience to think or feel. I think provocative thought, things that cause you to rethink things, or things that you've traditionally celebrated as entertaining, are all valuable takeaways for audience members."
Tickets go on sale Tuesday, Sept. 5, 2023, through the Arts Box Office.
---
The fall season opens with Cabaret, written by Joe Masteroff and directed by Angela Cruz, and features choreography by Cyrian Reed, an asst. professor in the Department of Dance. Set in a tumultuous post-World War I Berlin, during the rise of the Nazi Party, American writer Clifford "Cliff" Bradshaw becomes romantically involved with cabaret performer Sally Bowles, whom he meets at the Kit Kat Club. As Nazi occupation in Germany mounts, Cliff's and Sally's relationship is similarly brought to bear in a series of increasingly dire and violent events. Cabaret will be staged at the Claire Trevor Theatre from November 11-18, 2023.
In the winter, the department presents King Lear, written by William Shakespeare and directed by Lucas James Nelson. King Lear tells the tragic tale of King Lear, the aging king of Britain, who intends to divide his kingdom among his daughters Goneril, Regan, and Cordelia. Goneril and Regan smother him with provocations of love; Cordelia, however, declines to flatter her father and is consequently disowned and banished by Lear. In true Shakespearian tradition, betrayal ensues. King Lear will be staged at the Claire Trevor Theatre from February 3-10, 2024.
Next will be The Bald Soprano, written by Romanian-French avant-garde playwright Eugène Ionesco and directed by Mihai Maniutiu. Considered an absurdist "anti-play," The Bald Soprano introduces the Smiths, a traditional, middle-class English couple who have invited the Martins—a similar couple—over for a visit. The two couples exchange rote, elliptical, nonsensical dialogue and are occasionally joined by Mary, the Smiths' housemaid, and the Fire Chief—Mary's former lover. The Bald Soprano kicks off at the Robert Cohen Theatre from March 9-16, 2024.
Spring of 2024 introduces The Brothers Paranormal, written by Prince Gomolvilas. Two Thai American brothers set out to launch a ghost-hunting business after a nationwide rise in sightings of "Asian-looking ghosts." The two are soon called on to investigate the home of a couple who've been displaced by Hurricane Katrina—all of whom experience the haunting of a particularly malevolent spirit. The Brothers Paranormal will be staged at the Contemporary Arts Center in the Experimental Media Performance Lab (xMPL) from April 27 to May 4, 2024.
The season concludes with the latest Broadway hit, The Prom, written by Bob Martin and Chad Beguelin and co-directed by Don Hill and Daniel Keeling, with music direction by Trevor Bourland. The Prom follows four Broadway actors who journey to the conservative town of Edgewater, Indiana, after learning that the town's local high school has banned Emma Nolan—a lesbian student—from bringing her girlfriend to the dance. The Prom plays at the Claire Trevor Theatre from June 1-8, 2024.
"Something we will be doing with The Prom is that we will be inviting high school students, specifically LGBTQ+ students within high schools, to come to the show," said Hill. "We'll invite them on stage after the curtain call to dance at an all-inclusive prom—something that may or may not have occurred at their schools."
The 2023-24 mainstage season combines the work of students and faculty alike, across all disciplinary modes and identifications. A proud leader of interdisciplinary work, the UCI Claire Trevor School of the Arts values—and continues to forge—creative connections within its departments (Art, Dance, Drama, Music) and across campus.
---
Learn more about the Department of Drama at drama.arts.uci.edu.
About the Claire Trevor School of the Arts: As UCI's creative engine, the Claire Trevor School of the Arts has proven itself to be a national leader in training future generations of artists and scholars who go on to inspire audiences in theaters, galleries and concert halls – as well as in entertainment and technology-related venues throughout the world. CTSA combines artistic training with a top-ranked liberal arts education. It is home to the departments of art, dance, drama and music, offering 15 undergraduate and graduate degree programs and two minors. CTSA is currently ranked No. 1 in affordable fine arts, drama/theater and music degrees by the College Affordability Guide. Courses include extensive studio, workshop and performance experiences; theoretical and historical studies; and arts and technology practices. CTSA's nationally ranked programs begin with training but culminate in original invention. The distinguished, international faculty work across a wide variety of art forms and forge interdisciplinary partnerships with others across the campus. For more information, visit www.arts.uci.edu. 
About the University of California, Irvine: Founded in 1965, UCI is a member of the prestigious Association of American Universities and is ranked among the nation's top 10 public universities by U.S. News & World Report. The campus has produced five Nobel laureates and is known for its academic achievement, premier research, innovation and anteater mascot. Led by Chancellor Howard Gillman, UCI has more than 36,000 students and offers 224 degree programs. It's located in one of the world's safest and most economically vibrant communities and is Orange County's second-largest employer, contributing $7 billion annually to the local economy and $8 billion statewide. For more on UCI, visit www.uci.edu.