UCI Claire Trevor School of the Arts Names Samantha Lin as the 2019 Annual ASTAIREAWARDS® Scholarship and Award Recipient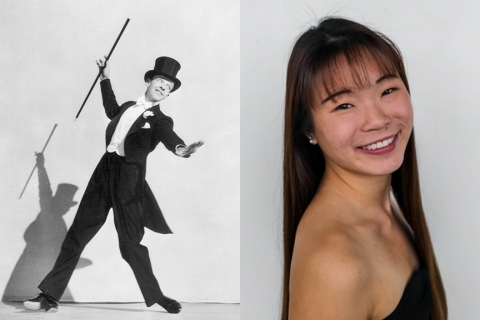 UCI Claire Trevor School of the Arts Names Samantha Lin as the 2019 Annual ASTAIREAWARDS® Scholarship and Award Recipient
Irvine, Calif. – The Claire Trevor School of the Arts' department of dance, at the University of California, Irvine, is pleased to announce fourth-year dance student Samantha Lin as the  2019 ASTAIREAWARDS® Scholarship and Award recipient.  The annual ASTAIREAWARDS® scholarship is presented  to students for their excellence in dance, choreography, and music. Ms. Lin will be honored at the annual Claire Trevor School of the Arts scholarship dinner on Tuesday, June 4, 2019.
"We are very pleased to be giving the 2019 ASTAIREAWARDS® scholarship and award to Samantha for her outstanding performances, choreography and being a good artist citizen," said Molly Lynch, chair of the department of dance. "She has excelled in our dance program."
Ms. Lin is a double major completing her B.F.A. in Dance Performance and Dance Choreography, as well as a B.A. in Education. During her time at UCI, Ms. Lin worked with a series of faculty choreographers, including the late Donald McKayle. She credits her participation in his Etude Ensemble as a defining period for her, artistically, technically, and personally. She also choreographed and presented pieces in the "Physical Graffiti" and "Bare Bones Dance Theater's Annual Show."
Ms. Lynn participates in multiple organizations, including the non-profit Movement Exchange, and the Shining Stars summer outreach program. Most notably, she serves on the Executive Board of Bare Bones Dance Theater and as captain and coordinator of the on campus hip-hop dance team, Modern Completely Insane Anteaters (MCIA).
In addition to her budding career at UCI, Ms. Lin recently received an award for "Outstanding Student Performance" while competing at the American College Dance Association Regional Conference. As a result, she was invited to perform a solo choreographed piece by Vanessa Kanamoto in the Gala Highlights at Washington D.C.'s Lincoln Center, as well as on the Inside/Out Stage at Jacob's Pillow.
"I want to thank the UCI Dance faculty and all of the dancers that I've had the opportunity to work and perform with while at UCI," said Ms. Lin. "They created a supportive space for me to grow, make mistakes, and refine myself as a dancer and artist. I am grateful for the community I found in the department."
The department of dance faculty, through a committee appointed by Stephen Barker, Ph.D., Dean of the Claire Trevor School of the Arts, determines the ASTAIREAWARDS® scholarship recipients. The criteria for the annual award are excellence in dancing talent, performance, and dedication to the field of dance.
About the Claire Trevor School of the Arts: As UCI's creative laboratory, the Claire Trevor School of the Arts explores and presents the arts as the essence of human experience and expression through art forms ranging from the most traditional to the radically new. The international faculty work across a wide variety of disciplines, partnering with others across the campus. Nationally ranked programs in art, dance, drama, and music begin with training but end in original invention. Students come to UCI to learn to be citizen-artists, to sharpen their skills and talents, and to become the molders and leaders of world culture. For more information, visit www.arts.uci.edu.
About the University of California, Irvine: Founded in 1965, UCI is the youngest member of the prestigious Association of American Universities. The campus has produced three Nobel laureates and is known for its academic achievement, premier research, innovation and anteater mascot. Led by Chancellor Howard Gillman, UCI has more than 36,000 students and offers 222 degree programs. It's located in one of the world's safest and most economically vibrant communities and is Orange County's second-largest employer, contributing $5 billion annually to the local economy. For more on UCI, visit www.uci.edu.
Media access: Radio programs/stations may, for a fee, use an on-campus ISDN line to interview UCI faculty and experts, subject to availability and university approval. For more UCI news, visit news.uci.edu. Additional resources for journalists may be found at communications.uci.edu/for-journalists.
The rights to use the ASTAIREAWARDS® trademark and the name FRED ASTAIRE have been granted through a special license from Mrs. Fred Astaire, Beverly Hills, California.  All rights reserved.
Images: (above left) Mr. Fred Astaire, an American dancer, often regarded as the greatest popular music dancer of stage and film of all time.
(above right) 2019 ASTAIREAWARDS® Scholarship and Award Recipient Ms. Samantha Lin.