UCI Drama takes a playful look at immigration in CLOWN ALIENS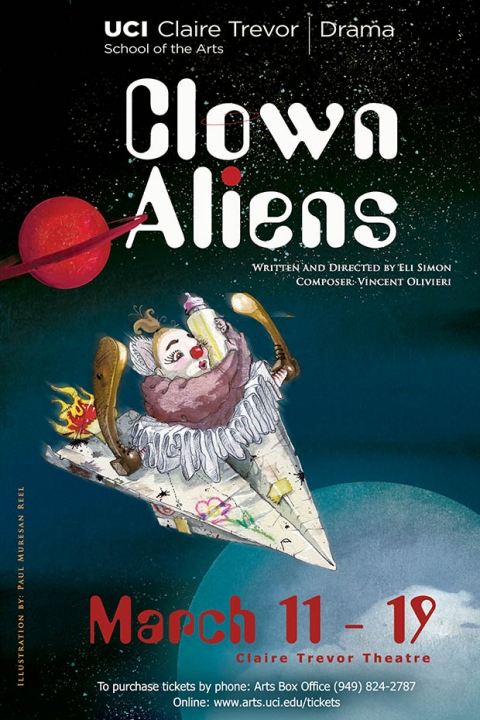 UCI DRAMA TAKES A PLAYFUL LOOK AT IMMIGRATION IN CLOWN ALIENS
Irvine, Calif. (February 28, 2017) – UC Irvine's Claire Trevor School of the Arts Department of Drama continues its season of "THEM!" with a playful yet critical look at immigration and otherness in Clown Aliens. The story follows a family of clowns who leave their home on Clown Planet and become inhabitants of Earth, encountering the same bias and exclusion that many immigrants face in America and around the world. Clown Aliens explores the trials and tribulations of assimilation, and how to maintain a sense of self in the face of overwhelming pressure to conform.
Chancellor's Professor of Drama Eli Simon directs this original work, which is enriched by a dynamic score composed by sound design professor Vincent Olivieri. This collaborative production was created in 2013, when it was commissioned by the National Theater of Romania as the second installment of the three-part Simon/Olivieri "War of the Clowns" saga. Simon has taught clowning for over twenty years and has written several books on the subject, and describes this piece as an "epic clown funk musical." While there's no doubt this is a fun and playful show, it also takes a close look at some serious topics. "I've always maintained that clowns do not have to just be funny," said Simon, "and that some of the most potent clowning touches our hearts in profound ways." Particularly relevant to discussions happening in our current political arena, there are many moments throughout the show when laughter gets cut short by a sudden sense of poignancy. "I'm hoping that Clown Aliens is entertaining, yes, but at the same time reminds us that we risk losing entire cultures when we push them out, lock them up, or force them to be more like us." The production features a five-piece funk band, musically directed by Lex Leigh, an MFA candidate in music direction.
UCI Drama invites you to join us for the remaining productions in our 2016 – 2017 season: I Dream of Chang and Eng, and Avenue Q. We encourage you to accompany our creative teams, with an open heart and an inquisitive mind, on these thoughtful journeys through the voices and experiences of "the other."
Performances and Ticket Information
Claire Trevor Theatre. Parking: 4000 Mesa Rd, Irvine, CA 92617
Evenings: March 11, 16, 17, 18 @ 8 p.m.
Evening: March 15 @ 7:30 p.m.
Matinees: March 12, 18, 19 @ 2 p.m.
General Admission $15 / Seniors & Groups 10+ $14 / UCI Students & Children under 17 $11. Box Office (949) 824-2787 or www.arts.uci.edu/tickets.
The UCI Drama production team will host a post-performance TalkBack on March 12 after the 2 p.m. matinee with the creative team and cast.
About UCI Claire Trevor School of the Arts: As UCI's creative laboratory, the Claire Trevor School of the Arts explores and presents the arts as the essence of human experience and expression, through art forms ranging from the most traditional to the radically new. The international faculty works across a wide variety of disciplines, partnering with others across the campus.  National-ranked programs in art, dance, drama, and music begin with training but end in original invention. Students come to UCI to learn to be citizen-artists, to sharpen their skills and talents, and to become the molders and leaders of world culture. For more information, visit www.arts.uci.edu.
About the University of California, Irvine: Founded in 1965, UCI is the youngest member of the prestigious Association of American Universities. The campus has produced three Nobel laureates and is known for its academic achievement, premier research, innovation and anteater mascot. Led by Chancellor Howard Gillman, UCI has more than 30,000 students and offers 192 degree programs. It's located in one of the world's safest and most economically vibrant communities and is Orange County's second-largest employer, contributing $5 billion annually to the local economy. For more on UCI, visit www.uci.edu.