UCI Drama tackles rage, love, and disillusionment in Green Day's American Idiot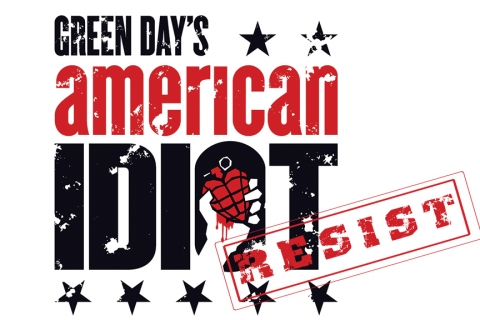 UCI DRAMA TACKLES RAGE, LOVE, AND DISILLUSIONMENT IN GREEN DAY'S AMERICAN IDIOT
Irvine, Calif., May 10, 2018 –  UC Irvine's Claire Trevor School of the Arts Department of Drama wraps its 2017 – 18 season, The Business of Politics/The Politics of Business, with Green Day's iconic and defiant musical American Idiot. With songs from the punk band's 2004 album of the same name, as well as additions from their follow-up 21st Century Breakdown, the soundtrack combines a visceral howl of coming-of age-disillusionment with the sharp-tongued political commentary that is Green Day's trademark.
Directed and choreographed by Professor Andrew Palermo, UCI Drama's production is the final offering in a season of shows that have tackled issues around the intersection of power, politics, and social and interpersonal (in)equity. With a set and costumes that intone a post-apocalyptic disconnection, the characters offer a lyrical counterpoint with criticism of sociopolitical power structures and the dumbing down of America; lyrics that were initially written as a critique of the Bush administration ring all the more true in 2018. "It's a poignant time to be working our way through this show," said Palermo. "Though the album was written fourteen years ago in response to a different moment in time, it is sadly more relevant than ever – and in some cases, prophetic. What was predicted, in many respects, has come to pass."
As with all of UCI Drama's spring musicals, American Idiot is cast entirely of undergraduate students, who may not even have been cognizant of the political climate at the time the album was released. Still, the material resonates for them now. MFA in Music Direction candidate Lex Leigh, Music Director and Conductor of the eight-piece band, has noticed that "the cast is really getting behind this material. I believe it's encouraging an increased level of engagement with the issues of the day." We hope you join us for what promises to be an entertaining and evocative ride.
Performances and Ticket Information
Claire Trevor Theatre. Parking: 4000 Mesa Rd, Irvine, CA 92617
Evenings: Jun. 2, 7, 8, 9 at 8:00 p.m.
Evening: Jun. 6 at 7:30 p.m.
Matinees: Jun. 3*, 9 at  2:00 p.m.
General Admission $18 / Seniors & Groups 10+ $15 / UCI Students & Children under 17 $11. Box Office (949) 824-2787 or www.arts.uci.edu/tickets.
The UCI Drama production team will host a post-performance TalkBack on June 3rd after the 2 p.m. matinee with the creative team and cast.