UCI Drama Celebrates Women in Law with the Award-Winning Musical LEGALLY BLONDE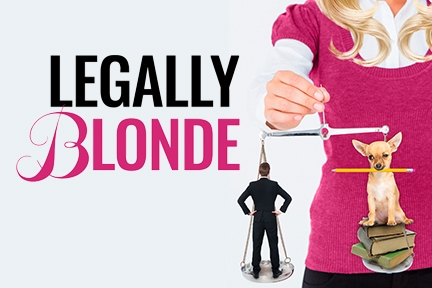 UCI DRAMA OPENS ITS SEASON BY CELEBRATING WOMEN IN LAW WITH THE AWARD-WINNING MUSICAL LEGALLY BLONDE
Irvine, Calif., October 22, 2018 –  UC Irvine's Claire Trevor School of the Arts Department of Drama opens its 2018-19 season, entitled "Against All Odds," with the irresistibly fun musical Legally Blonde at the Irvine Barclay Theatre. Nell Benjamin and Laurence O'Keefe's 2007 Broadway hit, with a book by Heather Hach based on the Amanda Brown novel and movie of the same name, was nominated for multiple Tony Awards and won an award for Best Touring Musical in 2009. This story of Elle Woods' journey, which begins as a quest for love and ends as a story of personal transformation, cleverly embeds its message of empowerment in a pink and rollicking world of music, humor, and double entendre.
Directed by the Drama department's Head of Music Theatre Myrona DeLaney, Musically Directed by MFA candidate Benet Braun, and choreographed by Professor Andrew Palermo, this production is visually lush and grand in scope, as the design team takes us from the sunny campus of UCLA to the hallowed halls of Harvard University. A 13-piece professional orchestra gives life to the ferociously catchy score, including favorites like "Omigod You Guys" and "Bend and Snap." Professor DeLaney is thrilled to helm a production that remains boundlessly fun, while still managing to convey a profound message. "I think Elle's journey is one we can all relate to," says DeLaney. "She sets off with a very specific goal in mind, but as she stays open to what life has in store for her, she finds she has much more to offer than she previously thought."
Legally Blonde kicks off the Drama department's fifth themed season, which explores stories of individuals and communities who have persevered in the face of significant challenge. "These are the stories that make great theatre, and indeed, that keep us personally inspired and hopeful in difficult times," says Drama Chair Gary Busby. "We invite you to join us in living journeys of those who were faced with substantial adversity, but survived – and thrived - against all odds."
Performances and Ticket Information
Irvine Barclay Theatre, 4242 Campus Drive, Irvine, CA 92612
Evenings: Nov. 10, 15, 16, 17 @ 8:00 p.m.
Evening: Nov.14 @ 7:30 p.m.
Matinees: Nov. 11*, 17, 18 @ 2:00 p.m.
General Admission $25 / Seniors & Groups 10+ $21 / UCI Students & Children under 17 $12. Box Office (949) 824-2787 or www.arts.uci.edu/tickets.
The UCI Drama production team will host a post-performance TalkBack on November 11 after the 2 p.m. matinee with the creative team and cast.
About UCI Claire Trevor School of the Arts: As UCI's creative laboratory, the Claire Trevor School of the Arts explores and presents the arts as the essence of human experience and expression, through art forms ranging from the most traditional to the radically new. The international faculty works across a wide variety of disciplines, partnering with others across the campus.  National-ranked programs in art, dance, drama, and music begin with training but end in original invention. Students come to UCI to learn to be citizen-artists, to sharpen their skills and talents, and to become the molders and leaders of world culture. For more information, visit www.arts.uci.edu.
About the University of California, Irvine: Founded in 1965, UCI is the youngest member of the prestigious Association of American Universities. The campus has produced three Nobel laureates and is known for its academic achievement, premier research, innovation and anteater mascot. Led by Chancellor Howard Gillman, UCI has more than 30,000 students and offers 192 degree programs. It's located in one of the world's safest and most economically vibrant communities and is Orange County's second-largest employer, contributing $5 billion annually to the local economy. For more on UCI, visit www.uci.edu.