UCI Drama plays with language and love in the classic THE IMPORTANCE OF BEING EARNEST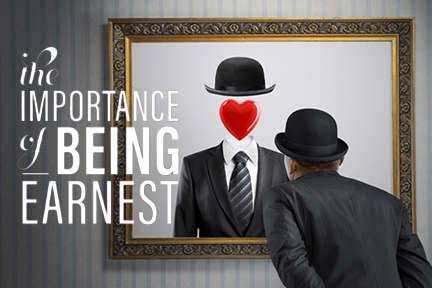 UCI DRAMA PLAYS WITH LANGUAGE AND LOVE IN THE CLASSIC THE IMPORTANCE OF BEING EARNEST, GUEST DIRECTED BY SHISHIR KURUP
Irvine, Calif., November 20, 2018 – UC Irvine's Claire Trevor School of the Arts Department of Drama continues its 2018-19 season, entitled "Against All Odds," with Oscar Wilde's classic farce The Importance of Being Earnest. Guest directed by actor-director Shishir Kurup, it will play December 1 – 9 2018 in the Little Theatre on the UC Irvine campus. Widely thought to be Wilde's most popular play, the rich language and quick wit of Earnest is a perennial draw, with this production given a notable depth of texture by Kurup's dedication to drawing out a deeper level of resonance beneath the sparkling dialogue.
UCI Drama's season theme was chosen as a way to highlight stories of those who have faced significant adversity, yet persevered; though the narrative of this play is relatively light, the circumstances in which Wilde wrote it were fraught with personal hardship and challenge. As a gay man living in the stifling closet of Victorian English society, Wilde wrote with wit and insight about the twists and complexities of love, without the freedom of openly writing his own truth. At the height of his fame and success in 1895, while Earnest was still being performed in London, Wilde was arrested for "gross indecency with men." After multiple trials he was convicted and sentenced to two years' hard labor, eventually dying destitute at the age of 46.
Director Shishir Kurup is eager to explore the many levels of this classic text, mining it not only for its inherently brilliant comic timing, but also for the moments of dramatic subtext he feels are built into the play. To reveal this shadow layer, he is working with sound designer Hunter Moody and composer Ningru Guo to orchestrate a haunting soundscape over which the dramatic action is draped. "What Wilde had to suffer moved him," says Kurup. "It can't all be levity… you play that, but you also allow the moments of stillness. I feel this honors the larger life of the play, both its bubbly light and its dark undercurrents." Kurup is a veteran of Oregon Shakespeare Festival and Cornerstone Theatre, and is a prolific actor and director on both stage and screen.
Moody and Guo are joined on the creative team by scenic designer and UCI Drama alumna Leah Ramillano, costume designer Lauryn Moles, and lighting designer Merle DeWitt III. Samantha Sorin is the production stage manager. Chair of UCI Drama and producing artistic director, Daniel Gary Busby, feels that stories of survival are particularly critical in this sociopolitical moment. "History provides countless examples of individuals, communities, and nations facing desperate, unjust, and even seemingly impossible circumstances," says Busby. "Yet somehow, time and again, they find the will and the means to overcome. These are the stories that make great theatre, and keep us hopeful in difficult times." For more information, call the Department of Drama at (949) 824-8062 or visit our website: http://drama.arts.uci.edu/on-stage.
Performances and Ticket Information
The Little Theatre, Humanities Hall
Evenings: Dec. 1, 6, 7, 8 at 8:00 p.m.
Evening: Dec. 5 at 7:30 p.m.
Matinees: Dec. 2*, 8, 9 at 2:00 p.m.
General Admission $18 / Seniors & Groups 10+ $15 / UCI Students & Children under 17 $11. Box Office (949) 824-2787 or www.arts.uci.edu/tickets.
Parking: Mesa Parking Structure, 4000 Mesa Road, Irvine 92617
The UCI Drama production team will host a post-performance TalkBack on December 2 after the 2 p.m. matinee with the creative team and cast.
About UCI Claire Trevor School of the Arts: As UCI's creative laboratory, the Claire Trevor School of the Arts explores and presents the arts as the essence of human experience and expression, through art forms ranging from the most traditional to the radically new. The international faculty works across a wide variety of disciplines, partnering with others across the campus.  National-ranked programs in art, dance, drama, and music begin with training but end in original invention. Students come to UCI to learn to be citizen-artists, to sharpen their skills and talents, and to become the molders and leaders of world culture. For more information, visit www.arts.uci.edu.
About the University of California, Irvine: Founded in 1965, UCI is the youngest member of the prestigious Association of American Universities. The campus has produced three Nobel laureates and is known for its academic achievement, premier research, innovation and anteater mascot. Led by Chancellor Howard Gillman, UCI has more than 30,000 students and offers 192 degree programs. It's located in one of the world's safest and most economically vibrant communities and is Orange County's second-largest employer, contributing $5 billion annually to the local economy. For more on UCI, visit www.uci.edu.