UCI Drama Explores the Psychiatry of Dehumanization in Georg Büchner's Woyzeck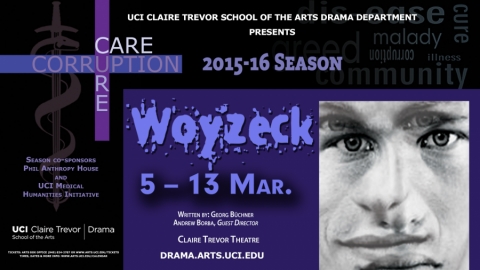 UCI DRAMA EXPLORES THE PSYCHIATRY OF DEHUMANIZATION IN GEORG BÜCHNER'S WOYZECK
IRVINE, Calif. (February 12, 2016)
– UC Irvine's Claire Trevor School of the Arts Department of Drama presents George Büchner's challenging and influential play
Woyzeck
. Famously unfinished when Büchner died in 1837, the narrative explores themes of working class struggle and dehumanization in the life of soldier Franz Woyzeck. Loosely based on the life of a Leipzig barber, who later became a soldier and was finally driven to madness and murder,
Woyzeck
is considered by many to be the first "modern" drama. It is by turn a naturalistic tragedy, a damning social critique of the abuses of power, and a discussion of free will versus social determinism. Joining UCI Drama as guest director for this production is renowned actor, director, and educator, Andrew Borba. When asked how he felt about directing a play with an unfinished script, Borba responded with enthusiasm. "Büchner's script is like the blueprint of a house," he said. "It's beautiful but not yet built, and given the different translations and even the different endings available, the thrill of creating this world nearly from scratch with the designers, the actors and my own crazy imagination is certainly more challenging than most plays but also more freeing." In addition to exploring issues of mental health and moral responsibility, Woyzeck examines the ways in which the poor and dispossessed are exploited by those in financial and political power, a topic that Borba feels is as timely today as ever before. "It's a very Brechtian sentiment, and one that was the first spark in our discussions about the play – the separate rules for the 'haves' and 'have-nots' in this world," he shared. "Whether we are talking about the 99% in this country, the disproportionate number of poor in American prisons, certain underlying causes of the Palestinian/Israeli conflict, or those most likely to be recruited into ISIS, our world continues to be ruled, run, and manipulated by those who hold the purse strings." To read the full interview with Andrew Borba, visit
http://drama.arts.uci.edu/
. We hope you will join us to experience this innovative and thought-provoking production, which promises to inspire discussion and challenge the ways in which we view the events of today's sociopolitical arena.
Woyzeck
is the fourth offering in UCI Drama's season of Care/Cure/Corruption, which explores themes of somatic and mental illness, as well as other kinds of institutional dis-ease. Featured productions aim to open discussions on the causes and manifestations of personal and communal malady, and to investigate ways in which we – as individuals and as a society – may affect a cure.
Performances and Ticket Information
Claire Trevor Theatre, UC Irvine
Parking: Mesa Parking Structure, 4004 Mesa Road, Irvine 92617 Evenings: March 5, 10, 11, 12             8:00 pm
Evening: March 9                                 7:30 pm
Matinees: March 6*, 12, 13                  2:00 pm *Ticketholders: Please join us for a post-performance TalkBack with the creative team and cast. General Admission $15 / Seniors & Groups 10+ $14 / UCI Students & Children under 17 $11
For tickets call the Box Office at (949) 824-2787 or visit
www.arts.uci.edu/tickets
More on UC Irvine's Claire Trevor School of the Arts:
www.arts.uci.edu