UCI Drama Explores Corporate Greed and Personal Resilience In Melanie Marnich's These Shining Lives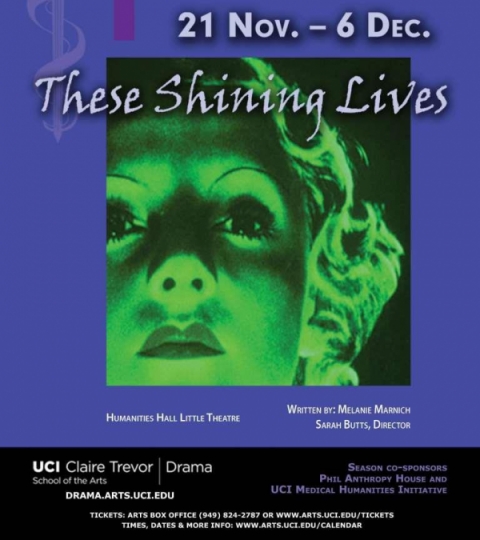 UCI DRAMA EXPLORES CORPORATE GREED AND PERSONAL RESILIENCE IN MELANIE MARNICH'S THESE SHINING LIVES
IRVINE, Calif. (October 28, 2015) – UC Irvine's Claire Trevor School of the Arts Department of Drama presents Melanie Marnich's engaging social drama These Shining Lives. Based on the true story of four women working at the Radium Dial Company in 1920s Illinois, the play explores the political nuances of female emergence in the work force within the timeless context of employee rights in the face of corporate greed.
These Shining Lives is helmed by third year graduate director Sarah Butts, who is excited about bringing to life this little known but critical episode in American history. Sarah believes that the most salient point of the story is "the drive for profit and progress over the health and wellness of human beings. The play illuminates the ugly side of capitalism," she says, "the side that can lead us to view and treat human life – especially the lives of marginalized populations – as expendable." It was the goal of Sarah and the design team to both honor the specific history of the women at the Radium Dial Company, while allowing the story to illuminate current concerns. "To help bring the play to the present we are exploring a heightened sense of theatricality," she explains, "one that fully embraces and celebrates the conventions of theatre. The themes and injustices revealed in the story are unfortunately not behind us, nor is the human cost which is felt by people across the globe. In this way, it is a universal story."
These Shining Lives is the second offering in UCI Drama's season of "Care/Cure/Corruption," which explores themes of somatic and mental illness, as well as other kinds of institutional dis-ease. Featured productions aim to open discussions on the causes and manifestations of personal and communal malady, and to investigate ways in which we – as individuals and as a society – may affect a cure.
Performances and Ticket Information
The Little Theatre, Humanities Hall (Building #601 on the UCI campus map), UC Irvine
Parking: Mesa Parking Structure, 4004 Mesa Road, Irvine 92617
Evenings: Nov. 21, Dec. 3, 4, 5 at 8:00 pm
Evening: Dec. 2 at 7:30 pm
Matinees: Nov. 22*, Dec. 5, 6 at 2:00 pm
*Ticket holders: Please join us for a post-performance TalkBack with the creative team and cast.
General Admission $15 / Seniors & Groups 10+ $14 / UCI Students & Children under 17 $11
For tickets call the Box Office at (949) 824-2787 or visit www.arts.uci.edu/tickets
VIEW THE EVENT PAGE