UCI Drama examines motherhood, inequality and humanity in Lisa Loomer's LIVING OUT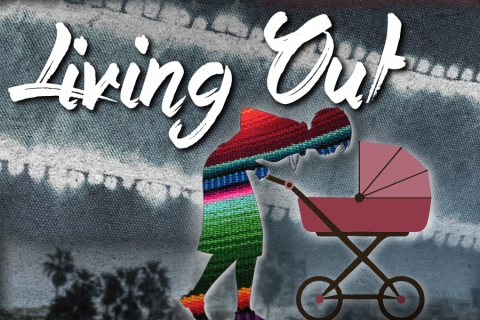 UCI Drama examines motherhood, inequality and humanity in Lisa Loomer's Living Out
Irvine, Calif., February 25, 2020 – UC Irvine's Claire Trevor School of the Arts (CTSA) presents Lisa Loomer's Living Out, a comic drama focused on immigration and working mothers. The show is directed by Jane Page, head of the directing program at UCI, and will be presented in the intimate Robert Cohen Theatre. The play opens on Saturday, March 7, with matinee and evening performances through Sunday, March 15, 2020.
Living Out was chosen as part of UCI Drama's Jubilee year, celebrating women, as an essential story about mothers. Set in Los Angeles in the late 1990s, the play focuses on Ana and Nancy, who make the same choice to leave their children in the care of others. Both do so for their families, but Ana is an undocumented Salvadoran, while Nancy is a high-powered attorney. The story explores the shared humanity between them and the differences wrought by race, class, and Ana's illegal status. The contrast makes for a play that is both funny and tragic as we witness and the emotional cost of leaving your child in the care of others. It examines the constant pressure on women to "have it all – and be it all" at home, work, and as mothers, and the terror of being undocumented with devastating effects of inequality in our society. Shot through with searing humor and poignant adversity, Ms. Loomer has written a play that makes us think, feel, and hopefully consider our world.
As is a continued tradition with UCI Drama, the cast and crew are partnering with UCI's Fresh Basic Needs Hub (https://basicneeds.uci.edu/) to limit the effects of food insecurity on our campus. The team will be accepting donations of non-perishable food items collected at the door before each performance.
Living Out is the fourth installment in UCI Drama's sixth themed season, "Women & Co." A Centennial Celebration of Women's Right to Vote. The Department of Drama pays tribute to women artists and their voices. Five of the productions in the series are written by women. Women will direct four out of the six mainstage shows. The majority of drama graduate students and doctoral students are women. And the majority of all drama undergraduate students in the Claire Trevor School of the Arts are women. Please come and join us in experiencing, exploring, and celebrating our many diverse female artists.
Performances and Ticket Information
Robert Cohen Theatre. Parking: 4000 Mesa Rd, Irvine, CA 92617
Evenings: March 7, 12, 13, 14 at 8:00 p.m.
Evening: March 11 at 7:30 p.m.
Matinees: March 8, 14, 15 at 2:00 p.m.
General Admission $18 / Seniors & Groups 10+ $15 / UCI Students & Children under 17 $11. Box Office (949) 824-2787 or www.arts.uci.edu/tickets.
The UCI Drama production team will host a post-performance TalkBack on Sunday, March 8th, after the 2 p.m. matinee with the creative team and cast.
About UCI Claire Trevor School of the Arts: As UCI's creative laboratory, the Claire Trevor School of the Arts explores and presents the arts as the essence of human experience and expression, through art forms ranging from the most traditional to the radically new. The international faculty works across a wide variety of disciplines, partnering with others across the campus.  National-ranked programs in art, dance, drama, and music begin with training but end in original invention. Students come to UCI to learn to be citizen-artists, to sharpen their skills and talents, and to become the molders and leaders of world culture. For more information, visit www.arts.uci.edu.
About the University of California, Irvine: Founded in 1965, UCI is the youngest member of the prestigious Association of American Universities. The campus has produced three Nobel laureates and is known for its academic achievement, premier research, innovation and anteater mascot. Led by Chancellor Howard Gillman, UCI has more than 30,000 students and offers 192 degree programs. It's located in one of the world's safest and most economically vibrant communities and is Orange County's second-largest employer, contributing $5 billion annually to the local economy. For more on UCI, visit www.uci.edu.
Media access: Radio programs/stations may, for a fee, use an on-campus ISDN line to interview UCI faculty and experts, subject to availability and university approval. For more UCI news, visit news.uci.edu. Additional resources for journalists may be found at communications.uci.edu/for-journalists.
###