UCI Drama brings the world of Air Guitar to the Claire Trevor Stage!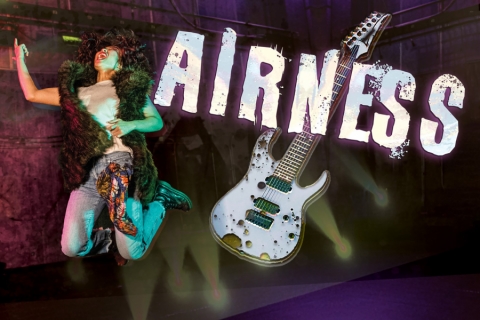 US Air Guitar Championships – Irvine joins in the fun for one night only
The UCI Claire Trevor School of the Arts Department of Drama will present Airness, written by playwright Chelsea Marcantel and directed by Chancellor's Professor of Drama Eli Simon, offering seven performances February 4-12, 2023, at the Claire Trevor Theatre. In addition to the play, the US Air Guitar Championships are coming to Irvine on Saturday, Feb. 11, for one night only.
Airness follows the protagonist Nina, who enters her first air guitar competition. She thinks winning will be easy, but as she befriends a group of charismatic nerds all committed to becoming the next champion, she discovers that there's more to this art form than playing pretend; it's about finding yourself in your favorite songs and performing with raw joy.
"Before I read this play, I didn't know the first thing about Air Guitar and was curious to learn about Air Guitar competitions that many people took very seriously," said Simon. "In directing Airness, I have become fascinated by the intersection of acting and air guitar, and how the brilliance of our playwright, Chelsea Marcantel, capitalized on the potential for theatricalizing this unusual form of performance art. Here you meet people that care deeply about their community, and support like-minded artists to achieve their dreams on stage."
Simons brought on the 2013 US Air Guitar (USAG) National Champion and seven-time USAG National Finalist, Jason Farner (a.k.a. Lt. Facemelter), and his coach and partner, Lisa Farnan (a.k.a. Pt. Facemelter) as Air Guitar Mentors for the production to educate the actors on the culture and finer points of Air Guitar.
"Air guitarists are very serious about being silly," said J. Farner. "They're not just playing an invisible instrument, they're entertaining a crowd. They're giving them the greatest show they've never seen."
The Farners have been producing shows for San Diego Air Guitar since 2013. They describe a night of air guitar as part rock show, part comedy act, and part spectacle. The show acts as a vehicle to allow ordinary people to become ridiculous rock stars. The Feb. 11 show will present some of Southern California's finest air guitarists battling it out for a shot at the USAG national title. Those interested in participating are welcome to sign up to compete for a chance to move on to the official national competition and, ultimately, a shot to compete at the international championships held in Oulu, Finland.
Performances and Ticket Information
Airness
Claire Trevor Theatre. Parking: 4000 Mesa Rd, Irvine, CA 92617
Evenings: Feb. 4, 9, 10, at 8 p.m.
Evening: Feb. 8, 11 at 7:30 p.m.
Matinees: Feb. 5*, 12 at 2 p.m.
General Admission $19 / Seniors & Groups 10+ $16 / UCI Students & Children under 17 $12.
The UCI Drama production team will host a post-performance TalkBack on Sunday, Feb. 5 after the 2 p.m. matinee with the creative team and cast.
US Air Guitar Regional Championship Competition
Claire Trevor Theatre. Parking: 4000 Mesa Rd, Irvine, CA 92617
One night only: Feb. 11 at 10 p.m.
General Admission $15 / UCI Alumni & Students $10.
Sign up to compete in the US Air Guitar Championships – Irvine: Here (link will take you to Eventbrite)
Box Office (949) 824-2787 or www.arts.uci.edu/tickets.
Generous support for the production of Airness is provided by the Robert and Lorna Cohen Endowment for Excellence in Drama, Theatre Guild, and Claire Trevor Society.
About the US Air Guitar Championships: Founded in 2003, US Air Guitar is the official air guitar association of the United States and is responsible for operating the US Air Guitar Championships, Regional and Finals competitions, All-Star showcases and online contests. US Air Guitar is devoted to taking our nation's unofficial pastime out of the bedroom and putting it up on the world stage. US Air Guitar is an official member of the World Air Guitar Association. Entering its twenty-first year in the US and its twenty-sixth year worldwide, official national championships are held in countries around the globe and have included: the USA, Australia, Belgium, Canada, Colombia, Czech Republic, Denmark, Estonia, Finland, France, Germany, India, Japan, Kazakhstan, Kenya, The Netherlands, Romania, Russia, Thailand, Ukraine, and the United Kingdom, with new countries participating every year. The 2023 Air Guitar World Championships will take place this August 25th in Oulu, Finland. 
"It is for good reason that competitive air guitar is widely considered the purest form of human entertainment. By making the heart of the matter invisible—by objectifying nothing—air guitar derives its legitimacy not from some received expectation of cultural value, but rather from the mere presence of the people gathered to bear witness. The competitors, the judges, and the crowd are the only proof that this event even exists. And as a result, its meaning is purely subjective. Every air guitar is an empty vessel, resistant to banal interpretation. And thus, impossible to destroy."  –Kriston Rucker, co-commissioner, US Air Guitar
About UCI Claire Trevor School of the Arts: As UCI's creative laboratory, the Claire Trevor School of the Arts explores and presents the arts as the essence of human experience and expression, through art forms ranging from the most traditional to the radically new. The international faculty works across a wide variety of disciplines, partnering with others across the campus.  National-ranked programs in art, dance, drama, and music begin with training but end in original invention. Students come to UCI to learn to be citizen-artists, to sharpen their skills and talents, and to become the molders and leaders of world culture. For more information, visit www.arts.uci.edu.