UC Irvine Cross-Campus Collaboration Delivers New Certificate Program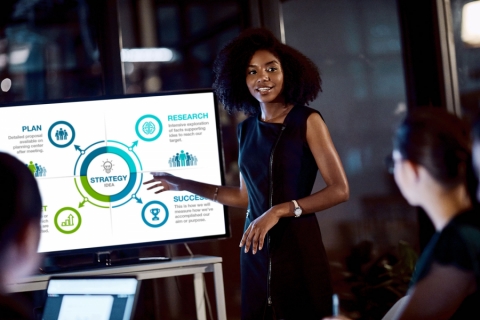 New online certificate provides essential presentation skills
Irvine, Calif., May 11, 2020 - UC Irvine's top ranking Paul Merage School of Business and national leader Claire Trevor School of the Arts are pleased to announce a new, online professional development offering, Certificate in Presentation Design. Geared towards professionals in the digital world, the Certificate in Presentation Design is a practical business program designed for all fields that are required to conceptualize, design, refine and execute top-notch presentations to groups both small and large. Over the course of eight weeks, individuals will become experts in this exciting new field of creative practice that combines storytelling, public speaking and graphic design.
"Being able to clearly and forcefully articulate a project or research area is frequently the difference between its success or failure. Having professional-level expertise at designing and delivering a presentation is the surest way to guarantee that it will succeed," said Stephen Barker, Dean of the Claire Trevor School of the Arts. "The strategic combination of UCI's Claire Trevor School of the Arts and The Paul Merage School of Business, through this new Certificate in Presentation Design Program, provides a powerful platform for developing those vital skills."
The Certificate in Presentation Design program leverages faculty, industry experts and guest speakers from the business, design and arts industry. In addition to the Certificate in Arts Management, CPD is the second collaboration between CTSA and the Merage School, and the newest offering in the Office of Executive Education's professional development and certificate programs. 
For more information, visit merage.uci.edu/CPD, and attend a free online info session on May 21, 12 – 1 p.m. PST, or June 25, 12 – 1 p.m. PST. RSVP required. View the program launch video featuring lead CPD faculty Andrea Caban here: https://bit.ly/CPD-Info.
About The Paul Merage School of Business
The Paul Merage School of Business consistently ranks among the top 10 percent of accredited business schools in the U.S., and boasts a world-class faculty, strong alumni network and close individual and corporate relationships. Merage values diversity, collaboration, inclusivity and respect and is committed to developing innovative professionals for the future of business and society – locally, nationally and globally. For more information, visit: merage.uci.edu.
About UC Irvine's Claire Trevor School of the Arts
As UCI's creative laboratory, the Claire Trevor School of the Arts explores and presents the arts as the essence of human experience and expression, through art forms ranging from the most traditional to the radically new. The international faculty works across a wide variety of disciplines, partnering with others across the campus. National-ranked programs in art, dance, drama, and music begin with training but end in original invention. Students come to UCI to learn to be citizen-artists, to sharpen their skills and talents, and to become the molders and leaders of world culture. For more information, visit: www.arts.uci.edu.