UCI Arts Presents an Intermedia Performance Focused on Our Earth's Oceans and Climate Justice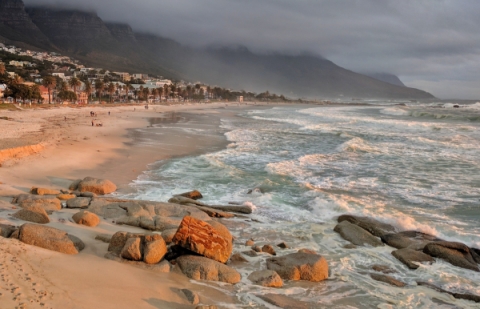 UCI ARTS PRESENTS AN INTERMEDIA PERFORMANCE FOCUSED ON OUR EARTH'S OCEANS AND CLIMATE JUSTICE
Irvine, Calif., January 28, 2018 – UC Irvine's Claire Trevor School of the Arts (CTSA) presents the experimental intermedia performance "Your Ocean, My Ocean" (YOMO). Produced by UCI's Institute for 21st Century Creativity (21C), YOMO brings together a transdisciplinary group of artists and designers for an art and design project concerned with environmentalism, climate justice and community engagement. It is an artistic response to the natural beauty of oceans and coastlines, as well as to detrimental human impacts on ocean ecosystems. The premiere will take place February 6 – 9, 2019, in the Experimental Media Performance Lab (xMPL) at the University of California, Irvine followed by more performances at Brown University in April.
The YOMO performance, about 80 minutes in length, will feature voices and perspectives from a diverse mix of contributors, connecting our Pacific and Atlantic coasts. The concept was inspired by the current threats the oceans are facing from anthropogenic climate change, continually growing population and other serious concerns. "As artists and designers deeply engaged with 21st-century technologies, we have a passionate desire to respond to these crucial issues. We know (all too well) how a lack of attention to critical values combined with unquestioning acceptance of rational thought can create an unhealthy dependence on ill-considered technological solutions," said 21C Director, John Crawford. A primary goal of the project is to contribute to discussions of climate justice by developing a creative framework that honors diverse perspectives. The creators are leaders in combining emergent media technologies with traditional performing arts aesthetics and craft, including dance, music, theatre, and visual design.
The YOMO creative team includes faculty from multiple universities: Director & Media Designer, John Crawford; Composer & Violinist, Mari Kimura; Choreographers, Lindsay Gilmour, Molly Lynch, Lisa Naugle and Tong Wang; Scenic Designer, Dipu Gupta; Environmental Designer, Jesse Colin Jackson; Spoken Word Director, Jane Page; Technical Director, Bruce Warner; and Creative Consultant, Kyna Leski. The project also features undergraduate and graduate students from UC Irvine and Rhode Island School of Design as performers and designers.
Performances and Ticket Information
Experimental Media Performance Lab (xMPL), Contemporary Arts Center
UCI Claire Trevor School of the Arts
Evenings: Feb. 6, 7, 8, 9 2019 at 8:00 p.m.
Matinees: Feb. 9 at 2:00 p.m.
Admission is free and open to the public with reservation
Event page: https://yomo.embodied.net/  
Parking: Mesa Parking Structure, 4000 Mesa Road, Irvine 92617
(More performances take place Apr. 1 & 2, 2019 at 7:00 p.m., Granoff Center for the Creative Arts, Brown University, Providence, Rhode Island)
About the Institute for 21st Century Creativity (21C): Centered in UCI Claire Trevor School of the Arts, 21C supports artistic research through experimental projects in which faculty and students re-imagine the world afresh with each iteration. As a consortium for research, production and scholarship, 21C has a mandate to explore new approaches to creativity, engaging with artistic methodologies as well as with design approaches oriented to developing creative solutions.
About UCI Claire Trevor School of the Arts: As UCI's creative laboratory, the Claire Trevor School of the Arts explores and presents the arts as the essence of human experience and expression, through art forms ranging from the most traditional to the radically new. The international faculty works across a wide variety of disciplines, partnering with others across the campus.  National-ranked programs in art, dance, drama, and music begin with training but end in original invention. Students come to UCI to learn to be citizen-artists, to sharpen their skills and talents, and to become the molders and leaders of world culture. For more information, visit www.arts.uci.edu.
About the University of California, Irvine: Founded in 1965, UCI is the youngest member of the prestigious Association of American Universities. The campus has produced three Nobel laureates and is known for its academic achievement, premier research, innovation and anteater mascot. Led by Chancellor Howard Gillman, UCI has more than 30,000 students and offers 192 degree programs. It's located in one of the world's safest and most economically vibrant communities and is Orange County's second-largest employer, contributing $5 billion annually to the local economy. For more on UCI, visit www.uci.edu.
Media access: Radio programs/stations may, for a fee, use an on-campus ISDN line to interview UCI faculty and experts, subject to availability and university approval. For more UCI news, visit news.uci.edu. Additional resources for journalists may be found at communications.uci.edu/for-journalists.