UC Irvine's Claire Trevor School of the Arts Annual Open House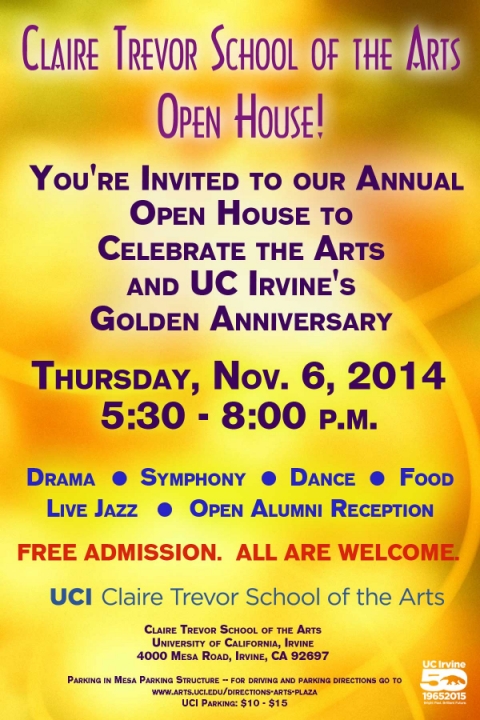 IRVINE, Calif. (October 20, 2014) -- The Claire Trevor School of the Arts (CTSA) at the University of California, Irvine invites you to attend its fourth annual arts Open House on Thursday, November 6 from 5:30 – 8:00pm. As UCI and our School embark on this 50th anniversary year, the evening's festivities will highlight our expansive legacy of learning and creativity. Admission to the event is free, so bring the whole family to enjoy an array of entertainment, many complementary food options, and live jazz on the arts plaza.
Our annual Open House offers a chance for audiences to go "behind the scenes" at CTSA, as we invite the public into a variety of our creative spaces. This fall in the University Art Galleries we feature a solo exhibition of paintings by Ed Moses, one of the School's founding faculty members in Studio Art. The Beall Center for Art + Technology will also be open, offering an interactive show featuring the works of game designer Eddo Stern. The Department of Dance will be giving a nod to founding Chair Eugene Loring, as they rehearse his signature work Billy the Kid (featuring music by Aaron Copeland), to be performed as part of this year's Dance Visions program. The Department of Drama will open rehearsals of its first three offerings in a season dedicated to founding Chair and current Claire Trevor Professor of Drama Robert Cohen. Centering around the season theme "Love, Lust and Greed," audiences will get a peek at world premiere The Last Lifeboat, mythical offering Metamorphoses, and perennial favorite Cat on a Hot Tin Roof. Our Department of Music will also open rehearsal of the UCI Symphony Orchestra as they fine tune a program anchored by the works of Felix Mendelssohn. In addition to these departmental offerings, campus performance group Improv Revolution (iRev) will stage an interactive performance in the Arts Amphitheatre which promises to be a hit with the entire family.
As we enter this 50th season, we are recommitted to convening our UCI family of arts alumni who have shared their creative journeys with us through the past half-century. Outside the Claire Trevor Theatre we will have a casual reception area set up for graduates and their families to convene, reconnect, and share memories and stories. There is no RSVP necessary, but we encourage one and all to gather fellow Anteaters and enjoy this evening of both looking back, and experiencing the exciting offerings of our current season. There will be live jazz on the arts plaza, as well as an array of complimentary food, and fun for one and all.
Times Higher Education ranked UC Irvine first among U.S. universities under 50 years old and fifth worldwide. Since its founding in 1965 as one of UC Irvine's original schools, the School of the Arts (renamed for actress Claire Trevor in 2000) has become one of the nation's leading educators in visual and performing arts. Recently awarded "Best Arts Organization" in Orange County by the Coast Community Awards, the School offers undergraduate and graduate degrees in Art, Dance, Drama and Music, a minor in Digital Arts, and one of the few university doctoral programs in Drama.  The Claire Trevor School of the Arts is located at 4000 Mesa Road, Irvine, CA  92617. For more information, please visit us at www.arts.uci.edu. For maps, driving directions and parking information go to www.arts.uci.edu/directions.