UC Irvine's Claire Trevor School of The Arts Stages Revival of Eugene Loring's Billy The Kid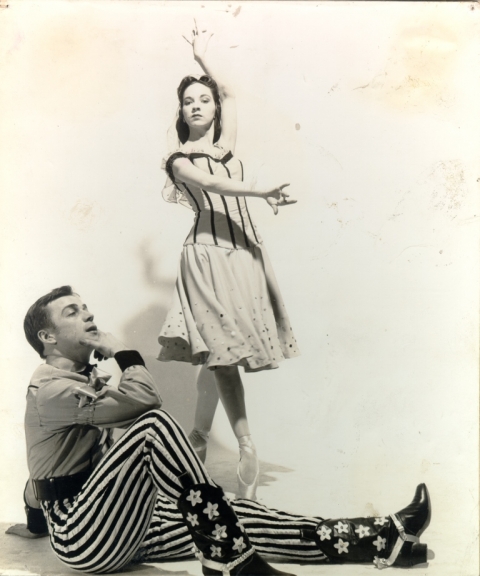 IRVINE, Calif. (December 5, 2014)
-- The Claire Trevor School of the Arts (CTSA) at the University of California, Irvine is thrilled to announce that as part of our 50th anniversary season the Department of Dance will stage a revival of founding faculty member Eugene Loring's classic American ballet,
Billy the Kid
. The work will be featured as part of Dance Visions, an annual constellation of faculty works which runs from February 11 – 15, 2015 in the Claire Trevor Theatre. The program will also include choreography by outstanding current faculty members Tong Wang, Shaun Boyle, and Donald McKayle. Eugene Loring, founding Chair of the Dance Department when the School opened in 1965, was already a luminary in his field when he was hired by then Dean Clayton Garrison.
Billy the Kid
was commissioned by Ballet Caravan and premiered in Chicago in 1938, and has enjoyed an unbroken history of production since the opening. The rousing score is one of the most familiar and enduring by American composer Aaron Copland, and was the first of his three iconic ballet scores, followed by
Rodeo
and
Appalachian Spring
. Loring, who began dancing in his father's saloon, was at ease with all kinds of dance, choreographed Broadway musicals including
Carmen Jones
and
Silk Stockings
, and had an extensive career in Hollywood, directing and choreographing for film and television. He taught at UC Irvine from 1965 until his retirement in 1981, and we are honored to celebrate his legacy by reviving this work as UC Irvine celebrates the "Bright Past" of the School's first half century. Professor Molly Lynch, Artistic Director of Dance Visions, has enlisted famed regisseur Howard Sayette to stage the UC Irvine production. Sayette has enjoyed a distinguished career as a dancer, teacher, and ballet master. Born in Los Angeles, he trained with Robert Joffrey and joined Ballet Russe de Monte Carlo in 1956, dancing there until 1960. He performed for many years with the Metropolitan Opera Ballet in New York, and has worked with some of the 20th Century's greatest choreographers, including Antony Tudor, Bronislava Nijinska, John Butler, Alvin Ailey and Katherine Dunham. He has particular expertise staging
Billy the Kid
, and we look forward to this world class production of an American classic. Times Higher Education ranked UC Irvine first among U.S. universities under 50 years old and fifth worldwide. Since its founding in 1965 as one of UC Irvine's original schools, the Claire Trevor School of the Arts (renamed for actress Claire Trevor in 2000) has become one of the nation's leading educators in visual and performing arts. Recently awarded "Best Arts Organization" in Orange County by the Coast Community Awards, the School offers undergraduate and graduate degrees in Art, Dance, Drama and Music, a minor in Digital Arts, and one of the few university doctoral programs in Drama.  The Claire Trevor School of the Arts is located at 4000 Mesa Road, Irvine, CA  92617. For more information, please visit us at
www.arts.uci.edu
. For maps, driving directions and parking information go to
www.arts.uci.edu/directions
. Visit the
Event Page
for more details and to purchase tickets.