A Tribute to Tony DeLap, honoring the life and work of a brilliant artist and educator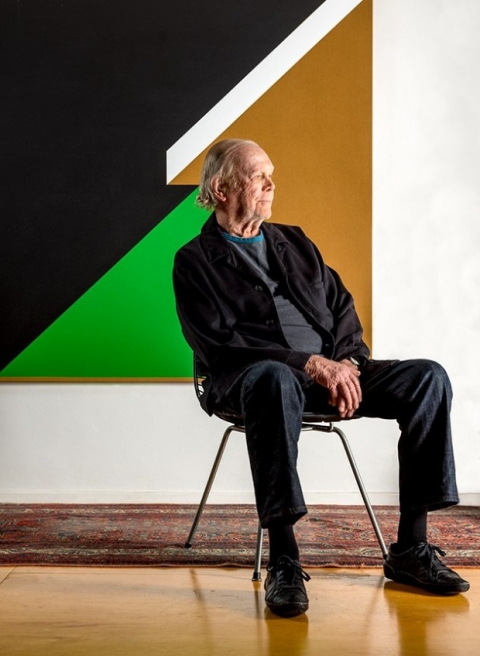 MEDIA ADVISORY
A Tribute to Tony DeLap, honoring the life and work of a brilliant artist and educator
EVENT:
A Tribute to Tony DeLap. UCI Claire Trevor School of the Arts, Laguna Art Museum, Orange County Museum of Art, and Parrasch Heijnen Gallery will hold a public tribute to celebrate the life and work of the late Tony DeLap who passed away on Wednesday, May 29, 2019, at his home in Corona del Mar, California. The memorial will take place on Sunday, September 8, 2019, at 1 p.m. at the Irvine Barclay Theatre. Friends, family, and colleagues will share stories and memories to honor DeLap's legacy and the many facets of the artist's life as a family man, teacher, magician, and revered California artist. A hosted reception will follow the program.
WHEN/WHERE:
1 p.m. Sunday, September 8, 2019, Irvine Barclay Theatre, 4242 Campus Drive, Irvine, CA 92612. UCI Student Center Parking Structure, 311 W Peltason Drive, Irvine, CA 92697. Parking $10-$15. Media planning to attend should contact Jaime DeJong at 949-824-2189 or
jdejong@uci.edu
. Parking is complimentary for media who RSVP in advance. For general questions or more information for the public, please contact
ctsarsvp@uci.edu
or call (949) 824-0629. Public RSVP:
http://bit.ly/2ZkQaLI
HIGHLIGHTS:
1-2:30 p.m.   Program
2:30 p.m.      Reception, all are welcome
Speakers include:
Stephen Barker
, Dean of the UCI Claire Trevor School of the Arts;
Grace Kook-Anderson
, Curator of "Best Kept Secret, UCI and the Development of Contemporary Art in Southern California, 1964–1971" and currently the Curator of Northwest Art at the Portland Art Museum;
Chris Heijnen
, friend and co-owner of Parrasch Heijnen Gallery;
Mike McGee
, former student and Director of the Begovich Gallery at CSUF;
Greg Victoroff
, friend and fellow magician;
Todd Smith
, Director and CEO of the Orange County Museum of Art;
Bruce Guenther
, curator of the Tony DeLap Retrospective at OCMA in 2000;
Malcolm Warner
, Executive Director of Laguna Art Museum; and Dale Shierholt, friend and filmmaker.
BACKGROUND: 
About the artist: A longtime educator, DeLap served as an instructor of fine art and design at California College of Arts and Crafts—now known as California College of Arts—and as assistant professor at the University of California, Davis, before he became a founding faculty member at the University of California at Irvine (UCI). Recruited by former editor in chief of 
Artforum
 John Coplans, in 1965, DeLap taught at the university for more nearly three decades and mentored up-and-coming artists such as Chris Burden, James Turrell, Michael Asher, Barbara T. Smith, among others. DeLap has been at the nexus of significant art movements throughout his career. A leading practitioner of Southern California minimalism and "finish/fetish," he also played a part in the development of op art, hard-edge painting, the California Light and Space movement, and site-specific installation. For years he has played with the concept of an artwork's edge and explored the point where painting and sculpture intersect. His expertise and interest in magic have led him to make objects "float" and otherwise defy explanation. DeLap served as the project consultant for
Best Kept Secret, UCI and the Development of Contemporary Art in Southern California, 1964-1971
as part of the Getty Foundation's
Pacific Standard Time: Art in LA 1945-1980
held at the Laguna Art Museum. His work has also been included in such landmark exhibitions as
The Responsive Eye
(1965: Museum of Modern Art, New York, NY),
Primary Structures
(1966: Jewish Museum, New York, NY), and
American Sculpture of the Sixties
(1967: Los Angeles County Museum of Art, Los Angeles, CA), in 2000, a retrospective curated by Bruce Guenther was exhibited at Orange County Museum of Art, and in 2018, the Laguna Museum of Art mounted a major retrospective of DeLap's work dating from 1961 to present, curated by Peter Frank. His work resides in the permanent collections of Tate Modern, London, UK; Museum of Modern Art, New York, NY; Solomon R. Guggenheim Museum, New York, NY; the Whitney Museum of American Art, New York, NY; San Francisco Museum of Modern Art, San Francisco, CA; Los Angeles County Museum of Art, Los Angeles, CA; the UCI Institute and Museum for California Art; Orange County Museum of Art; Laguna Art Museum; Hirschhorn Museum and Sculpture Garden, Washington, DC ; Albright-Knox Art Gallery, Buffalo, NY; Hammer Museum, Los Angeles, CA; The Walker Art Center, Minneapolis, MN; and Musée cantonal des Beaux-Arts, Lausanne, Switzerland, among many others. ###
Event Page
Press Release