"Surface Tension" brings pianist Eve Egoyan and new media artist David Rokeby to the UCI stage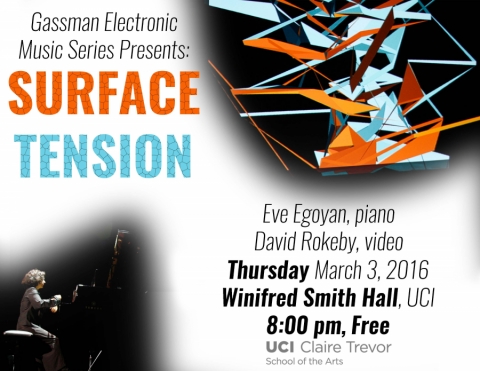 GASSMANN ELECTRONIC MUSIC STUDIO PRESENTS "SURFACE TENSION" WITH PIANIST EVE EGOYAN AND NEW MEDIA ARTIST DAVID ROKEBY
IRVINE, Calif. (February 23, 2016) - The Gassmann Electronic Music Studio in the Claire Trevor School of the Arts at UC Irvine presents Surface Tension, a concert by pianist Eve Egoyan and new media artist David Rokeby, Thursday, March 3, 2016 at 8:00 p.m. in Winifred Smith Hall on the UCI campus. The concert of works for piano and interactive video will present collaborative works in which image and sound are equal and integrated partners. Admission is free; no ticket is required.
David Rokeby will also give a lecture titled "Programming Works for Music and Video" Thursday, March 3, 2016 in the Music and Media Building, Room 216 at 11:00 am, free and open to all. Based on a long history of programming software involving video and interactivity, Rokeby will discuss his approach to the challenges of integrating music, video, and software.
Eve Egoyan is an artist whose medium is the piano. Her intuitive musicality, insightful attention to detail, and pianistic virtuosity have made her a sought-after interpreter of contemporary music. Eve's musical interests span extremely contrasting sensibilities: from Alvin Curran's five-hour long Inner Cities to Erik Satie's miniatures; from minimalist Simple Lines of Enquiry by Ann Southam to maximalist new complexity works by Michael Finnissy; from the rigorous interpretation of a score to free improvisation. Eve's exploratory nature and restless curiosity have led to numerous collaborations with artists from a variety of disciplines. She has most recently been commissioning works for music and image. Her solo discs have received accolades including "Best Classical" The Globe and Mail (1999) for her first solo CD, and more recently one of "Ten Top" classical discs, The New Yorker magazine (2009), and "Top Classical Disc of the Year", The Globe and Mail (2011).
Born in Tillsonburg, Ontario in 1960, David Rokeby has been creating interactive sound and video installations with computers since 1982. His early work Very Nervous System (1982-1991) is acknowledged as a pioneering work of interactive art, translating physical gestures into real-time interactive sound environments. Very Nervous System was presented at the Venice Biennale in 1986, and was awarded the first Petro-Canada Award for Media Arts in 1988 and Austria's Prix Ars Electronica Award of Distinction for Interactive Art in 1991. Recent projects include a series of video works which explore the patterns traced by movements across time, an installation evoking the presence of Marshall McLuhan in the coach house where he worked for the 2010 Contact Festival, and a new interactive sound installation entitled Dark Matter commissioned by Wood Street Galleries in Pittsburgh.
This concert is an event in the nineteenth season of the Gassmann Electronic Music Series at UCI. For more information about the series, visit music.arts.uci.edu/dobrian/gemseries
More on Eve Egoyan: eveegoyan.com
More on David Rokeby: davidrokeby.com
View the EVENT PAGE