Gift from the Richard B. Siegel Foundation Supports CTSA Outreach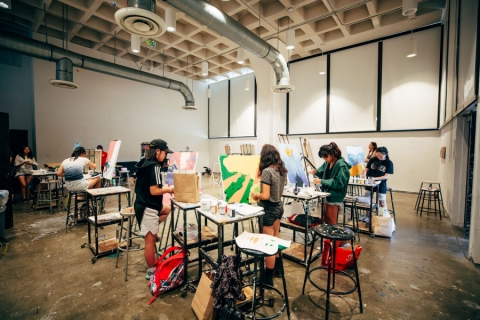 The Claire Trevor School of the Arts (CTSA) outreach unit was recently awarded a $20,000 gift from the Richard B. Siegel Foundation to support the school's community engagement programs.
The school's outreach program partners with local schools and community organizations to share the talents and knowledge of the students, faculty, and staff with people of all ages. The team introduces children to the arts, prepares middle and high school students for the next step in their arts education, and provides adults with active, experiential immersion in the arts to help enrich lives.
This gift will provide K12 students access to workshops, tours, information sessions, exhibitions, and performances. It will support the school's partnership with Santa Ana High School's arts programs, provide scholarships to the Summer Academies in the Arts, and support the Creative Connections program.
Over the past several years, CTSA has enhanced its social and community engagement through various outreach programs, serving approximately 5,000 people annually. This work cultivates engaged citizen artists, building awareness of the opportunities and the creative capital that abounds at CTSA. It supports the mission of CTSA as conduits for community engagement, fostering leadership both in the young artists who participate in them and in the CTSA students and faculty who facilitate them.
Studies, including those conducted by the National Endowment for the Arts, show that adults and young people who are deeply engaged in the arts are more likely to volunteer, vote, and are more civic-minded than those who do not actively participate in the arts. Additionally, students who have intensive arts experiences show better academic achievement than their peers.
The school and unit would like to thank the Richard B. Siegel Foundation, whose support demonstrates a belief in the value of this work.