"Radicals of Irvine" Exhibition Dedicated To the Original Rebels of UCI Art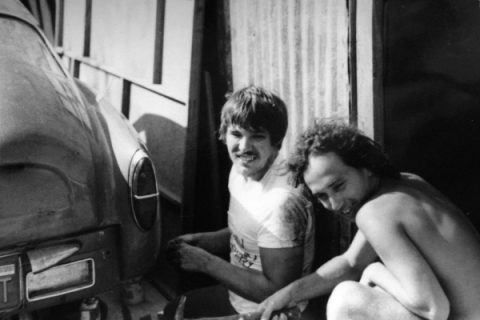 UC IRVINE'S CLAIRE TREVOR SCHOOL OF THE ARTS ILLUMINATES "RADICALS OF IRVINE," EXHIBITION DEDICATED TO THE ORIGINAL REBELS OF UCI ART
IRVINE, Calif. (September 10, 2015) -- The University Art Gallery (UAG) at UC Irvine's Claire Trevor School of the Arts will unveil A Performative Trigger: Radicals of Irvine. The group exhibition focuses on luminary artists Chris Burden, Nancy Buchanan, Richard Newton, Alexis Smith, Barbara T. Smith, Bradley Smith, Paula Sweet, and Robert Wilhite when they were making radical art as students at UCI.  The exhibition will open Saturday, October 3 with a reception open to the public from 2:00 pm – 5:00 pm and will exhibit through Saturday, December 12, 2015. 
In 1971, as a part UCI's first graduating MFA class, Chris Burden became internationally famous for his physically intense, often-dangerous performances of endurance. The quintessential work of this period was Shoot, a performance in which Burden had himself shot in the arm at the student-run F-Space Gallery in Santa Ana.  A second performance of the same legendary vein entitled Five Day Locker Piece featured Burden who inhabited a two-foot-by-two-foot locker for five days without food, after which he rode a bicycle in the art gallery, looping it for two weeks on end. This begs the following question – what was it about Irvine, a bastion of Nixonian conservatism in the seventies, which produced such radical acts? A Performative Trigger: Radicals of Irvine considers this moment in time; both Burden's provocations and his student cohort's equally contentious performance art in the context of the larger aesthetic landscape of the Southern California art world, one that was comparatively conservative at the time. In so doing, A Performative Trigger ponders what might constitute a resistant, radical act of art; a critical aesthetic within contemporary art production today.
This show is co-curated by UAG Artistic Director Juli Carson and guest curator Marilyn Nix.  It will be a constellation of documentation and ephemera from the 1970s consisting of original drawings, installations, videos, photographs, mailers, and other historic materials from this period. Video footage of Chris Burden's performances include Shoot, commercials Burden ran in Los Angeles and New York in the mid-70s, as well as an interview of Burden by Willoughby Sharp in the early years.
"A Performative Trigger is both a tribute to Chris Burden and homage to our first illustrious students who founded the university art department's international reputation for experimentation and innovation," stated Juli Carson. "The importance of this historical material formed the basis for a literature about alternative artworks, as well as documented revolutionary performance work by UCI artists."
A Performative Trigger: Radicals of Irvine is a cornerstone exhibition for the Claire Trevor School of the Arts in celebration of the school's 50th Anniversary 2015-16 performance season. As UCI's creative laboratory, the Claire Trevor School of the Arts explores and presents the arts as the essence of human experience and expression, through art forms ranging from the most traditional to the radically new. The international faculty works across a wide variety of disciplines, partnering with others across the campus.  National-ranked programs in art, dance, drama, and music begin with training but end in original invention. Students come to UCI to learn to be citizen-artists, to sharpen their skills and talents, and to become the molders and leaders of world culture. For more information, please visit www.arts.uci.edu.