PASSION Takes the Stage At Claire Trevor School of the Arts, An Interview with Director Kent Nicholson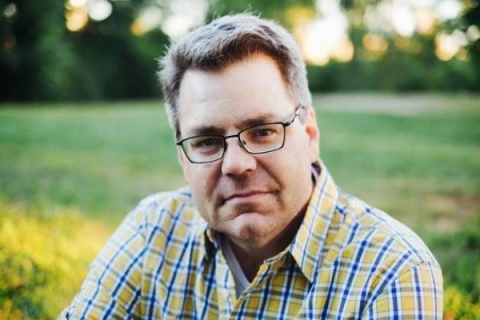 IRVINE, Calif. (December 20, 2014) – UC Irvine's Claire Trevor School of the Arts (CTSA) Drama Department will produce Stephen Sondheim and James Lapine's musical PASSION with guest Director Kent Nicholson, January 23 – 25, 2015. The play is an essential part of the Department's second themed season - LOVE, LUST AND GREED.  PASSION is a semi-staged concert version of the 1994 Tony Award winner (Best Musical, Best Book, Best Original Score), adapted from Ettore Scola's film Passione d'Amore, focused on the themes of love, sex, obsession, illness, passion, beauty, power and manipulation. Its narrative centers on the impending consequences of the consummation of love, and the repercussions that often follow.
Kent Nicholson is the Director of Musical Theater at Playwrights Horizon in New York. The theatre has become the "home away from home" for CTSA Drama Department's New York MFA/BFA Showcase held every year for their student actors. This will be the first time Nicholson will grace the UCI stage.
Drama Chair, Daniel Gary Busby, recently sat down with Kent Nicholson to talk about the play.
Q: What about PASSION excites you for your UC Irvine debut in January 2015?
A: There are a lot of things! It's my UC Irvine debut for one. Working with Dennis Castellano is always a joy. Getting to know exciting, new performers. And of course taking on the challenge of one of Sondheim's trickiest and most controversial shows. As a director of primarily new musicals and plays, I'm always looking for challenges when I direct pieces that are part of the canon. This is a piece which presents many of them. The music is gorgeous and complex and the characters have a rich psychology which has to be balanced just right to get the story across. The story is essentially about the fact that passion is an illogical emotion. As such, audiences have historically had trouble with the logic of the story. For me, the challenge is to make the audience understand the illogical by making them feel something of what the characters feel. This is incredibly difficult and I look forward to exploring how to make this work with the students involved.
Q: This is a semi-staged "concert" reading, right? Can you explain what the audience might expect and you think this format will serve the show?
A: This means that the focus of our presentation will be on the music and the words. There will be some staging and stage pictures, but mostly we'll be asked to listen to the story. I think PASSION is exceptionally well suited to this style of presentation because it allows the audience to really focus on character and performance. By stripping away the other elements, we're asked to focus strictly on the thing which makes this story tick; Character as expressed by music. Music is a visceral art form. It generates emotion by defying logic and intellect. By focusing on that, our logical brains may be able to make sense out of the illogical actions of our characters.
Q: Have you directed PASSION before?
A: I haven't! In fact this is my first crack at Sondheim. Which is what makes this a joy. I've been itching to work on one of his pieces for a long time.
Q: What attracts you to Sondheim? What other Sondheim shows do you admire/have you directed?
A: What is it he says in "Sunday in the Park with George"?  Art isn't easy. Neither is Sondheim. He's not content to let the audience off the hook by making his pieces conform to some notion of what a musical "should" be. He asks his audiences to engage his characters. He's not afraid to make his characters complex or to deal with complex themes. His stories aren't always linear or even narrative. He's a risk taker and he's successful more often than not. With Sondheim, content always dictates form and I think that's risky when you're writing musical theater. And I admire that.
Q: Anything exciting on the horizon for you at PLAYWRIGHTS? (or elsewhere?)
A: Lots!  As soon as I get back from Irvine, I will be working on three new projects back to back to back. First I will be directing LONG STORY SHORT by Valerie Vigoda and Brendan Milburn at Prospect Theater Company in NYC. Prospect is an off-Broadway company which produces new musicals. Then I will be producing IOWA by Jenny Schwartz with music and lyrics by Todd Almond as part of the Playwrights Horizons season. And finally I will be creating a new show with writer Joe Iconis with students at the Playwrights Horizons Theater School, which is a part of NYU. And of course there are always plenty of workshops (with Josh Schmidt, Duncan Sheik, and Jenny Giering among others) along the way.
Q: You know that UCI Drama has excellent Acting, Directing and BFA in Music Theatre programs. Any words of wisdom to those who will be auditioning/working with you?
A: Make choices and be proactive. Come in with your own ideas about the piece and don't be afraid of sharing them/showing me them. I may or may not agree with you, but the discussion that ensues will help reveal more about the show than I could possibly know on my own. Keep an open mind to all ideas in the room, whether mine or someone else's. Collaboration means fighting for your ideas, but also being open to others.
PASSION will be presented in the Claire Trevor Theatre.  Performance dates and times are Friday, January 23 at 8:00 pm, Saturday, January 24 at 8:00 pm, and Sunday, January 25 at 2:00 pm.  Tickets are available through the Box office at (949) 824-2787 or online at www.arts.uci/tickets.
Times Higher Education ranked UC Irvine first among U.S. universities under 50 years old and fifth worldwide. Since its founding in 1965 as one of UC Irvine's original schools, the School of the Arts (renamed for actress Claire Trevor in 2000) has become one of the nation's leading educators in visual and performing arts. Recently awarded "Best Arts Organization" in Orange County by the Coast Community Awards, the School offers undergraduate and graduate degrees in Art, Dance, Drama and Music, a minor in Digital Arts, and one of the few university doctoral programs in Drama.  The Claire Trevor School of the Arts is located at 4000 Mesa Road, Irvine, CA  92617. For more information, please visit us at www.arts.uci.edu. For maps, driving directions and parking information go to www.arts.uci.edu/directions.
View the Event Page.