New Slate 2019 at the Claire Trevor Theatre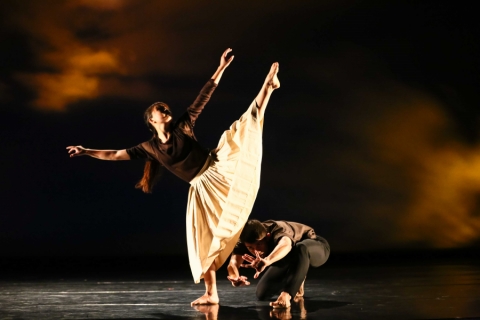 New Slate 2019 at the Claire Trevor Theatre
Irvine, Calif., November 21, 2019 – The University of California, Irvine's Department of Dance presents, New Slate, an annual dance production showcasing graduate student choreography, performing December 5-7 at the Claire Trevor Theatre. This production includes works by Graduate student choreographers Beverly Jane Bautista, Leandro Glory Damasco, Jr., Aliya Kerimujiang, Chanel Natasha Kostich, Carl Douglas Sanders, Jr., Marc Spaulding, Radhanath Thialan, Krystal Matsuyama-Tsai, and Brittany N. Woo. 
New Slate offers a variety of new dance works that showcase both Undergraduate and Graduate dancers, including dance styles such as Tap, Contemporary, and Modern/Hip-Hop fusion.  Artistic Director, Dr. Kelly Sharp, emphasizes that this performance "offers a broad spectrum of choreographic explorations," allowing these graduate choreographers to exercise their artistic voices in the dance community.
Performances and Ticket Information
Evenings: Dec. 5, 6, 7 at 8:00 p.m.
Matinee: Dec. 7 at 2:00 p.m.
General Admission $18 / Seniors & Groups 10+ $15 / UCI Students & Children under 17 $11. Box Office (949) 824-2787 or www.arts.uci.edu/tickets.
About UCI Claire Trevor School of the Arts: As UCI's creative laboratory, the Claire Trevor School of the Arts explores and presents the arts as the essence of human experience and expression, through art forms ranging from the most traditional to the radically new. The international faculty works across a wide variety of disciplines, partnering with others across the campus.  National-ranked programs in art, dance, drama, and music begin with training but end in original invention. Students come to UCI to learn to be citizen-artists, to sharpen their skills and talents, and to become the molders and leaders of world culture. For more information, visit www.arts.uci.edu.
About the University of California, Irvine: Founded in 1965, UCI is the youngest member of the prestigious Association of American Universities. The campus has produced three Nobel laureates and is known for its academic achievement, premier research, innovation and anteater mascot. Led by Chancellor Howard Gillman, UCI has more than 30,000 students and offers 192 degree programs. It's located in one of the world's safest and most economically vibrant communities and is Orange County's second-largest employer, contributing $5 billion annually to the local economy. For more on UCI, visit www.uci.edu.
Media access: Radio programs/stations may, for a fee, use an on-campus ISDN line to interview UCI faculty and experts, subject to availability and university approval. For more UCI news, visit news.uci.edu. Additional resources for journalists may be found at communications.uci.edu/for-journalists.
###