Kerry Tribe's H.M. Explores Neuroscience and Experimental Filmmaking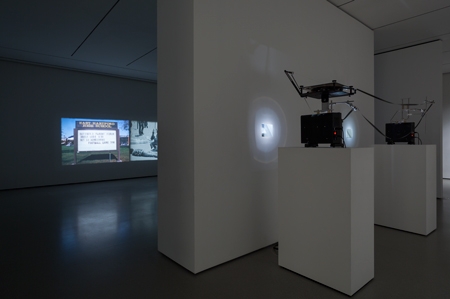 KERRY TRIBE'S H.M. EXPLORES NEUROSCIENCE AND EXPERIMENTAL FILMMAKING AT UC IRVINE'S CLAIRE TREVOR SCHOOL OF THE ARTS UAG
 
IRVINE, Calif. (December 23, 2015) -- The University Art Galleries at UC Irvine's Claire Trevor School of the Arts will host H.M. by visual artist Kerry Tribe. The installation is roughly an 18-minute loop that weaves together reenacted footage, found and animated elements and lies somewhere between an experimental documentary and an independent narrative film. The exhibition, focused on neuroscience and experimental filmmaking, will open Saturday, January 9 with a reception open to the public from 2:00 pm – 5:00 pm and will exhibit through Saturday, March 12, 2016. There will be a special roundtable event entitled "H.M. & The Aesthetics of Memory" featuring guest speakers Dr. James McGaugh, Kerry Tribe, and Dr. Juli Carson on Thursday, January 28, 2016 from 5:00 pm – 7:00 pm in Winifred Smith Hall.
H.M. is a two-channel presentation of a single film based on the true story of an anonymous, memory-impaired man, the famous amnesiac known in scientific literature only as "Patient H.M." In 1953, when he was 27 years old, H.M. underwent experimental brain surgery intended to alleviate his epilepsy.  The unintended result was a radical and persistent amnesia.  Though he was no longer able to make lasting memories, his short-term recall, lasting about 20 seconds, remained intact.  He lived anonymously in this condition for more than half a century until his death on December 2, 2008, in a Connecticut nursing home.  His case is widely credited with revolutionizing our understanding of the organization of human memory. 
H.M. consists of a single 16mm film that plays through two adjacent synchronized projectors with a 20 second delay between them; thus, the viewer sees two simultaneous side-by-side projections of two different parts of the same film reel. The structure of the installation and the nature of the material together produce a sensation of mnemonic dissonance much like that experienced by Patient H.M.
"What would an artwork on cognition – one equally mindful of the insights made by philosophy, metapsychology and neurobiology – look like? What would it do? Perhaps it would make us think about memory and narrative, our conscious and unconscious relation to history, and our subjective experience of space and time," stated Juli Carson, Artistic Director of the University Art Galleries. "In this way, Kerry Tribe's interdisciplinary artwork about memory paradoxically centers on what we don't know – the act of forgetting."
This exhibition and ancillary programming are made possible with generous support by UCI Illuminations and the 2014 Claire Trevor Commemorative Star Event.
The University Art Galleries are committed to promoting an inter-generational dialogue between 60s/70s neo-avant-garde art and contemporary visual culture. Accordingly, their curatorial mission is to keep an eye on the modernist past while promoting the most innovative aesthetic and political debates of the post-modern present. From this vantage, the projects commissioned provoke intelligent debate on the subject of art in its most expansive poetic definition. As UCI's creative laboratory, the UCI Claire Trevor School of the Arts explores and presents the arts as the essence of human experience and expression, through art forms ranging from the most traditional to the radically new. The international faculty works across a wide variety of disciplines, partnering with others across the campus.  National-ranked programs in art, dance, drama, and music begin with training but end in original invention. Students come to UCI to learn to be citizen-artists, to sharpen their skills and talents, and to become the molders and leaders of world culture. For more information, please visit www.arts.uci.edu.
Download the Press Kit