A Controversial New Play About Natural Healing Premieres in Irvine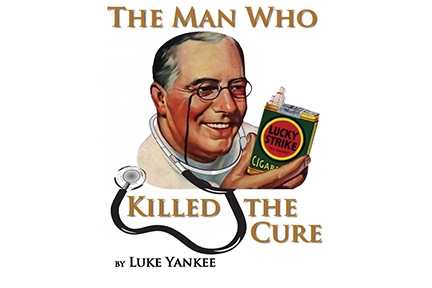 UCI Drama Presents THE MAN WHO KILLED THE CURE
A Controversial New Play About Natural Healing Premieres in Irvine
Irvine, Calif., (January 26, 2017) – Max Gerson is one of the most important figures in the history of medicine. Chances are, you've never heard of him. Dr. Gerson and his unconventional methods of healing are the subject of Luke Yankee's new drama, The Man Who Killed The Cure which premieres at the University of California, Irvine on February 25, 2017.
In the 1940's, after escaping Nazi Germany, Gerson came to New York and set up his medical practice and started healing people with only fresh, organic vegetable juices and coffee enemas to cleanse the liver.  By the mid 1950's, it is documented that Dr. Gerson had cured more than fifty people of terminal illnesses through these methods, including cancer, tuberculosis and diabetes, using no drugs of any kind. When the cancer specialists and big pharmaceutical companies learned that Gerson was writing a book of case histories of the people he had healed, they hired a woman to pose as his secretary and sabotage the book. When these efforts were thwarted, Gerson mysteriously died for arsenic poisoning. His book, A Cancer Therapy survived and his daughter Charlotte carried on his work. The Gerson Therapy has now cured over 10,000 people of terminal illnesses, yet it is still dismissed by most American doctors as hokum and quackery.
Playwright Luke Yankee stumbled across the story of Max Gerson when, on a whim, he adopted a vegetarian lifestyle. As he started researching different diets, this quickly led him to Max and Charlotte Gerson. "I immediately saw the dramatic potential in this incredible story," says Yankee. "So many people are disenchanted with the healthcare system and want to explore alternative methods, but this information is not readily available and often suppressed by Big Pharma. In fact, the Gerson Therapy is just one of several natural healing methods available, but most people don't even know they exist."
In structuring The Man Who Killed The Cure, Yankee chose to tell the story of Max Gerson through a fictitious colleague, Rudolph Heller – a rival doctor who starts out as Gerson's friend and is seduced by money and power to discredit and destroy him. "Rudy is actually a compilation of several people who conspired to destroy Max Gerson, because they knew he was a real healer," says Yankee. "In fact, Nobel Prize winner Albert Schweitzer said, 'Max Gerson is one of the most eminent geniuses of the twentieth century.' It is shocking to me that so few people know about Gerson and his work. I hope to change that." Yankee is hoping to get the play published later this year and has already completed a screen adaptation. His previous play, The Last Lifeboat (dealing with the aftermath of the sinking of the Titanic) is published by Dramatists Play Service. This play also premiered at UC Irvine and has had more than 20 productions across North America in the past two years.
Directed by UC Irvine Vice Chair of drama, Don Hill, the cast includes guest artists Noah Wagner and Tom Juarez as Rudolph Heller and Max Gerson. The rest of the ensemble includes Melissa Musial, David Sasik, Jordan Kay and Ashley Rose. The set designer is Keith Bangs, with costumes by Marcy Frohelich, lighting by Wesley Charles Chew and sound design by Leonardo Moradi. The stage manager is Alex Meyer.
Performances and Ticket Information
Robert Cohen Theatre. 4004 Mesa Road Irvine 92617
Parking: 4000 Mesa Rd, Irvine, CA 92617
Evenings: Feb. 25, Mar. 2, 3, 4 @ 8 p.m.
Evening: Mar. 1 @ 7:30 p.m.
Matinee: Feb. 26, Mar. 4, 5 @ 2 p.m.
Tickets are free but reservations are required through Brown Paper Tickets. http://www.brownpapertickets.com/event/2718404.