The Brahms Requiem brings 19th-century music masterpieces to the Irvine Barclay Theatre.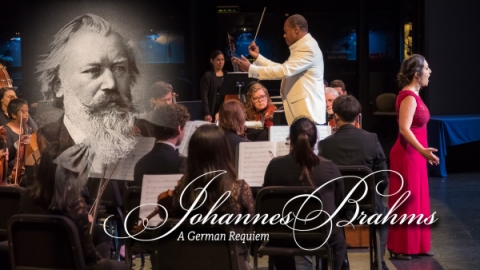 THE BRAHMS REQUIEM BRINGS 19TH-CENTURY MUSIC MASTERPIECES TO THE IRVINE BARCLAY THEATRE.
Irvine, Calif., March 2, 2018 - The University of California, Irvine's Department of Music will present the combining forces of the UCI Chamber Orchestra and UCI Chamber Singers, the Bob Cole Conservatory Chamber Choir (Cal State Long Beach), and the Riverside City College Chamber Singers in the captivating sounds of A German Requiem performing on March 9th at 8pm at the Irvine Barclay Theatre. Under the direction of Dr. Stephen Tucker, the triple dynamics of the orchestra hope to move the audience with the captivating sounds of the 19th-century masterpieces through mixed sounds of classical instruments and a variety of vocal ranges in both compositions.
"This will be an evening of reflection and praise!" says Dr. Stephen Tucker, Associate Professor in Music and Director of the UCI Symphony Orchestra. "I would certainly hope that the audience, like the performers - all 102 singers in the chorus, the 60 piece orchestra, and the 2 vocal soloists - to gain an appreciation for the beauty and complexity of this masterpiece. My hope is that they will leave reflecting on the text and music heard."
The German Requiem, by Johannes Brahms, consists of music pieces with a large scale work involving dramatic musical elements revolving around the narration of the transient nature of life and poetic tragedy through the triumphant sounds of the orchestra and vocal soloists Jennifer Lindsay, soprano and Brandon Guzman, baritone.  The event will also involve the exquisite piece of Henri Wieniawski Fantasie on Themes from Gounod's 'Faust' featuring violinist Li-Mie Liang. Brahms wrote A German Requiem to commemorate the deaths of his mother and widely known composer and good friend, Robert Schumann. The Requiem's somber mood allows the listeners to think deeply of Brahms' writing and the involvement of verses in the Lutheran Bible to offer comfort and passion to the audience and encourage the future. In contrast, Wieniawski's Fantasie on Themes from Gounod's 'Faust' consists of inducing a light, playful melody through the melodic sounds of the violin and piano involving harmonic vocal sounds in rhythmical diversity. The entire concert will be in tribute to the memory of Dr. Rae Linda Brown, an American Musicologist and former faculty as the Chair of the Department of Music at UCI.
For A German Requiem tickets, call 949-824-2787 or visit www.arts.uci.edu/tickets.