"This is bigger than music." UCI & Santa Ana High symphony collaboration results in more Saints than ever applying to be Anteaters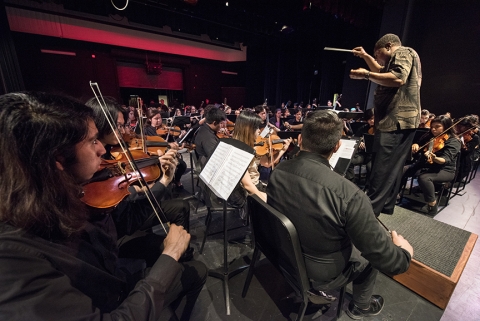 "THIS IS BIGGER THAN MUSIC."
COLLABORATION OF UC IRVINE AND SANTA ANA HIGH SCHOOL SYMPHONY ORCHESTRAS RESULTS IN MORE SAINTS THAN EVER APPLYING TO BE ANTEATERS
Irvine, Calif., (March 18, 2019) – "This collaboration has never been about developing musicians, it has always been about developing young people who have been valued and encouraged in a way that they can now see themselves going to college, continuing their education and taking advantage of opportunities. Music is how we are connecting with them, but this is bigger than music," said Dr. Stephen Tucker, conductor of the UC Irvine (UCI) Claire Trevor School of the Arts (CTSA) Symphony Orchestra.
What began in 2012 as an opportunity for Dr. Tucker to get himself and the UCI Symphony Orchestra into the community for a single concert has grown into a true adoption of the Santa Ana High School (SAHS) symphony orchestra. The UCI Music Department is offering the SAHS students and teachers opportunities to learn and grow through music. The emphasis remains the same, youth development, exposing them to college and career pathways, and using music as the tool.
Every year, SAHS students work with Dr. Tucker in multiple master classes, visit UCI for side-by-side rehearsals, and participate in workshops and information sessions designed to show them what is available in a university music program. Ten outstanding CTSA Music majors are coaching SAHS students, dedicating more than 800 hours to teaching everything from musicianship and technique to instrument care and how to prepare for an audition. More and more UCI Music Department faculty are jumping in to support SAHS students, regularly providing workshops, private coaching, and insight into life as a professional musician and educator.
Because of these deep relationships with CTSA students and educators, more and more SAHS students are looking to UCI to continue their music education. Four students auditioned for the UCI Music Department this year; all four passed their auditions and were accepted into the University.
"We don't know what will catalyze a young person to achieve so we try to provide as many access points, as many opportunities as possible to excite a student to excel. If we reach them through music, or through a Q&A with current students, or by telling them what to expect in an audition, and they are then driven to succeed, whether in their education, in the arts, or in life, then WE have succeeded," said Megan Belmonte, CTSA Director of Outreach Programs.
"We work tirelessly to continue serving one another. We didn't know what this relationship would look like, six years ago, but it is better, and deeper, and more effective than we could ever have dreamed of," said Victor De Los Santos and Joseph Kaye, band and orchestra teachers at SAHS.
This collaboration is made possible by the support of gifts and grants, including a grant from the City of Santa Ana. If you would like to learn more about how you can join us in supporting this great work, contact the Outreach unit at CTSA, artsoutreach@uci.edu or (949) 824-8976.
Join the UCI and SAHS Symphony Orchestras for their culminating side-by-side concert:
UCI and SAHS Symphony Orchestra Combined Concert
Thursday, April 11, 2019
7:00 p.m.
Bill Medley Auditorium at Santa Ana High School
520 W. Walnut Street, Santa Ana, CA 92701
Free admission, public welcome – donations will be accepted
To learn more about the San Arts Conservatory at Santa Ana High School visit sanarts.org or call (714) 567-4900.
To learn more about the UCI Symphony at UC Irvine's Claire Trevor School of the Arts visit music.arts.uci.edu/symphony or call (949) 824-6615.
To learn more about community engagement at UC Irvine's Claire Trevor School of the Arts visit outreach.arts.uci.edu or call (949) 824-8976.
"As UCI's creative laboratory, the Claire Trevor School of the Arts explores and presents the arts as the essence of human experience and expression, through art forms ranging from the most traditional to the radically new. Our students come to UCI to learn to be citizen-artists, to sharpen their skills and talents, and to become the molders and leaders of world culture. Our international faculty works across a wide variety of disciplines, partnering with others across the campus, our national-ranked programs in art, dance, drama, and music begin with training but end in original invention." – Dean Stephen Barker
###