2015 New Swan Shakespeare Festival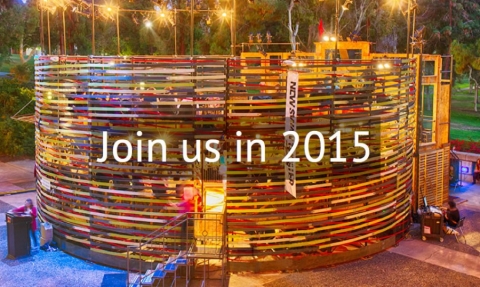 Download the New Swan Shakespeare Festival Press Kit.
Irvine, CA (June 16, 2015) -- Welcome to the fourth season of New Swan Shakespeare Festival! The New Swan is a venue unique to Orange County, and indeed to the world of theatre. Our 15-ton, modular mini-Elizabethan theater was a dream of UC Irvine's Department of Drama in 1965 when the university was founded, and in the winter of 2011 this dream was brought to vivid life. Since the debut of our summer festival in 2012, we have run two classic Shakespearean plays in repertory each year, and last season debuted "Mozart Monday," which this year has extended to a series of three Monday night music offerings in August.
New Swan Shakespeare Festival is dedicated to the investigation and production of Shakespearean plays and relevant theatrical works. Shakespeare's theatre was of and for the people, rather than an elite cultural event; similarly, we wish to share our work with the widest possible cross-section of our community. It was also driven by the desire to create a direct, egalitarian relationship between actors and audience, which is what we aim to do in our intimate, viscerally engaging venue. We want our audience to feel the emotions, actions, and texts as deeply as do New Swan actors, directors, designers, and creative and production teams. While we honor the history and classicism of Shakespeare's works, we have no intention of producing them as museum pieces; rather, we are committed to recreating the immediacy of Shakespeare's work, and examining it through the lens of its relevance to the 21st century.
Summer 2015 brings us the Bard's classics Macbeth and Much Ado About Nothing, in keeping with our custom of offering one tragedy and one comedy per season. Much Ado also continues the festival's tradition of innovative and original staging, as director Beth Lopes sets the production in the post-war America of Rosie the Riveter. Macbeth, directed by New Swan's Artistic Director Eli Simon, will welcome Shakespearean master Jack Greenman in the title role. In addition, Music Mondays will bring us the all-female mariachi band Las Colibri, the jazz stylings of the Max Haymer Trio, and the return of last year's popular Mozart Monday.
Whether you are drawn by comedy, tragedy, fine acting, great music, the heft and tradition of Shakespeare's words, or simply by the allure of a night of fine entertainment under the stars, we hope to see you at New Swan Shakespeare Festival this summer!
Macbeth
Eli Simon, Director
Eli Simon is the Artistic Director of New Swan Shakespeare Festival. A Chancellor's Professor of Acting in the Department of Drama, this marks Eli's 26th year at UC Irvine, where he has served as Head of Acting, and Chair of Drama. Eli is the author of three books: The Art of Clowning, Masking Unmasked, and Power Speech. He specializes in Shakespearean productions, clowning, musicals, and original masked performances. Eli has directed over 100 productions at major Shakespearean festivals, regional theatres, and international theaters across the states and overseas. Critically acclaimed productions include his original two-part clown saga – War of the Clowns and Clown Aliens – which is currently being produced by the National Theater of Romania in Cluj. Eli's original clown troupe, CLOWNZILLA, received rave reviews in California, Korea and Italy. His original commedia productions have enjoyed successful tours to international festivals in England, Spain, Korea, and Italy. For New Swan Shakespeare Festival, Eli has directed The Merchant of Venice, King Lear, and Twelfth Night.
Jack Greenman (Macbeth) has worked professionally for the last 20 years as an actor, educator, and voice and dialect coach. As an actor, he has performed with Utah Shakespeare Festival, Seattle Shakespeare Company, PCPA Theaterfest, GEVA Theater Center, South Coast Repertory Theatre, Shakespeare Santa Cruz, Colorado Shakespeare Festival, Insight Out Theatre Collective, Strawberry Theatre Workshop, Centerpoint Theatre Group, Stage West in Fort Worth and at St. Mark's Cathedral, Seattle. Representative roles from over 70 productions include Prospero in The Tempest, Macbeth, Peter Stockman in An Enemy of the People, Polixenes in The Winter's Tale, Thomas Becket in Murder in the Cathedral, The Ghost of Christmas Present in A Christmas Carol, Edward in Someone Who'll Watch Over Me, and John in Oleanna. He is a tenured professor in the Theatre Division at Southern Methodist University. In the last seven years, Jack has directed voice and dialects for more than 20 professional productions – most prominently at Milwaukee Repertory Theater, Cincinnati Playhouse in the Park, The Round House Theatre in Bethesda, Maryland, and the Tony Award winning Utah Shakespeare Festival.
Much Ado About Nothing
Beth Lopes, Director
Beth Lopes is a Los Angeles-based theater director and teacher. She received a BFA in Drama from New York University and an MFA in Directing from UC Irvine. Beth is particularly drawn to ensemble driven pieces with heightened text and a sense of the fantastical. She is a highly collaborative director who believes in the connective power of theater and its ability to alter our individual and collective futures. Some of her recent projects include The Hamlet Project with Loose Canon Collective and the development of the new rock musical, The Merry Lives of Windsor High, with Los Angeles company mediaV. Upcoming, she's directing The Winter's Tale for San Antonio Shakespeare in the Park and is thrilled to return to the Swan with Much Ado About Nothing. Beth is a founding company member of New Swan Shakespeare Festival, having directed The Comedy of Errors, 2012 and A Midsummer Night's Dream, 2013.
Stephanie Newman (Beatrice) received her MFA from UC Irvine in 2009, and is currently the Director of Theatre Arts at UCC in Oregon, where she teaches, directs, designs, paints and constructs. Regional Acting Highlights: (as Stephanie Philo)- Pacific Conservatory Theatre (PCPA)– Sylvia, Sylvia; Masha, The Three Sisters; Lydia Languish, The Rivals; Julia, Two Gentlemen of Verona; Pamela et al, The 39 Steps. CO Springs Fine Arts Center– Catherine, In the Next Room. Chance Theater- Amy, Tape; Meg, Little Women. Transversal Theatre: Elvira, Lumping in Fargo (tour of Poland). SRT- Susan, Woman in Mind; Mrs. Potts, Beauty & the Beast; Mother Superior, Agnes of God. University Highlights: Titus, Titus; Agave, The Bacchae; Yvonne, Sunday in the Park with George; Barbara, Dark of the Moon; Nell, Endgame; Amanda, The Glass Menagerie; Edith Piaf, Fetes de la Nuit; Mistress Overdone, Measure for Measure. Directing: UCC– Bus Stop, Romeo & Juliet, Brownstone (OR premiere), Noises Off, Twelfth Night, The Merry Lives of Windsor High, the Oregon One-Acts.
Music Monday Series
Mariachi Las Colibri | August 3, 2015
LAS COLIBRÍ or "The Hummingbirds," have a passion for music, beauty, and girl power. These women are flying into new territory as one of the most unique ensembles of its genre by returning to the all string instrumentation of the early 20th century mariachi tradition and the colorful, feminine costumes of the Mexican cinematic divas of the 40s and 50s. After years of achieving much success individually as instrumentalists and vocalists in various professional arenas, these women have come together with their lovely blend of vocal harmonies, unique arrangements, and interpretation of traditional songs, huapangos, rancheras with a contemporary twist.
Max Haymer Jazz Trio | August 17, 2015
A proud alum of UC Irvine, Max Haymer has been lighting up the jazz world with his scintillating keyboard wizardry. Max was named a Rising Star by the Orange County Performing Arts Center. He has won 2nd prizes at the Montreux Jazz Festival Solo Piano Competition and the Great American Jazz Piano Competition in Florida. He was a finalist in the Horace Silver Piano Competition and UWF Phillips Jazz Piano Competition. After four great years in NYC, Max has returned to LA, working extensively as a leader and side-man. The Max Haymer Trio appears regularly at the world famous Catalina Bar and Grill in Los Angeles.
Mozart Monday II | August 24, 2015
The New Swan String Quartet with Mitchell Newman & Rafi Rishik, violins; Ben Simon, viola; Gianna Abondolo, cello; and special guest David Howard, clarinet.
Program:
Divertimento in D Major, K. 136
Duo for Violin and Viola in Bb Major, K. 424
Clarinet Quintet in A Major, K. 581
PERFORMANCE DATES
Macbeth, Directed by Eli Simon
Dates: July 10, 12, 15, 18, 22, 24, 30
August 6, 7, 9, 13, 15, 19, 22, 23, 27, 28, 30
Much Ado About Nothing, Directed by Beth Lopes
Dates: July 11, 14, 16, 17, 19, 23, 25, 26, 29, 31
August 1, 2, 5, 8, 12, 14, 16, 20, 21, 26, 29
Mariachi Las Colibri, August 3
Max Haymer Jazz Trio, August 17
Mozart Monday II, August 24
All performances begin at 8:00pm The New Swan Theater is located on the Gateway Plaza, adjacent to Aldrich Park and Langson Library on the campus of the University of California, Irvine. Tickets may be purchased through our box office at: (949) 824-2787 or online at www.arts.uci.edu/tickets.
TICKET PRICES
Friday – Saturday:
King James: $59 (adult) $54 (senior) $54 (youth/student)
Queen Elizabeth's Row: $49 (adult) $44 (senior) $44 (youth/student)
Lord Chamberlain's Row: $44 (adult) $39 (senior) $39 (youth/student)
The Heavens: $44 (adult) $39 (senior) $30 (youth/student)
The Groundlings: $39 (adult) $34 (senior) $25 (youth/student)
Sunday – Thursday:
King James: $50 (adult) $45 (senior) $45 (youth/student)
Queen Elizabeth's Row: $40 (adult) $35 (senior) $35 (youth/student)
Lord Chamberlain's Row: $35 (adult) $30 (senior) $30 (youth/student)
The Heavens: $35 (adult) $30 (senior) $20 (youth/student)
The Groundlings: $30 (adult) $25 (senior) $15 (youth/student)
* Music Mondays priced as Friday & Saturday Shakespeare shows.
View more information, links to maps and directions on the New Swan Shakespeare Festival website.
Attention UCI Students:
New FREE Student Rush Tickets offered by UCI Illuminations
View the UCI Illuminations website for detailed information and performance dates: http://illuminations.uci.edu/events/2015_08_xx_New_Swan.html
UCI Students, Show up at 7:30, at New Swan Theater, on Gateway Plaza.
Bring your current UCI Student ID.
Available seats are free - paid for by Illuminations at UCI.