He's Paid 'Rent' in Full
Broadway veteran Telly Leung comes full circle by guest-directing UCI Drama production of landmark 1996 rock musical whose themes particularly resonate in 2023
By Greg Hardesty
When he was 16, native New Yorker Telly Leung was a self-described Rent head.
He would line up on 41st Street outside the Nederlander Theater on Broadway at 4 a.m. to purchase tickets at 10 a.m. for a $20 ticket to see the groundbreaking rock musical about a group of impoverished young artists struggling to create a life in Lower Manhattan's East Village under the shadow of HIV/AIDS.
It was 1996, and Leung saw Rent more than a dozen times over the next year (Rent invented "rush tickets," which are sold at a theater's box office on the day of a performance at a significantly discounted cost).
"Musical theater before Rent was all the big British imports like Les Miserables and Cats and Phantom of the Opera, which all were very entertaining but didn't speak to me and the times we were living in," recalls Leung, an only child to immigrants from China.
"I thought, 'Oh my gosh, this looks like New York," adds Leung, who in high school first focused on math and science before embracing the performing arts. "Rent dealt with issues in the headlines like AIDS, wealth and inequality, and the gentrification of New York City, and I thought to myself, 'I could be in this show. I could do this one day.'"
Ten years later, Leung was a cast member of Rent at the Nederlander and for the smash-hit musical's national tour.
"Rent was part of my DNA that led me to decide to pursue a career in theater – it was the show of my generation," says Leung, who today is a successful actor, singer, and songwriter known for his work in musical theater on Broadway and for his role as Wes, a member of the Dalton Academy Warblers on the Fox comedy-drama series Glee.
'Rent' was part of my DNA that led me to decide to pursue a career in theater – it was the show of my generation.
And now, for the first time, Leung is guest-directing the first-ever UCI Drama production of Rent at the Claire Trevor School of the Arts. The show, which features a talented cast of 19 undergraduates, runs June 3-10.
It's an especially timely production given society's regrouping as it emerges from the COVID-19 pandemic, says Leung and Don Hill, chair of the Department of Drama and co-head of stage management at the CTSA.
"I think it's a very important play because ultimately, it's about how we heal through our connection to each other," Hill says.
Cast member during final run
Munching on an energy bar as he prepared to attend technical rehearsals for Rent less than two weeks before opening night, Leung discussed his long association with the musical – and what landed him the UCI Drama gig.
He attended New York's prestigious Stuyvesant High School, from which he graduated in 1998. After high school, he was accepted into Carnegie Mellon University's School of Drama.
In the fall of 2002, Leung made his Broadway debut in the revival of "Flower Drum Song," starring Lea Salonga, as a member of the ensemble and an understudy for Wang Ta.
He performed as an ensemble member in the final run of Rent on Broadway before it ended its 12-year run in 2008 and made his film debut as part of the ensemble in Rent: Filmed Live on Broadway.
On Broadway, Rent garnered critical acclaim and won several awards, including the Pulitzer Prize for Drama and the Tony Award for Best Musical. Jonathan Larson, who wrote the music, lyrics, and book, died of a heart ailment before the show opened.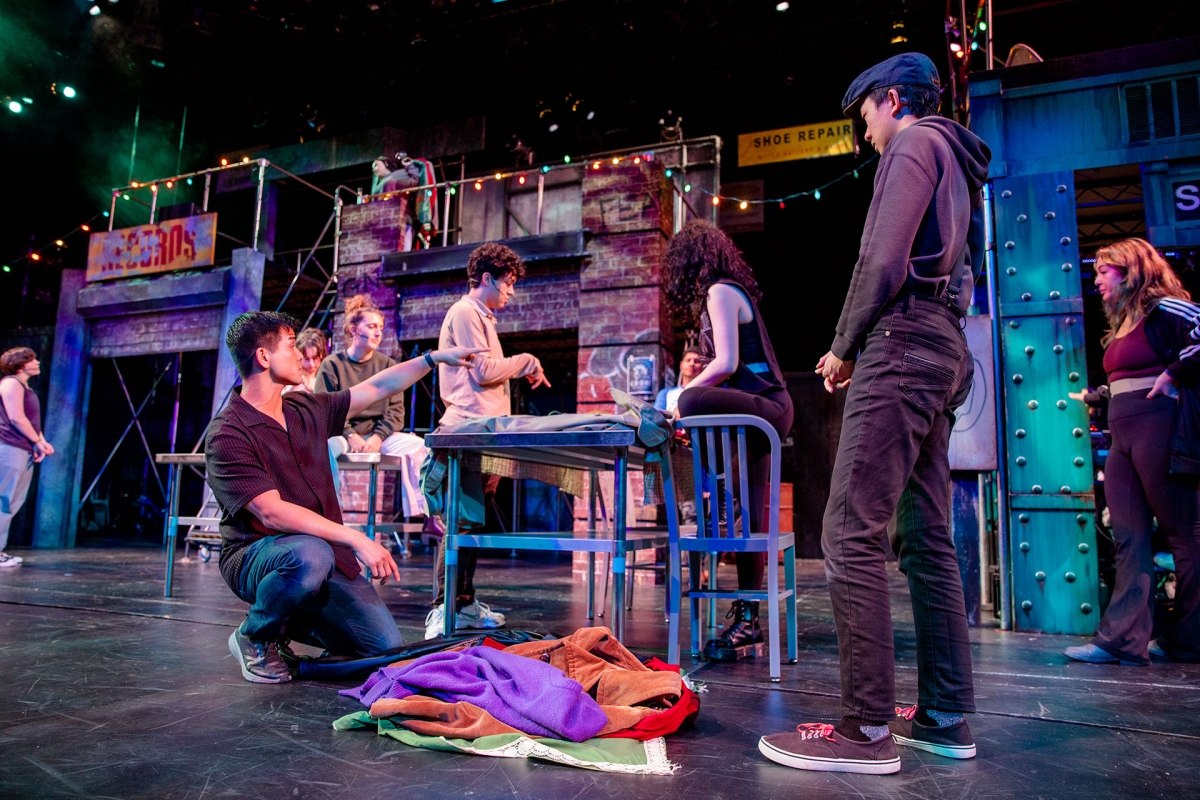 Image: Telly Leung directs members from the cast of UCI Drama's production of "Rent" during a technical rehearsal on the Claire Trevor Theatre stage. (Photo: Jaime DeJong/UCI).
A learning experience
Earlier this year, Leung had just finished the London premier of Allegiance when Andrew Palermo, professor of Music Theatre Choreography/Dance at the CTSA, called him.
Leung met Palermo when he was his choreographer on Allegiance on Broadway in 2016.  With music and lyrics by Jay Kuo and a book by Marc Acito, Kuo and Lorenzo Thione, Allegiance, set during the Japanese American internment of World War II, was inspired by the personal experiences of its star, George Takei.
Leung eagerly accepted the guest-directing stint at UCI, his second at a university.
"The students here at the Claire Trevor School of the Arts are wonderful," Leung says. "I love directing at universities. The show could be terrible, I could be a terrible director, and yet if the kids learn something, we've succeeded. At the end of the day, the goal here has always been one about education.
"Here, failure is part of the education process. We embrace failure if you learn something at the end of the process."
A 'triple threat'
Hill calls Leung a "brilliant theater maker" and says Rent audiences are in for a treat.
"Our students are getting a triple threat of Broadway experience," Hill says of Leung, Palermo, and musical director Zachary Dietz.
Our students are getting a triple threat of Broadway experience.
"Their high standard of Broadway professionalism sets a tone and demeanor," Hill adds, "and I think the show will really knock people's socks off."
"Rent" is stage manager Jake Arpaia's master's thesis.
Hill agrees with Leung that the themes in Rent have resonance today.
"I think the isolation of COVID has parallels to the how the AIDS crisis had people feeling isolated," he says.
Next up for Leung is a recurring role on season three of HBO Max's Warrior.
"I play a nomadic Chinese nightclub singer," he says of the job that had him filming in Cape Town, South Africa for four months late last year. Then it was off to London and, finally, Irvine.
"I've only been home for two weeks in the last year," says Leung, who says his experience at the CTSA has been wonderful – as has re-experiencing the themes of Rent at an ideal moment.
"The star of the show is the humanity of these characters and the music," Leung says. "And that's what we need. We've just come from a very traumatic last three years, and we need stories like this to heal and to unpack everything we've gone through together."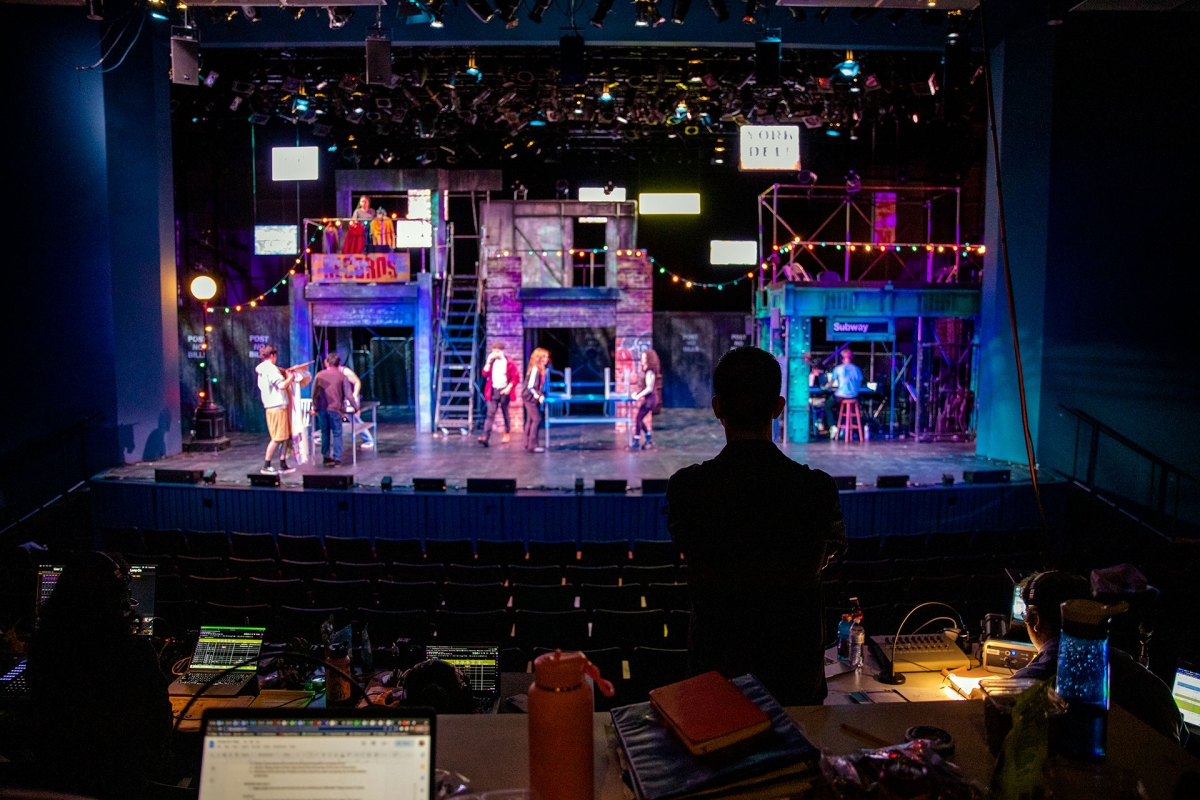 Image: Leung oversees the production during a rehearsal. (Photo: Jaime DeJong/UCI).
---
Rent runs June 3-10, 2023 at the Claire Trevor Theatre. To purchase tickets, visit drama.arts.uci.edu/tickets.
Please visit our secure direct giving page and make a gift to Drama today!
---
Listen to Telly Leung's interview on CTSA's "2+ Minutes with an Arteater," hosted by UCI Drama student Kayla Quiroz, who is also playing the role of Mmi Márquez in Rent.