Renaissance Man
Graduate student Jesús López Vargas reflects a new generation behind the scenes in theatre
By Christine Byrd
Director, stage manager, producer, poet, photographer, videographer, designer, and an advocate for underrepresented voices: Jesús López Vargas wears many hats. As an M.F.A. candidate in stage management, López keeps things humming behind the scenes in productions at the Claire Trevor School of the Arts — whether on stage in front of live audiences or, for the last 12 months, online.
"My direct theatre community is having an existential crisis. They wonder what it means to be a theatre maker, if everything they do is no longer safe," says López.
His role during the pandemic has been not only to guide fellow students to emerge stronger and better equipped for the future, but to help reshape the post-pandemic theater world to be more inclusive.
Everything Changed
As an undergraduate at the University of Texas at El Paso, López studied language and translation. That is, until the night he attended a macabre student production called Bloody Shakespeare, directed and produced by Jay Stratton, an immersive show featuring a series of rooms where the Bard's most gruesome scenes were reenacted. López was hooked.
"My entire life changed," says López.
He switched his major to technical theatre and started studying lighting design. It wasn't just an academic change: López eventually married the show's lighting designer. The pair came to UCI in 2018, each to pursue M.F.A. degrees in the CTSA.
López became a leader and manager for the Brown Bag Theater Company, a UCI student theater group focused on empowering Latinx communities. He swiftly helped reshape the group to include more undergraduates in leadership roles, with mentorship from graduate students and faculty.
"Shifting from a graduate-driven group to an undergrad driven group allowed the BBTC to grow and give significant educational experiences to undergrads, while allowing graduate students to be most effective as mentors," says Lonnie Alcaraz, professor and head of lighting design, and one of the founders of the company. "This has reinvigorated the work BBTC has done and made it more current and impactful."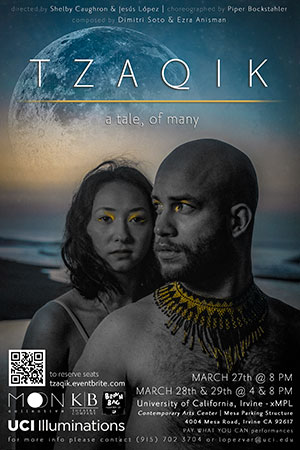 Image: The poster for Tzaqik: a tale of many,  a feature-length production written and co-directed by López. It was cancelled due to the pandemic. (Photo courtesy of Jesús López Vargas)
Spiritual Roots
For nearly a year, López worked with BBTC and UCI Illuminations, the chancellor's arts and culture initiative, on a feature-length production involving more than 50 students from dance, drama and music. Tzaqik: a tale, of many, which López wrote and co-directed alongside Shelby Caughron '20 and Piper Bockstahler, is based on the Mayan myth the "Popol Vuh," the story of how the universe was created.
"I wanted to reconnect with my spirituality, to pay respect to the native people of America, to honor them and share their story," says López.  "I want to say to people, 'This story of the 'Popol Vuh' has as much merit as the Greek myths."
More than half of its scheduled performances were sold out when, two weeks before its premiere, the show was cancelled due to COVID-19.
At that moment, López did not have time to grieve. He was stage manager for the student choreography showcase Physical Graffiti, which would become the CTSA's first streaming show during the pandemic.
"I was so sad and disheartened that the show that the students had created was not going to be able to come to fruition," says López. Yet he watched them channel their emotion into updating their dances for their new reality. "There were some pieces, where I could feel what they were feeling. I could sense their mourning, their passion, their drive to keep going," he says.
With his experience in design and media, López not only managed the behind-the-scenes for Physical Graffiti, but also mentored some of the dancers on techniques for translating their performances to video — adding animation, digital manipulation, and cinematography as part of the choreography.
"It was such a beautiful experience," says López. "I could see students evolving in their artistry and exercising new skills that make them even more marketable in the industry," he says. "Ever since the pandemic has started, the most successful projects I've watched are the ones started by the youngsters. Students are coming up with these really clever ideas for how to tell stories."
Creative Adaptations
López, too, needed to quickly readjust to his new reality. In an act of self-preservation, López and his husband moved back to El Paso to save money and to return to friends and family.
"I was one of the lucky ones. I accepted the fact that what we're used to doing is not what we're doing, early on," he says. "I come from a literature, photography and sociology background. I study what's around me and change what I can change; adapt how I can adapt; but don't beat myself up for the things I have no power over."
Over the summer, López and colleagues put on a virtual conference "Recreating the Stage, a Roundtable for Our New Reality," to address the challenges theater youth face, both in terms of the immediate pandemic and the longstanding lack of inclusivity and accessibility within the theatre community. The project was supported by the drama department's Creating Art in Challenging Times Award and UCI's Inclusivity Excellence Fellowship, which López won.
"Although Jesús faced some real disappointments when the country shut down, he immediately jumped into other creative endeavors, organizing nationwide workshops of artists of color in the country," says Alcaraz.
"Jesús collaborates extremely well, his creative visions are amazing and he has the drive and skills to see them through. I am confident that he will be a leader in this industry and will change it for the better."     
López also received a Medici Scholarship from CTSA to develop a short film over the summer. Zu Sein, which means "to be" in German, is a series of over 3,000 black and white printed photos which he sliced, painted and manipulated, then re-photographed and edited together as a video, in which the narrator wonders aloud and in writing, using three languages,  why he keeps telling stories and making art, when doing so is painful. López says his mantra while editing the film was, "When I create art, why do I kill pieces of me?"
"It was through this film that I mourned and came to understand the pain caused by losing Tzaqik due to the COVID-19 pandemic," he says.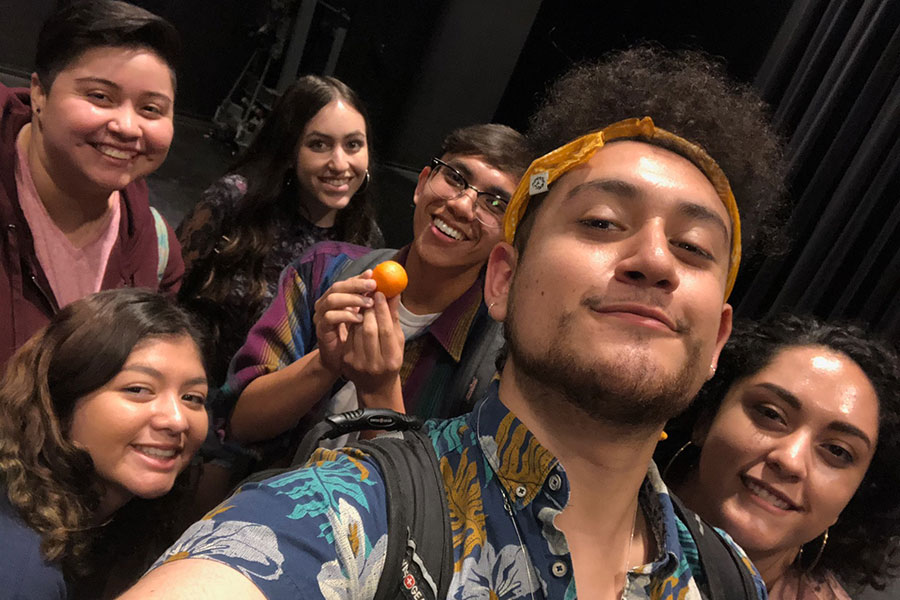 Image: López with members of the Brown Bag Theater Company, a UCI student theater group. (Photo courtesy of Jesús López Vargas)
Looking Forward
López is managing the dance department's choreography showcase, Dance Visions 2021, which will be online, featuring dances created by UCI faculty. Stage managing a virtual show from afar is not entirely different than in-person: it requires organization, adaptability and foresight.
"My No. 1 job is still to anticipate a problem in the production before it becomes a real problem," he says. "The stage manager makes sure everyone stays safe."
That often means being a shoulder to cry on for other artists and performers.
"All these stresses add up, and the truth is that our students are hurting at the moment, and their leaders are tired and also hurting," he says. "I'm trying to spread the idea that we need to lift each other up."
The theatre community needs that now more than ever.
---
To learn more about students and projects in the Department of Drama, visit drama.arts.uci..edu.
Please visit our secure direct giving page and make a gift to support Drama today!
CONNECT - Spring 2021