Professional Pathways
It's summer in Rome and, inspired by the architecture of the Basilica of Santa Maria in Trastevere, a UCI student ties on her pointe shoes and begins dancing in the cobblestone plaza. As if on cue, a street musician emerges from an alleyway playing Brahms' "Hungarian Dance" on his harmonica. Tourists gather to watch her grand jetés across the Piazza de Santa Maria, in front of the oldest fountain in this ancient city.
"It was a beautiful moment that I will cherish for the rest of my life," says the dancer, Tanya Bendis '14.
She and a handful of classmates spent two weeks that summer collaborating and performing with professional musicians across Rome, in what has become an annual project led by dance professor Lisa Naugle. After graduating from UCI, Bendis went on to dance professionally in the U.S. and now performs at Zagreb City Theater Komedija in Croatia. One reason she considered taking a job abroad, she says, is because of her experience and connections made that summer in Italy.
An International Stage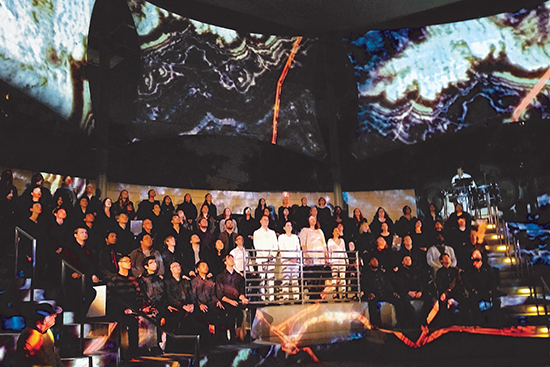 The Claire Trevor School of the Arts at UCI has a long tradition of giving students professional performance opportunities both locally and globally, creating experiences that shape them as artists while also building professional networks that will support their budding careers for years to come.
Nearly 200 UCI students over the past 20 years have danced around the world with Naugle, collaborating with visual artists and composers mostly in Italy, but also in Spain, Iran, Germany, Poland, Korea, Romania, Portugal and Colombia, depending on where Naugle's international projects take her. 
The students perform both choreographed and improvised dances at historic venues such as the Conservatorio di Santa Cecilia, the Accademia Filarmonica Romana and the University of Rome. They also take inspiration from breathtaking ancient architecture like the Roman Colosseum, the Forum or the Parthenon to create site-specific dances. 
"The program is based on presenting new performance work, collaboration and experiences in world cultures," says Naugle. "I can't think of a better way to encourage new ideas than by working on creative projects together and sharing international experiences."
Working with professional musicians and staging shows in international locales better prepares UCI dance students to succeed in the highly competitive dance industry. 
"There's a huge difference between performing in a controlled environment and touring. There are a lot of unknowns for the students, and all of this is about understanding what's required of a professional dancer or choreographer — from budgeting for travel, lodging accommodations, language differences, cultural environment, and being responsible for bringing your costumes," says Naugle. "These trips train dancers how to work with uncertainty and feel comfortable with change."
Unlike most of the students who participate, Leslie Bitong, MFA '17, already had experience performing professionally overseas when she went to Rome. But she says the experience profoundly affected her artistic development, teaching her how to communicate her artistic vision more effectively, and allowing her to directly collaborate with other talented artists. She remembers feeling star-struck when she met the composer whose music she had been choreographing for 10 weeks. 
"He was so complimentary, but he was also fascinated with the way I had interpreted his music with movement. He said it shed new light on the song that he had created," says Bitong, who now has a tenure-track faculty position at Golden West College in Huntington Beach, California. "It was amazing."
A Partnership of Dreams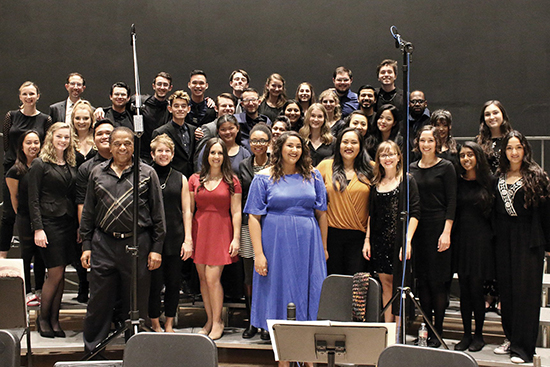 Back at UCI, students in the Department of Music are also working with acclaimed composers, breathing life into new music. 
In the fall of 2017, a composer, a librettist and an anthropologist came to UCI after traveling the country working on a new piece of music about the American dream, which had been commissioned by the Los Angeles Master Chorale. The UCI Chamber Singers would get to workshop "dreams of the new world" for composer Ellen Reid. 
It would be the hardest piece of music the students had ever encountered. 
"Ellen Reid is really creating soundscapes out of all of these textures of sound, feelings of sound, colors of sound, shapes of sound," says Angelica Rowell '18, who performed as a mezzo-soprano soloist in the "dreams" workshop. "It is really difficult."
UCI was the Goldilocks location to workshop dreams — outside of Los Angeles but within driving distance — and many UCI students went to Walt Disney Concert Hall in LA to see the work performed in its final form, knowing they had contributed to its evolution.
"The students at UCI are so open to making new and daring work," says Reid. "Not only are they eager to dive in, they are talented enough to pull it off with ease."
The collaboration was so successful that the following year, Reid invited UCI Chamber Singers to premiere another new work, "Oscillations: One Hundred Years and Forever," which was commissioned by the Los Angeles Philharmonic as part of its centennial celebration. 
In 2018, after two weeks of intense rehearsal, the students performed at Walt Disney Concert Hall's Keck Amphitheater in a sound installation, playing bell plates and singing an eight-minute song on a continuous loop as guests walked around. 
Keeping the choir on tempo was vocalist and lead bell plate player, Akari Komura '19, who says working with Reid completely changed her career plans. Now, she is pursuing graduate studies in composition at the University of Michigan. 
"One of the big reasons I decided to pursue composing was because of working with Ellen Reid," says Komura. "She introduced me to the world of contemporary music. My goal now is to do concert works not only limited to traditional settings, but outside installations, freeform multimedia works collaborating with dancers, or theatrical works."
New Music, New Perspectives
Seth Houston, UCI's director of choral activities, says that the experience of working with a leading composer, collaborating with professional organizations like the LA Phil, and bringing large and complex works to life on tight schedules has been an invaluable learning experience for students.
"Not only did it accelerate their careers, but it put UCI on the map as a center for excellence and innovation, and a significant player in the cultivation of new directions in the choral arts," he says.
This year, Reid won the Pulitzer Prize in music for her opera "p r i s m," and UCI students realized they had been enjoying front-row seats to the creative process of one of the country's most exciting and boundary-pushing new artists. One who, as a woman in a male-dominated field, was breaking down barriers.
"For me as a woman, it was impactful to work with Ellen and her all-woman team," says Rowell, who performed as a soloist alongside professionals in "Oscillations," after graduating from UCI. "As a creative myself, seeing the behind-the-scenes work and what can happen when like-minded people band together to create something monumental — that's so inspirational."
Houston strongly believes in the importance of teaching his students to perform Haydn and Brahms. But he also appreciates the transformative nature of work with living, breathing composers who show up in rehearsals and provide feedback.
"The students get to see the music as more alive, more dynamic, more fluid," says Houston. "A piece might change between the time they sing it and the time it gets performed on a professional stage, and they get to be part of that journey."
"Ultimately, I hope that our students see themselves as active participants in the creation of art and culture."
---
Please visit our secure direct giving page and make a gift today!
CONNECT - Fall 2019