New Slate Brings Collaboration and Kindness
By Jezebel Ramirez-Robles
New Slate 2021, the first dance concert of the season, brings a show of eight unique performances. Artistic director, Professor S. Ama Wray, is leading this year's dance graduate students through the process as choreographers. Throughout the creation of this year's New Slate, students are gaining the experience of producing a show that includes working with a crew of lighting designers, costume designers, a music composer and faculty mentors.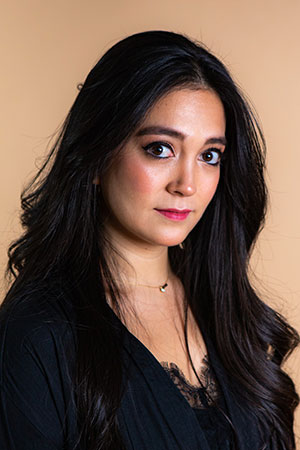 "It's very much about collaboration," said Anna Medina, one of the eight choreographers chosen for this year's concert. "You build a strong relationship with your dancers, mentors, and crew members. Everyone is about doing their part and being there for everyone."
Collaboration occurs at every level of the production process. One unexpected opportunity involved the dancers themselves being an inspiration in Medina's creative process. "Their movement is so personal and individual. If you look into it and play with it a little further, you will end up with a [different] piece," said Medina. Finding inspiration in her students made creating the choreography a shared experience. "It makes collaboration so beautiful in dance."
The dancers in New Slate are a select set of undergraduate students who auditioned with over one hundred competitors to perform in the unique graduate-led pieces. Before the audition process, Medina imagined six dancers in her work, but after being impressed with the cohort presented, she ended with ten dancers.
"You want to cast people who want to perform and everyone wants to perform," said Medina, "especially after the pandemic."
Image: Anna Medina
A Cohesive Show
New Slate's thematic undertone is one of collaboration and mentorship. The mentorship of Dr. Wray to the graduate student mirrors that of the graduate students to the undergrads. But every individual show in New Slate will have a theme and ideas dancing about the stage. The themes this year will vary from immigration to femininity to human emotions. 
Medina says her piece, ebullition, is "about reaching a boiling point as a person." It focuses on the meaning of the word: boiling or overflowing, but with strong emotions. With quarantine raising the heat of stress and anxiety, Medina wanted to present the different ways people release these emotions. "Some people like meditation to control it. Other's full-on explode and go out of [their] mind," said Medina. "This is similar to when water is boiling or bubbling right before it changes [form]."
Medina implemented more kindness into her teaching style to combat this effect from happening to her dancers. 
"New Slate is about being in a rush. It moves so quickly," said Medina. "Dancers are used to pushing through [anything], but this idea is very much not there anymore." She did not want this pace and pressure to add more stress to her dancers. So, she took what she learned in quarantine about being kinder to herself and applied it to all others, including her students, mentors, friends and herself.
"People were going through a lot. I found that it was not worth it not to be understanding," said Medina. Her results were rewarding. Why? Because she says it gave people a safe space to be themselves, create, make mistakes and try again. 
Including herself. 
For many years Medina's creative mind was structured away from thinking outside of the box. This new safe space allowed Medina to explore different dance genres that were not yet in her movement vocabulary. She strayed from her experience in jazz and explored contemporary dance in ebullition. She was picky with the music she chose, wanting to produce the sense of urgency a stressful situation creates. These aspects of her show display Medina's more abstract way of looking at dance after the pandemic. 
"My professor, Lubovitch, taught me last year that everything can be [considered] dance," said Medina. This sentiment ranged from brushing your teeth in the morning to professional ballet. With her relaxed way of creating and her new knowledge, Medina was finally able to think outside of the box and create ebullition. 
"I had to learn that what I knew, all of the structures I have about dance, are not set in stone."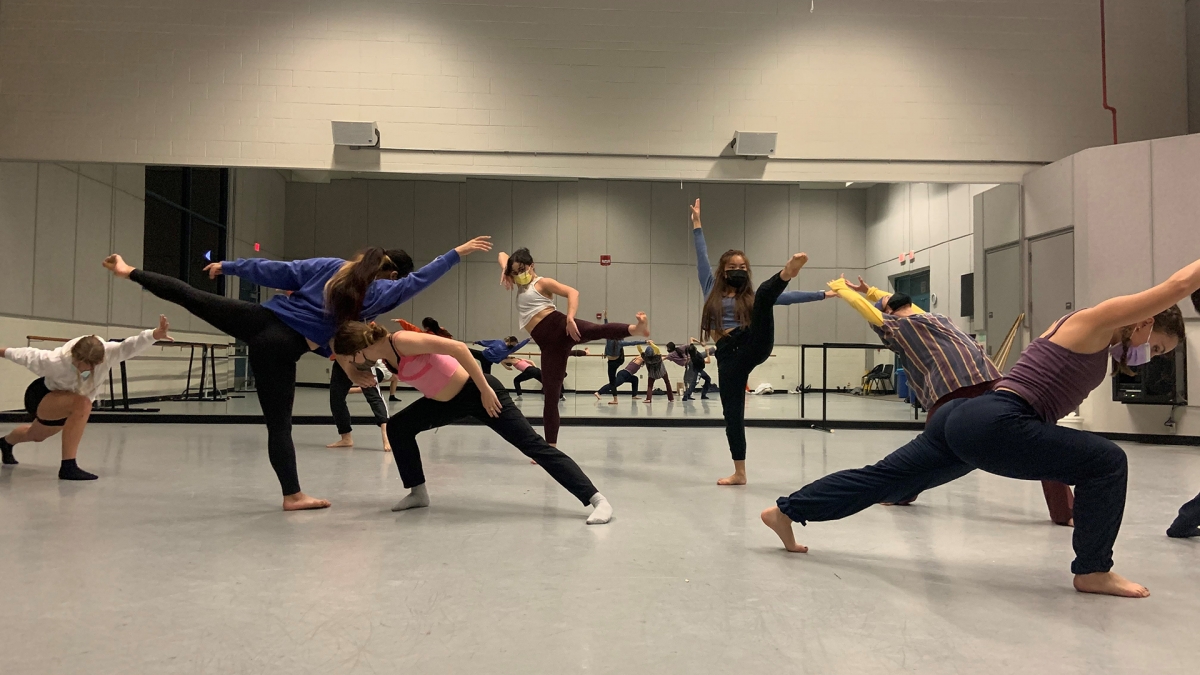 Image: Dancers perform in Medina's piece, ebullition, in the William Gillespie Performance Studios on campus.
The New Normal
Returning from a year and a half of studying online has changed how everyone would prepare for New Slate. Again. 
New Slate will display in every way the new normal of in-person life for a dancer after the pandemic. With open-mindedness allowing creativity, there was also the physical well-being of the students and crew to worry about.
The safety of everyone was the first concern of the artistic director. Medina said Dr. Wray went a long way in providing the proper protocols for the dancers. All in-person practices involved wearing masks and taking more outdoor breaks. After practice, the graduate students would clean the floors for the next group coming in. Meetings accommodate people's level of comfort and schedules. 
New Slate will return to live performances at the Claire Trevor Theatre from December 2-4, 2021. Evening shows begin at 8 p.m. with a matinee on Dec. 4 at 2 p.m. This year, the show will also be virtually streamed on Sat., Dec. 4 for both performances. Tickets are on sale at the CTSA website and will be available for purchase at the Box Office for both in-person and virtual shows. You may find the in-person protocols for on-campus productions on the CTSA website.