Chloe King and Summer Session Uplift Queer Voices
Medici Scholars Chloe King and Summer Session Uplift Queer Voices in Searching for Shelter
By Lauren Knight
When UCI Drama M.F.A. directing candidates Chloe King and Summer Session started collaborating last summer, they had no idea that their co-directed project on racism in childhood would spark inspiration for a series of films. Now, as 2021 Medici Circle Scholars, the two are collaborating once again to create a second introspective piece — this time, on the queer community — in Searching for Shelter.
Funding Creativity
Founded in 2004, the Medici Circle Scholarship aims to support academic growth and broaden the creative development of its recipients by awarding $2,000 to each Medici Scholar for their specific projects. This unique scholarship program takes education beyond the classroom in order for scholars to collaborate with others and reach their creative professional goals; through this scholarship, King and Session's idea for Searching for Shelter began to form.
After receiving information about the scholarship from their faculty mentor, Professor Jane Page, King and Session began brainstorming ideas for a formal project proposal that would aim to tell the stories of the queer community through a broad lens that highlights the experiences of different generations. For King and Session, the inclusion of multiple generations is of top priority.
"I was thinking, how much of history gets lost just because we take it for granted that people are around who can always tell us those stories?" King said. "It makes it easy not to ask them."
A Community Voice
As two individuals who identify within the queer community, King and Session also began to reflect on their own experiences and conversations with other queer artists. These reflections explored how much has changed within the last few decades when it comes to the queer experience in America.
"I think that this is our time and is really the time to reach out to the queer community, to that movement, to what's going on in the world, and speak to those stories to give people another way to find empathy and compassion and feel less alone," Session said.
How much of history gets lost just because we take it for granted that people are around who can always tell us those stories?
Then, Searching for Shelter began to take shape, becoming a preservation project that seeks to uplift the voices of the queer community across generations.
"We're creating a platform for people who — for many years — haven't had a platform to tell these stories," Session said. "As someone who is part of the queer community, I don't feel like I've had too much of a platform to really talk about it, and having that is very new now. So that's also something that I've noticed with our generation and the generations still here with us: lots of us have stories that probably should be shared."
Together, King and Session will create a film that uses movement, spoken word, and voiceover interviews with queer individuals to represent the life, struggles and experiences of this community over generations. The two aim to interview several people within the queer community.
As fellow M.F.A. directing candidates in the Class of 2022, King and Session are both using their extensive backgrounds and training in the arts to bring this project to life together. With a B.A. in theater arts from California State University, Fresno, Session has been involved with both the technical and performance aspects of theater from a young age. Session then found her true passion, directing, through her studies and collaborations with other artists; she is the type of director to immerse audiences in a new experience or environment. She has directed several productions at UCI that did precisely that.
After King earned her B.A. in directing and musical theater performance at the University of Wyoming, she completed a directing apprenticeship. She worked as an actor, director and fight director before going back to school to pursue her master's degree. As a director and fight choreographer, King's work focuses on integrating physical expression into the theatrical space, and she has worked that into many of the productions that she directed at UCI.
Together, the two are excited to work on another project.
Collaborative Partnership
While Searching for Shelter is in its beginning stages of development, King and Session have already spent numerous hours collaborating to put together a call for interviewees who wish to share their stories — some of whom will be complete strangers to both of them.
"You don't frequently get to ask people that you don't know to give you an in-depth story of their life, and I think both of us are excited about the prospect of just learning about so many different peoples' viewpoints and experiences for this project," King said. "It is a gift for us as well."
As the project progresses, King and Session will apply their scholarship funding to some crucial aspects of their film that would otherwise be incredibly costly to fund out-of-pocket as students. Costs include film production and post-production editing, which will take a majority of their budget to execute.
"Editing a film project is not easy, and even getting help in learning how to do some of the edits — if we have to do some of it ourselves — costs money. So that's really what the scholarship is going toward, everything that we need to put out the best product that we can," Session said.
I think that this is our time and is really the time to reach out to the queer community ... to give people another way to find empathy and compassion and feel less alone.
Even though a film can become costly and time-consuming in its post-production labor, the two decided it is the best format for this particular piece instead of a live performance on stage.
"There's this idea within a film that you don't say anything that you can show, where theater is kind of the opposite," King said. "In a process where we are developing our language and conducting our own interviews, the film will emphasize how we can communicate those things through movement — since that is more the language of film."
In the creative process, both King and Session express gratitude for the partnership and opportunity to have a co-creator on this project.
"Chloe and I have different experiences when it comes to being a part of the queer community, so that's something that we get to talk about and bring to this. We both have very different life experiences, which influence the way we see our art," Session said. "She's going to see things that I can't see. She is covering my blind spots."
"There's this idea that having two points of view focusing on one thing allows it to live in a more three-dimensional way and have larger breadth," King said. "And I know once we get deeper into this process, having that co-collaborator is going to be really helpful, especially in film."
As Session and King continue to collaborate on bringing Searching for Shelter to life, they share a common hope: that the stories they highlight will foster a sense of empathy among individuals in and outside of the queer community.
"All we hope is that the audience will take away some great stories and feel connected not only to the product that we put out, but to the queer community and the communities that we all reside in."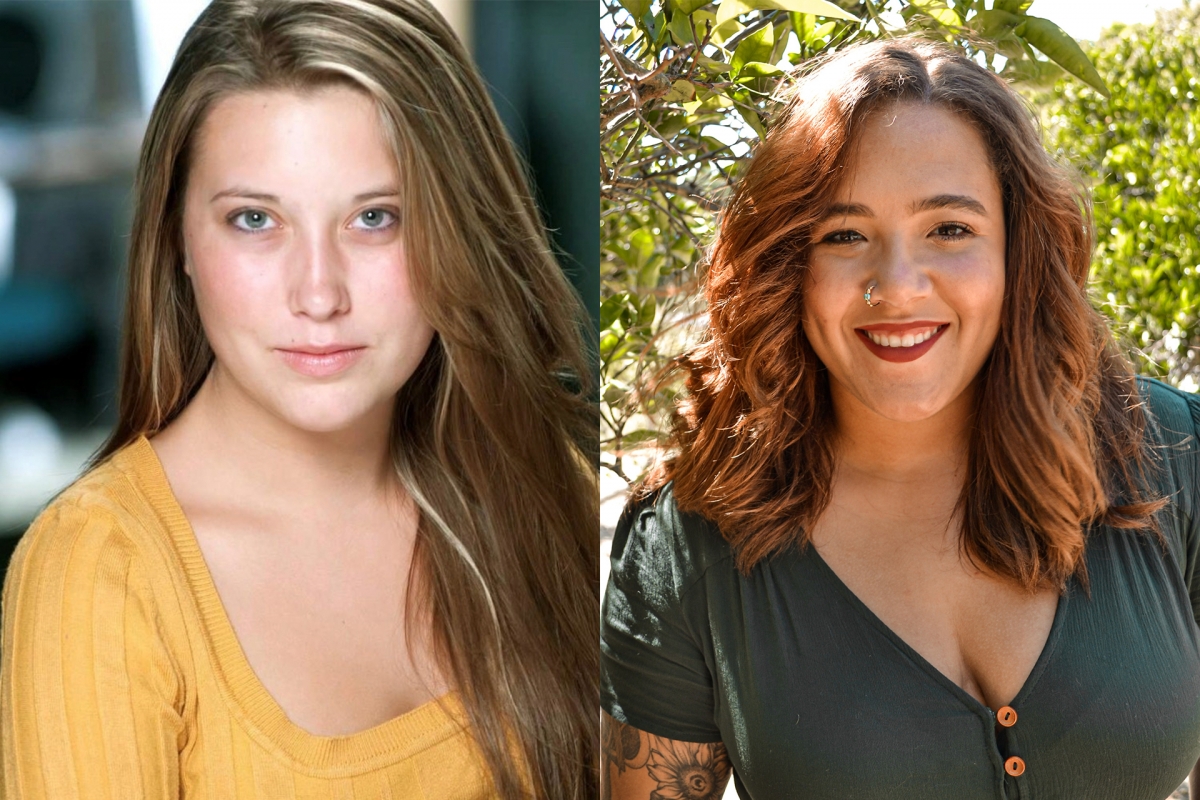 Image (above): Chloe King (left) and Summer Session (right).
Image (top): Under the direction of Chloe King, (left to right) Alec Ridley, Sarajane Bradford and Emma Marie Montoya practice the art of theater on film. (Photo: Chloe King)
---
Medici Circle
Be a part of transforming the artistic journey of exceptional scholars at the Claire Trevor School of the Arts. Your generous gift, of $2,000 or more, to the Medici Circle scholarship program will open doors that would otherwise be out of reach for remarkable students.
Learn more about the Medici Circle program, and how you can get involved, at www.arts.uci.edu/medici-circle.
Learn more about students in the Department of Drama on the website at drama.arts.uci.edu.
Please visit our secure direct giving page and make a gift to support to CTSA today!
CONNECT - Fall 2021