Jazz Pianist Hime Ikehara: Music as Second Nature
By Mia Hammett
Highly versatile and deliberate in her approach to music, fourth-year jazz piano major Hime Ikehara sounds up-to-par with your favorite seasoned pianists of the twenty-first century. Ikehara has only actively played jazz piano for five years, but her approach to the craft is a deep, diligent appreciation for the music, the performance and her fellow musicians –– students and faculty alike.
Like most, Ikehara's exposure to music came early. "I started studying piano at a really young age, but I was only doing classical piano at that time… and when I decided to come here to study, I accidentally went to a jazz band audition, not knowing how to play jazz. In classical piano, you have written music and you read note-to-note what's written, but in jazz, you have chord symbols that vaguely tell you what to play."
I was just astonished. It sounds so cool, and you have so much freedom in jazz.
For Ikehara, it was the ability to perform without creative restrictions that drew her to jazz piano, both academically and professionally. "The reason I decided to pursue jazz piano was really the freedom it gives players. The freedom of expression it gives us is, I think, the biggest thing."
While most kids her age were playing with toys, Ikehara played with music, color and rhythm. Ikehara began her music career in earnest at the age of three after being enrolled in Yamaha Music School, and eventually began private lessons at age six. In later years, it grew apparent that she resonated most (pun intended) with jazz piano. "I think it was really in high school that I realized, 'Wow, I might really like doing this.' "
Such early-developed interests in jazz piano inevitably led Ikehara to become emotionally involved with the act of performing. Ultimately, Ikehara found peace in jazz piano. 
"I find that it is actually really helpful for my mental health to play, especially jazz. I think for me, playing with other people is a big thing. That was another thing that led me to jazz because my whole life I've been doing solo piano, and when I started doing jazz I got to play with a lot of people, interact with people, get to know people –– so the interactions we have when we play jazz gives me happiness, in general. I don't really know how I feel when I play… I'm just really in the zone, and that's what I like about it." 
For Ikehara, playing jazz piano is a mindfulness exercise in and of itself –– a method of centering one's mind and letting go of one's worries from the forefront: "I don't worry about other stuff when I'm playing. I try to be in the moment whenever I'm doing anything, but music is the one thing that really gets me in the moment." 
When asked about a show or event that changed the way she sees or performs jazz, Ikehara looks back on 2020 and the onset of what would become a series of pandemic-related restrictions.
"It happened last year, which was during the lockdown. We were doing this thing called Jacktrip, which would allow musicians to play in real-time online without any latency, so that was a new thing. It just really reminded me how important and precious it is to be able to play with other musicians… especially because I hadn't met them yet in person, but I've played with them."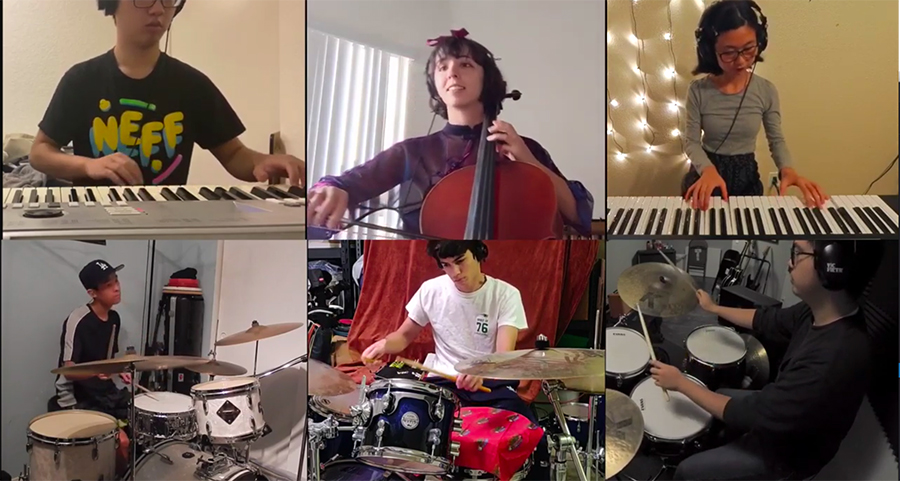 Image: Hime (top right corner) performs with her fellow music majors during the Winter 2021 Jazz concerts help via Zoom using the JackTrip software.
"Before UCI, I was just playing jazz standards –– playing within the format that's been set. But with my teacher, Professor Kei Akagi, he's really more about making an atmosphere rather than just playing notes, if that makes sense. I feel like it's actually the overall atmosphere of UCI's music program: it's more about the environments that you can create and emotions that you can convey, rather than the techniques. So we took this approach that we played, I think four songs, but we played an entire set as one piece. So we would have one song and then another impromptu interlude and then we would flow into the second song. That was actually my first time doing that –– playing an entire set as one piece. That just felt really natural to me, music flowing into one thing, and climaxing at the end. Doing that with two other people was really cool, and having that experience during the lockdown was really unreal, having that kind of connection when I wasn't seeing a lot of people."
Ikehara looks back at some of her earliest memories of music with immense fondness. "When I was small, maybe elementary school, on Saturday afternoon[s], my mom would cook pasta for lunch, and my sister and I would always choose a CD to play for that time. It really meant peace and happiness to me; I was full, I was surrounded by my family, and we were able to choose our music. We would play [Lisa Ono]'s 'Bossa Nova,' or sometimes Art Blakey's 'Moanin.' " Such warm memories also form the basis of some of her earliest jazz influences.
[I]t's more about the environments that you can create and emotions that you can convey, rather than the techniques.
Ikehara's favorite jazz genres include contemporary jazz, jazz fusion, and 'chill-hop' –– a newly-coined genre that combines lo-fi electronic grooves with contemporary jazz sensibilities. As for her favorite musicians, Ikehara most admires contemporary Israeli pianist Nitai Hershkovits, Armenian pianist Tigran Hamasyan, and American drummer Ari Hoenig's compositions.
According to Ikehara, one of the most difficult parts of transitioning to in-person instruction was remedying the shift in social interaction –– arguably one of the most crucial components of a live jazz performance.
"I've been talking about this a lot with my fellow musicians, and we noticed that during the lockdown, we were really only able to practice alone. I feel like we all got better because we had a lot of time to work on our techniques on our own time. But at the same time, I felt that it was difficult for us to reconnect with musicians in real life. When we're playing jazz with people, we have to interact, and listen to others while playing. I felt like a lot of musicians were having a hard time –– including me –– listening to each other, just because [we] were so used to getting into [our] own world during the lockdown, so it definitely took time for me to adjust back into listening to others and playing and interacting."
Beyond university, Ikehara has also expressed a desire to step into other music-adjacent fields, such as music composition for video games. "My father is a video game plot writer; he just has a really cool circle of colleagues and creative people, and I always kind of wanted that for myself. I'm actually looking into making music for video games."
"I want to keep playing music with the people I met here at UCI, so that's another reason why I want to stay after graduating. I just want to keep creating music and be a better musician."
"Right now, my main platform on social media is Instagram. I post short videos of my music or arrangements." Many of Ikehara's Instagram posts feature transcriptions of famous jazz compositions, short improvisations, and bits and pieces of live performances, among others.
Ikehara will perform her senior recital in the 2022 spring quarter. "My goal is to have seven or eight original songs for my program, and to be able to really play by heart, so I can just go into the recording studio with my musicians and record it."
---
Links to Ikehara's work:
Join us on a journey of discovery leading up to #UCIGivingDay 2022 on May 18, as we highlight current faculty and students at CTSA and learn more about what the pandemic has taught them about adaptability and innovation as we emerge brighter! Follow us on social media @ctsa_ucirvine.
Mia Hammett is a second-year English major in the School of Humanities.