Chantrell M. Lewis to be honored at Orange County Arts Awards
By Mia Hammett
At 26, Chantrell M. Lewis (M.F.A. '22, Drama) has built a strong arts career in service of other people. A creative polymath devoted to all things arts and education, Lewis is a multi-talented performer, author and teaching artist who treats the impact of her work with sincere optimism. Lewis is a firm believer in achieving wellness through the performing arts, literacy, and access to education across disciplines.
Lewis is the proud recipient of this year's Emerging Artist/Arts Leader award by Arts Orange County (ArtsOC). The award recognizes Lewis for her contributions to arts education and accessibility in Orange County. The gala event will take place on Oct. 17 in the Samueli Theater at the Segerstrom Center for the Arts in Costa Mesa.
Adding to her growing list of accolades, Lewis has also received this year's California Creative Arts Fellowship, the Individual Artist Fellowship from the California Arts Council, and was named a 2023 Community Engagement Grantee.
Lewis is the founder and executive director of The Jar of Sunshine Inc. — a 501(c)(3) nonprofit organization dedicated to bolstering art, literacy and general wellness for women and children in traditionally underserved or low-funded communities. Collaborating with crisis centers, shelters, and community centers, the organization offers arts education programming year-round.
"I try to focus on bringing in people who have a demonstrated history of professionalism in those industries and people who can bring specific insight and are sensitive to working with different groups of people to make these programs accessible," said Lewis.
Thinking about the future of her organization, Lewis considers the possibility of owning a location — a building where her arts and literacy programming can take root, grow, and offer extended resources.
When prompted to consider what motivates her, Lewis explained how inspiring it is to see the social transformations affected by her work.
"Something I always see, especially toward the last couple of weeks of me being in a certain place, is everybody being more comfortable with each other and with themselves," said Lewis. "I feel like that evolution sometimes has to happen in order for a community to actually function as a community. That structure really solidifies after a theater class or a dance class."
Lewis believes that making the social and emotional benefits of arts education as public as possible would not only encourage funding and support for programming but raise needed attention to the fundamental significance creative and performing arts has on developing youth and communities alike.
As Lewis enters her third year as Teaching Artist in residency at the Segerstrom Center for the Arts, she will continue to work with Disney on Broadway's "Disney Musicals in Schools" program. Lewis will train faculty on how to produce sustainable musical theater programs with little-to-no budget.
She's excited to continue her working relationship with Segerstrom: "I can't say enough how much I love working for them, how important they've been to me in getting my footing in Orange County, and how much they support me in everything I do."
Looking forward, Lewis is excited to earn her teaching credential, continue building her nonprofit organization, and start work in the fall as a teacher for the Musical Theatre Conservatory at OCSA at the Orange County School of the Arts.
"Special thank you to my family and friends who continue to believe in me, CTSA, SCFTA, Dance Arts Academy and OCSA," said Lewis. "I'm pushing on and continuing to blossom in my artistry and my professional career."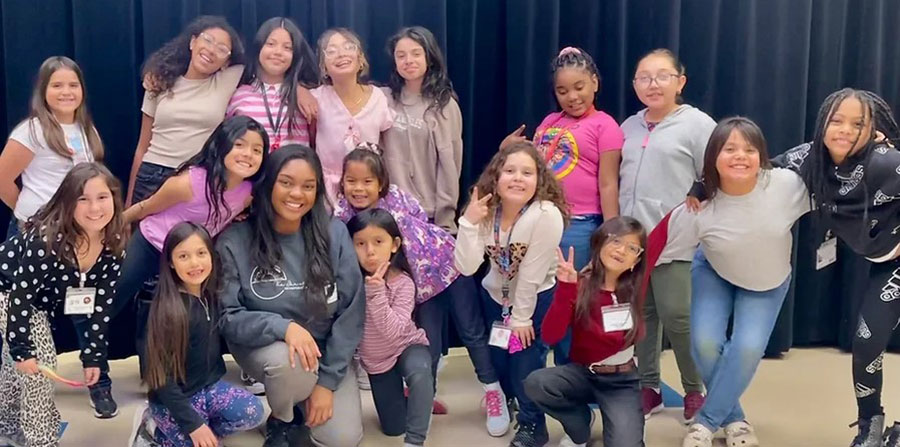 Image: Chantrell Lewis working with students at a dance and music after school program. (Photo: Courtesy of Chantrell Lewis)
---
Learn more about Garnet Hertz and his new book on his website, www.conceptlab.com.
Please visit our secure direct giving page and make a gift to support CTSA today!
CONNECT - Fall 2023