Bringing to Life Madame Modjeska's Fairytale
By Mia Hammett
Living, breathing on-screen animation. A kaleidoscopic patchwork of actors awhirl. Engaging sonic and visual experimentalism. This is Madame Modjeska's Fairytale, the latest film production from Annie Loui, Claire Trevor School of the Arts professor of acting and artistic director for CounterBalance Theatre.
Madame Modjeska's Fairytale: A Whimsical California Adventure honors the life and legacy of famed Polish American actress Helena Modjeska – often regarded as one of Poland's greatest theatre performers. The film pays homage to Helena's namesake Modjeska Canyon (located in eastern Orange County), in which the fairytale's characters set off to explore.
"I live in Silverado Canyon in Orange County, which is sort of the last outpost of rural in Orange County, and the next canyon over from me is Modjeska Canyon … where Madame Modjeska's estate was and her house still is." By living in the canyon and being a part of the community, Loui was approached by the Helena Modjeska Foundation to adapt and direct the fairytale into a theatre piece. Loui enthusiastically agreed, mentioning that "[she's] part of the history of where we are here, and that's really fascinating to me too."
While the experimental short film clocks in at only 15 minutes, Loui and her production team pack in a whirlwind of whimsy and visual dynamism. The atmosphere is dually set by composer and sound designer Mark Caspary, whose luminous, organic soundscapes ground viewers in the narrative. The film made its virtual worldwide debut on Aug. 6, and was available for streaming through the entire month of August at Edinburgh Festival Fringe's website.
The production was supported by the likes of Dion Sorrell (executive producer), Ellen Dubin (narrator), Skye Schmidt (Nunu, Sylia and animals), Thomas Varga (Titi, Mamora, and animals), Simon Sorin (colorist and videographer), and Samantha Sorin (production manager and stage manager).
Find something you love. Find a story you love, and then make that the centerpiece that you work from.
CounterBalance Theatre, whose mission is to "construct physical theatre based on great literature," radically reimagines the stage and story of the written word. Under Loui, the company has developed a keen ability to retain a sense of historical significance with all the accessibility and spontaneity of contemporary live theatre. 
Madame Modjeska's Fairytale is one of many Loui–CounterBalance productions. The self-proclaimed 'physical theatre company' combines eclectic imagery and performance with a forthright emphasis on movement and physicality –– a mainstay of the quintessential theatre repertoire that soon became near obsolete with the onset of social distancing. According to Loui, "It took four months of application to get permission to do a COVID-era shoot, which was pretty complicated," and "Instead of having a normal group of five to seven actors to work with, [she] had two."
Beyond the pandemic, however, Loui was faced with the added obstacle of timing. "I was at a nine-hour time difference from California, so the hardest part was when we decided to shoot, because we basically shot the piece from… nine in the morning and ended at three in the afternoon," said Loui.
But Loui and her team rose to the challenge. Initially set to be a live performance piece, she took the creative initiative and decided to flesh out the very beginning of the fairytale, transforming it into a film of its own. She also worked with videographer and colorist Simon Sorin to get footage of Modjeska's house within the canyon, interspersed with two performers as well as text and imagery pulled directly from the book. The film brings Modjeska's original illustrations to life, animated by video and motion graphic editor Morgan Embry, juxtaposed above a pretty-pink Modjeska Canyon backdrop. 
It's a very intricate amalgamation of isolated parts working together in spite of COVID-19 restrictions. "In some way, theatre felt very forbidden, and yet super, super fun." And yet, the film wholeheartedly reflects the massive behind-the-scenes group effort led by Loui's precise creative vision and artistic spirit. 
Equal parts delightful and earnest, Madame Modjeska's Fairytale resides in a place of childlike wonder, making use of interactive mixed-media animation sequences and video-editing virtuosity. A surreal piece of moving modern art, the film effectively blurs the boundaries between virtual reality and physicality. The very real constraints of the COVID-19 pandemic have only confirmed Loui and CounterBalance's ability to consistently produce exceptional work that dramatically reimagines the world of classic literature.
But for Loui, it's no small task –– there's got to be a passion for it, a desire to commit to the craft: "Find something you love. Find a story you love, and then make that the centerpiece that you work from."
It is here, in Madame Modjeska's Fairytale, that the performer's legacy lives.
Now that COVID-19 restrictions have lighted allowing in-person events, Annie Loui and the CounterBalance team are preparing an adapted version of the story for the stage. Loui began rehearsals with the cast of performances in November and plans to present a full-length play in December. The adaptation entitled Madame Modjeska's Wicked Fairytale will play live at the Experimental Media Performance Lab (xMPL), located in the Contemporary Arts Center, on Dec. 8-11. Tickets may be reserved directly on the event site here.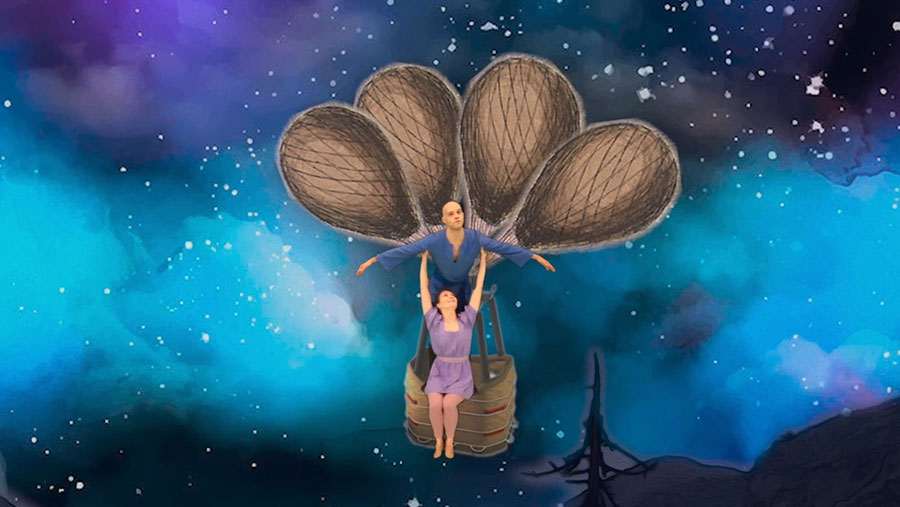 Actors Thomas Varga (top) and Skye Schmidt (bottom) take flight in this wonderfully experimental short film. (Photo: Thomas Varga)