Behind the Scenes: New Slate
From the audition to performance, Dance majors gain real-world experience
By Isabella Granqvist
It's the beginning of the school year, and a line of students outside the dance studios in the Claire Trevor School of the Arts (CTSA) stretches on endlessly, filling up the walkways. At the front of the line is a check-in table with a stack of audition numbers. With hair slicked back in polished high buns, tense first-year students try to calm their nerves as they wait, while seasoned fourth-year students throw their hair up as they await what has become routine. A nervous yet excited energy fills the air as the first dance audition of the year officially begins for New Slate 2022.
As the first Department of Dance show of the year, New Slate marks a welcome return to creating and performing after not only months of summer break, but also the still-familiar days of online dancing, with dancers ready to return to live performances. This year's show features new works by eight M.F.A. candidates in dance, with pieces ranging from ballet to modern to hip hop—and everything in between.  
At the New Slate audition, hordes of undergraduate dancers cram into empty studios, waiting for their turn to learn and present combinations in various styles of dance depending on what the choreographers have planned for their dance pieces. This usually includes a ballet and modern dance portion, but can sometimes involve other dance styles, such as jazz or hip hop, or more experimental sections involving improvisational work or exercises in mime and gestures. Auditions are always a mix of the familiar and unfamiliar, and dancers must be ready for anything.
Entering the audition studio alongside 50-60 of their peers, dancers must impress the panel of graduate choreographers. The pressure is on as, similar to auditions in the professional dance world, dancers have limited time (around 10-15 minutes) to both learn and present each combination to the panel—usually only showing the choreographers each combination once or twice. Because of this, dancers are encouraged to make bold artistic choices and showcase how expressive they can be in addition to their technical abilities and knowledge of the choreography. If all else fails, fake it till you make it.
Exploration in Rehearsal
Once choreographers cast their dancers, rehearsals quickly begin. CTSA encourages a wide range of choreographic styles; for example, certain choreographers might come into rehearsals with set steps they want their dancers to imitate, while others might work with their dancers to shape their pieces over time. New Slate choreographer Ari Pulido, M.F.A. '24, utilizes the latter choreographic process in her work.
"The dancers help me through the process by giving ideas and suggestions to create the vision. The dancers do not always know what I will be trying to accomplish, which is nice because they are able to add their interpretation and help the vision grow to something more than I could imagine," Pulido explains. "If I am teaching a phrase, I will come in with planned choreography, but I enjoy creating with the dancers as the work is just as much their art and vision."
The rehearsal process can be unfamiliar to some dancers but often echoes how many choreographers in professional dance companies approach their rehearsals. Long gone are the days of simply mimicking a choreographer's steps, a technique some traditional dance studios still emphasize; many of today's choreographers want to see their dancers interpret their work meaningfully and, in some cases, even contribute their own movement ideas to it.
The next few weeks of rehearsals are spent experimenting with different movements. The close-knit dance community in CTSA allows for a safe and encouraging environment as dancers are pushed out of their comfort zones, and rehearsals are often a balance of good-natured collaboration and individual physical endurance. As a result, the choreographer's vision of the piece develops, and so does the emotional response from the dancers performing.
Dancers then present their choreographer's work to the dance faculty in what's called a piece audition, the second round of the audition process. While watching, the faculty members look for cohesive works featuring interesting choreography and skilled dancers, then decide which dances will make the final performance. Dancers now have the pressure of representing their choreographer's piece well enough to ensure its place in the New Slate lineup.
After the piece auditions, the performance's official lineup is announced, and all chosen choreographers finalize their pieces with their dancers for the remaining few weeks leading up to the show. There is always the chance of a last-minute change in this time; the music may alter, dancers may switch spots in the dance, and injuries could always force the piece in a new direction. While intimidating at first, this process allows dancers to practice learning new movements quickly and present themselves confidently—two critical components to auditioning and post-university dance success.
Experimentation and Creation
No two M.F.A. dance candidates are alike. Varying in dance style training, backgrounds, and choreographic processes, each New Slate choreographer draws inspiration from their own unique sources to make creative, distinct pieces.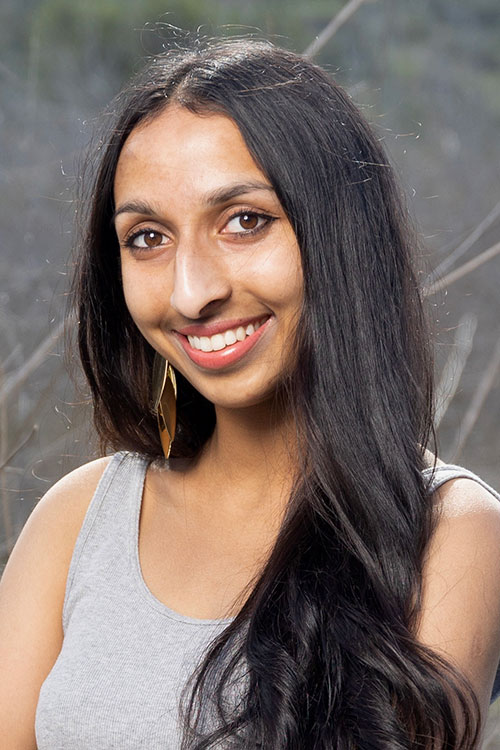 New Slate choreographer Jeevika Bhat, M.F.A. '23, is using her background in the east Indian classical dance form Odissi to "reimagine aspects of Indian classical dance in a contemporary context." Her New Slate piece "why Now?" is all about expressing emotion through dance and combining ideas and aesthetic from both Odissi and contemporary dance.
"My piece is about the strange feeling of regret in the face of beauty… I hope to capture that disconnect of simultaneously finding joy in the warmth of the sun on my arms and finding sorrow in the fact that it has taken me until now to do so," Bhat said.
Bhat is working with two composers from the Department of Music's Integrated Composition, Improvisation, and Technology (ICIT) program to compose original music for her piece. Working with students all across CTSA has been an inspiration for Bhat as she incorporates Odissi into her choreography for a wider audience less familiar with the dance form.
"The dancers at CTSA are so talented and bring so much to my choreography — working with them has given me access to incorporating new movement that my body is barely capable of and has vastly extended the boundaries I've been able to reach with my choreographic ideas," Bhat said. "As well, working with the other incredible graduate students from other CTSA departments, especially lighting, music, stage management and costumes, has been pivotal in seeing my work come to life."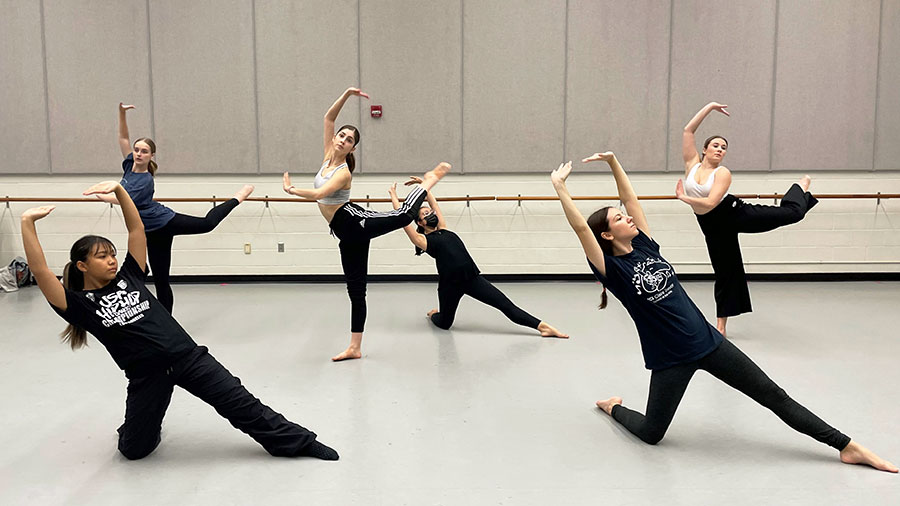 Images: Jeevika Bhat, M.F.A. '23. (Above), Bhat, rehearses with her dancers for "why Now?," which uses east Indian classical dance form Odissi.
Interdisciplinary work is also crucial in New Slate choreographer Lisa Allin's, M.F.A. '23, piece. Allin is also working with the music department to create a piece that focuses on exploration and improvisation in jazz dance, where her six dancers will perform with a live jazz band. The piece is a continuation of her thesis research in jazz dance and music. She cites CTSA faculty as a significant influence in her work, particularly Professor of Dance Dr. S. Ama Wray's methodology.
"My work is inspired by Dr. Wray's EmbodiologyⓇ, which innovates dance and compositions out of structured improvisation to live music," Allin said. "The faculty are more than ready to support and push me in the direction I wish to go. The creative team's enthusiasm for my work encourages me to take risks."
Fellow New Slate choreographer Danniel Monroy, M.F.A. '24, is combining multiple styles of dance to explore British colonialism and the way different cultures interact with one another. The piece is set to heavy metal music and features ballet technique paired with West African dance forms Sunu and Kakilambe, as well as some hip hop and modern dance.
"There will inevitably be culture mix as we move forward in history, and it is our duty and responsibility as artists to facilitate said mixture in a peaceful and harmonious manner," Monroy explained.
As a first-year graduate student, New Slate will be Monroy's first time presenting his choreography through CTSA.
"Through CTSA I can collaborate with other artists to bring my dreams into the realm of the tangible. I was given freedom, and that is one of the most powerful tools an artist can have," Monroy said.
Over the course of the fall quarter, all eight choreographers and their dancers use their rehearsal time to experiment and explore all kinds of movement to figure out how to best get the message of the piece across to the audience. Whether choreographers find inspiration in improvisation, dancers, or from the faculty, the process is ever-changing.
"I am just constantly borrowing, learning, and listening," Monroy said.
From audition to performance, New Slate is a celebration of the experimentation and collaboration that CTSA works to foster in each aspiring artist at UCI.
Performances for New Slate run from Dec. 1-3, 2022, with an online live stream option on Dec. 3. For more ticket information, go to arts.uci.edu/event/new-slate-2022.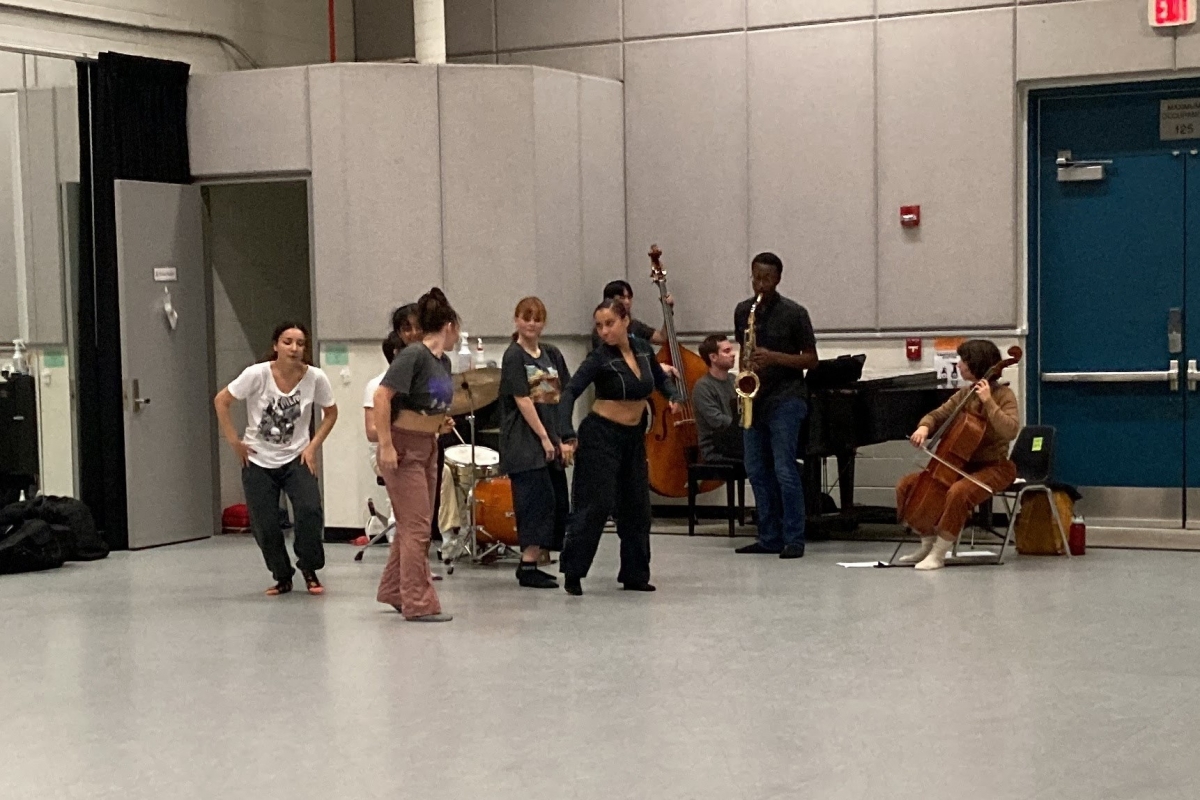 Image: Lisa Allin, M.F.A. '23, choreographs a piece focused on exploration and improvisation in jazz dance. Working with students from the music department, the piece will be presented with a live jazz band.