Art of Social Change
Two more UCI faculty and alumni receive Guggenheim Fellowships
When a shiny sculpture of a rabbit by the most commercially successful living artist sold for a record-breaking $91 million at auction earlier this year, UCI art professor Daniel Joseph Martinez shrugged.
"We don't remember the people who sold the most," he says. "We remember the people who changed the trajectory of ideas."
Two UCI artists were recently honored for doing just that. Martinez, a UCI professor for 29 years, and alumna Hồng-An Trương '08, were among the 168 artists, writers and scholars selected from 3,000 applicants to receive The John Simon Guggenheim Memorial Foundation fellowship this year, recognizing both "prior achievement and exceptional promise."
"To be in the legacy of all of the artists and scholars who have received the Guggenheim over the years, that's an extraordinary thing," says Martinez. "It's not only an acknowledgment of my life's work, but an encouragement to go further and deeper into that work. In fact, it allows for a new kind of optimism."
It was optimism that brought Martinez to UCI as a young artist in 1990, recruited with a handful of other new faculty — all women or people of color — who promised to reshape the art department into a socially conscious, politically relevant cohort who would use art to change how we view race, gender, sexuality and class.
Over the years, Martinez has addressed these issues with provocative and often polarizing projects that span a wide range of mediums — text, sculpture, photography, painting, performance and robotics. He has represented the United States in 11 biennials around the world, and his art is housed in the permanent collections at the Whitney Museum of American Art, the Museum of Modern Art in New York, and the Museum of Fine Arts, Houston. 
"UCI was the first art department in the country to have a political and social agenda," says Martinez. "It's been that progressive, that radical."
In the past 11 years, nine UCI art faculty and alumni have received the Guggenheim Fellowship — not to mention a number of guest lecturers including, this year, Catherine Opie. A fine-art photographer who is now on faculty at UCLA, Opie worked at UCI as a photo lab technician and lecturer early in her career.
"The Guggenheim Fellowship is certainly one of the most prestigious awards that anyone in our field can receive," says Kevin Appel, chair of the art department. "The remarkable number of faculty and alumni of our department who have received it reflects our mission, and our historical presence in the art world as a faculty who is socio-politically conscious.
"Daniel, for example, has always, always been relentlessly rigorous in his investigations in the way he approaches his work both theoretically and physically," says Appel. "At this moment he's getting more and more well-deserved attention for the long history of revolt in his artistic practices."
We remember the people who changed the trajectory of ideas.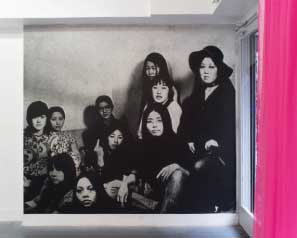 It was artists like Martinez who attracted Trương to UCI for her master of fine arts in the mid-2000s.
"I was drawn to UCI because of the desire to work with faculty of color and faculty who were engaged in important political discourses and conceptual practices, which really inspired me," says Trương, who is now an associate professor and director of graduate studies at the University of North Carolina at Chapel Hill. "It's astounding, humbling and overwhelming to win the Guggenheim Fellowship in the same year as Daniel Martinez — someone I admired and learned so much from as a young artist."
As a graduate student in studio art, Trương took courses and attended lectures in critical theory, film, Asian American studies, women's studies, and others. "I had access to all of these amazing thinkers," she says. "I really appreciated UCI being a large public university instead of an art school, because my work thrives in conversation with other disciplines."
Trương, whose parents fled Vietnam when her mother was pregnant with her, uses photography and film in her work to explore how time, trauma and memory shape and reshape each other.
For one current project, "We Are Beside Ourselves," she uses archival photos, videos and audio to explore U.S. involvement in the American War in Vietnam within the broader context of the Civil Rights movement and Asian American radical politics. She points to a photograph of Malcolm X as he lay dying, his head cradled by Japanese American activist Yuri Kochiyama — a detail omitted from our collective memory.
Trương printed such photos on mirrors using a carbon transfer process, so that we see history reflected through our own visage. With her fellowship from Guggenheim, Trương hopes to continue this project with research at multiple archives including UC Berkeley, the Smithsonian and the Vietnam National Archives.
The Guggenheim Fellowship benefits UCI at large, Appel says, not only by raising the department's profile, but also by attracting graduate students who want to engage in deep, critical research, just like Trương did.
Trương says she appreciates the Guggenheim Foundation's recognition that artists depend entirely on financial support in order to create their work, which can reevaluate social norms and profoundly shift conversations.
"Funding the arts is absolutely necessary in our toxic political climate," says Trương. "It's about creating an open dialogue, shifting and creating a critical space for difficult conversations in our society."
Top Image: "Freedom Without Love," from UCI art professor Daniel Joseph Martinez's 2004 series, "If Only God Had Invented Coca Cola, Sooner! Or, The Death of My Pet Monkey"
Image: 
Hồng-An Trương "Women of Gidra," Archival pigment print on Phototex, 96 x 108 inches, 2018
---
Please visit our secure direct giving page and make a gift to support Art today!
CONNECT - Fall 2019